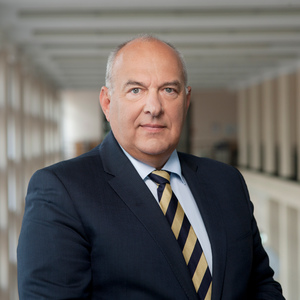 On 27 November 2015, Tadeusz Kościński was appointed Undersecretary of State in the Ministry of Economic Development.

Responsible for:
the development and implementation of rules governing trade between the European Union and third states, issues related to economic security and supervising the provision of services related to electronic signature. Tadeusz Kościński is responsible for the implementation of European Neighbourhood and Partnership Instrument 2007-2013 and programs under the European Neighbourhood Instrument 2014-2020. He supervises tasks which are related to functions performed by the Minister in the capacity of a Certifying Authority.

He has been working in the banking sector throughout his professional career. From 1997, he served as a director at Bank Zachodni WBK S.A. Previously, he had worked at Polski Bank Rozwoju S.A., Bank Przemysłowo-Handlowy, Bank Śląski and Bank Pomorski, and at two banks in London.

He is a graduate of the Goldsmith's University of London. The founder of the "Kresy Historii" Foundation.

The Ministry of Entrepreneurship and Technology
focuseson developments within the business environment, helping bring real change and minimising administration barriers for the Polish entrepreneurs. An important aim of the Ministry of Entrepreneurship and Technology is to keep increasing exports of Polish products to the Global Market by opening up new opportunities and developing current programs.