Asseco Poland is the largest Polish IT company. It is the number one provider of state-of-the-art IT solutions in Central and Eastern Europe. Asseco is present in more than 50 countries worldwide and employs over 24,000 people.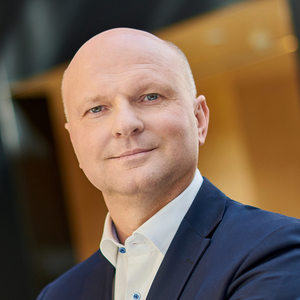 Vice-President of the Management Board of Asseco Poland S.A., responsible for the area of corporate communication. From 2012, Managing Director of Asseco Poland S.A. responsible for the Corporate Communication Area (marketing, PR and investor relations). He is also the Vice President of the Board of the Association of Digital Technology Employers Lewiatan and the Chairman of the Board at the Polish Chamber of Information Technology and Telecommunications.

A graduate of the University of Szczecin, he graduated in economics at the faculty of Economic Cybernetics and Informatics. He started his professional career in 1994 at Computerland S.A. responsible for sales to corporate clients. Since 1997 he has been associated with the Polish branch of Hewlett-Packard Polska, where he was responsible for product marketing, SMB market development, marketing and cooperation with commercial partners. From 2000, he was Marketing Director at Hewlett Packard Polska responsible for the Enterprise and Corporate market. In the years 2002-2005, the chairman of the Polish Board of Marketing Directors at the Conference Board. From September 2006 to March 2011, Member of the Management Board of Getin Holding SA, responsible for marketing, external and internal communication as well as investor relations. He was also the spokesman for Getin Holding S.A., Getin Noble Bank and LC Corp S.A. He was a member of supervisory boards of Fiolet Powszechny Dom Kredytowy S.A., Panorama Finansów SA, OOO Carcade based in Kaliningrad, SC Perfect Finance S.r.l. in Bucharest and LC Corp S.A.