Pomeranian


Pomeranian Special Economic Zone (PSEZ) creates attractive conditions for the development of entrepreneurship and the inflow of new investments. It carries out tasks aimed at stimulating the economy and improving the investment climate in Poland, in accordance with the assumptions of the Strategy for Responsible Development.
The PSEZ acts as a regional investor service centre and a coordinator of state aid. It provides support to entrepreneurs at every stage of their projects, including consulting and advisory assistance.

Why is it worth investing in the PSEZ:
Convenient location for the investment: prepared industrial areas in northern and central Poland, by the main communication routes and near international airports and sea ports.
Decision on support for running a business activity, entitling the entrepreneur to benefit from public aid in the form of tax exemptions for the costs of a new investment or the creation of new jobs.
Maximum percentage rate of public aid:

Pomeranian and Kuyavian-Pomeranian regions: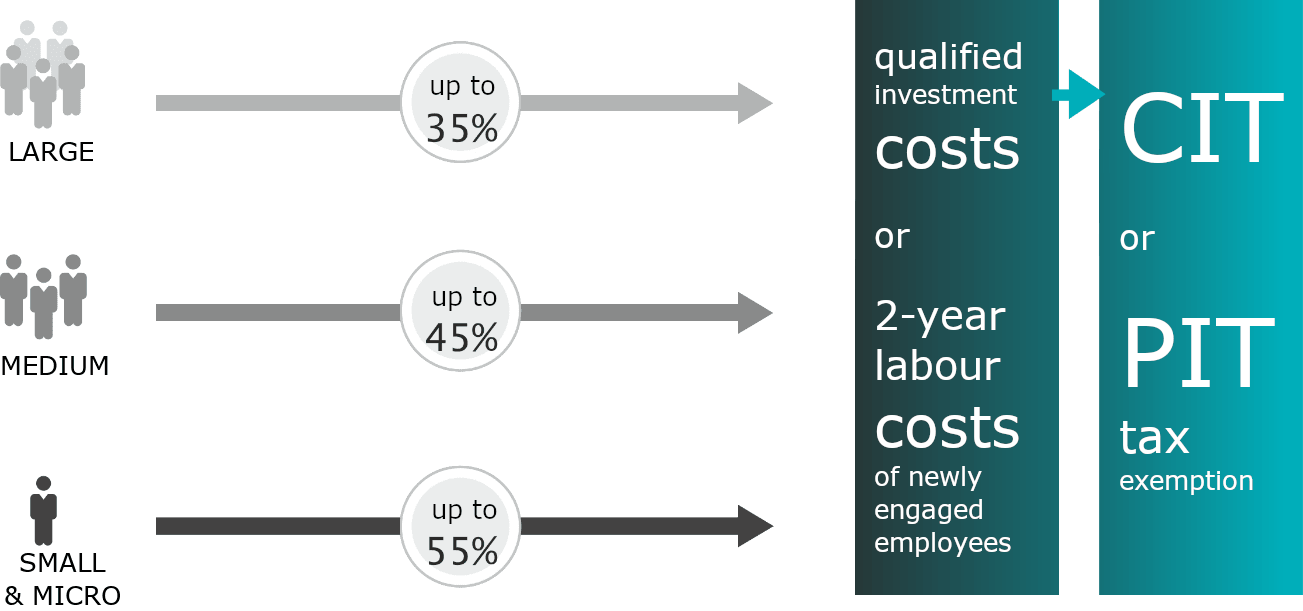 Comprehensive service for each investment project carried out by a professional team led by a project manager appointed for each investor:

support during the decision on support application procedure:

providing necessary information,
assistance in contacts with the relevant authorities,
conducting tenders and negotiations,
issuing decisions on support,

post-investment care:

assistance in solving investors' problems,
support in promoting investors,
training programs concerning, among others: raising funds for business activities, tax settlements, etc.
monitoring the investor's economic activities including periodic inspections of the completions of the provisions in accordance with the conditions set out in the decision on support,
assistance in finding qualified staff,
integration with various environments - government and self-government administration, business surrounding institutions, universities, research centres and other entrepreneurs through networking meetings, conferences, etc.

Initiation and implementation of a number of projects complementing and expanding economic activity, including:

The Gdańsk Science and Technology Park: covering with its broad activity support for the development of SMEs and start-ups, with particular emphasis on the sector of high technologies and knowledge transfer from universities to industry.
The Baltic Port of New Technologies in Gdynia: located on the premises of the former Gdynia Shipyard - includes the process of building a modern environment to support the shipbuilding industry,
cooperation between business and science: cooperation with universities and implementation of BioConvention programmes, Coalition for Polish Innovations (KPI), Pomeranian Technopolis.

The area managed by the Pomeranian Special Economic Zone
The Pomeranian Special Economic Zone operates in 226 communes in the Kuyavian-Pomeranian Region and in the eastern part of the Pomeranian Region. It is a part of the Polish Investment Zone, one of the 14 regional entities responsible for comprehensive services for domestic and foreign investors.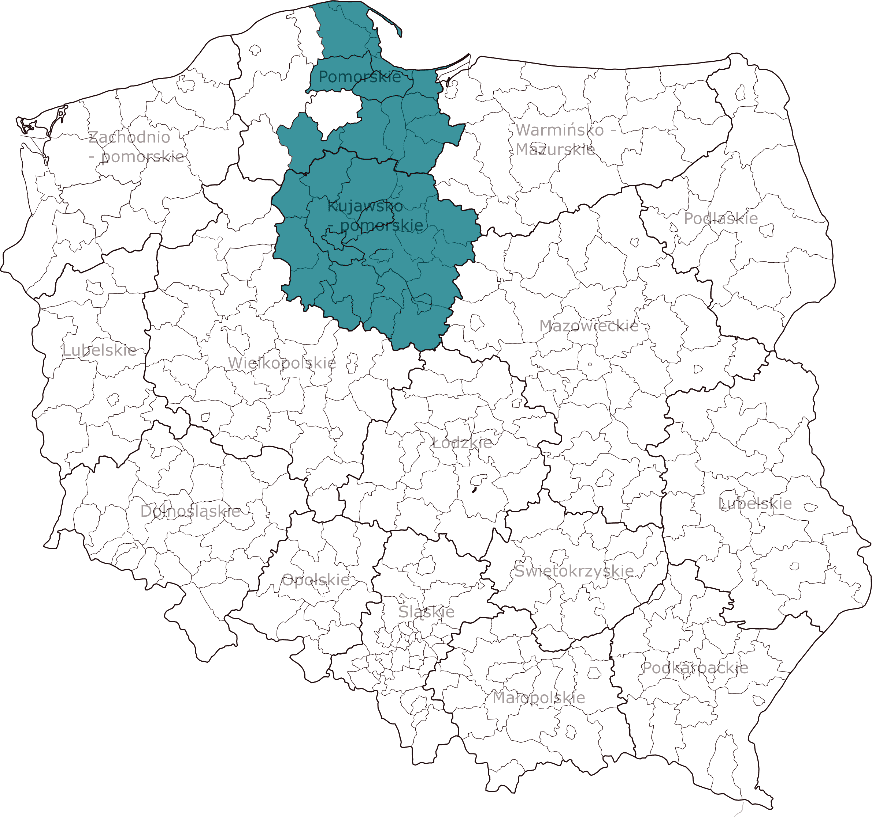 As a result of actions taken by the managing company of the Zone, entrepreneurs have completed over 100 investment projects which have a significant impact on the economic development of the regions.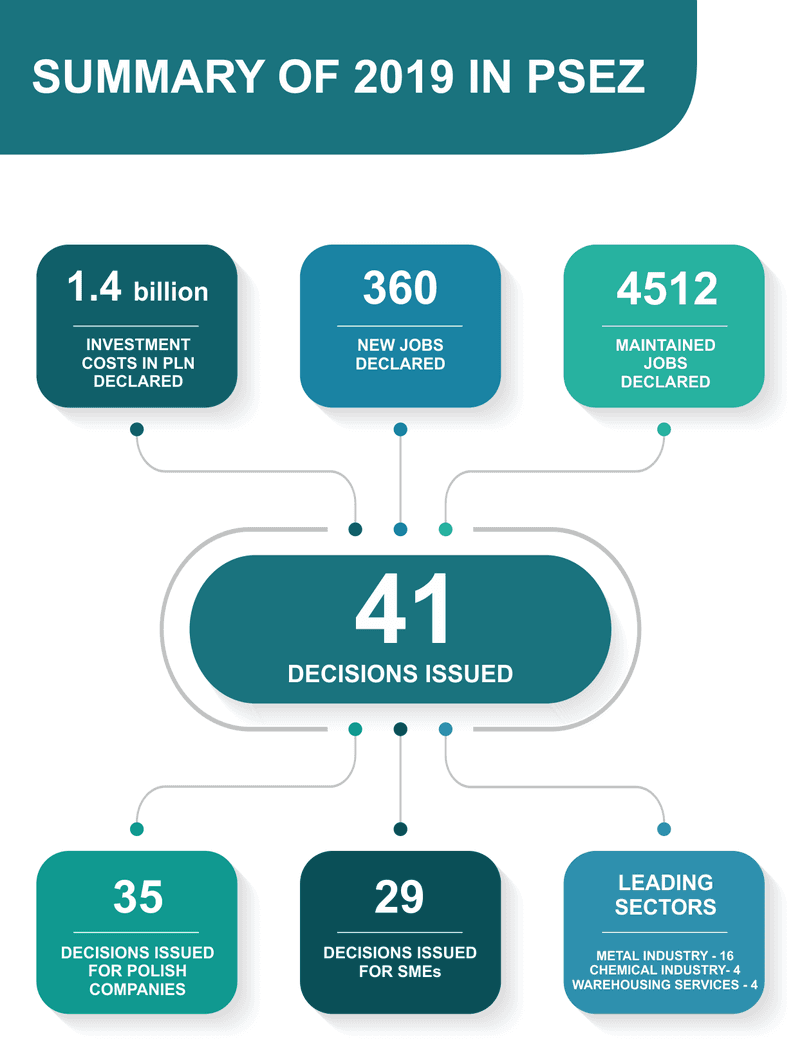 Major investors in the Pomeranian Special Economic Zone:
| | | |
| --- | --- | --- |
| Investor | Sector | Subzone |
| Bridgestone Stargard sp. z o.o. | Tires production | Stargard |
| Cargotec Poland sp. z o.o. | Lifting equipment | Stargard |
| Ciech Soda Polska S.A. | Chemical industry | Inowrocław |
| Flextronics International Poland sp. z o.o. | Electronics assembly | Tczew |
| International Paper Cellulose Fibers (Poland) Sp. z o.o. | Hygiene products | Gdańsk |
| Jabil Assembly Poland sp. z o.o. | Electronics assembly | Kwidzyn |
| Lacroix Electronics sp. z o.o. | Electronics assembly | Kwidzyn |
| Lafarge Cement S.A. | Building materials | Barcin |
| Mondi Świecie S.A. | Paper industry | Świecie |
| MrGarden sp. z o.o. | Wooden furniture | Grudziądz |
| Plastica sp. z o.o. | Medical, hygienic and cosmetic products | Kowalewo Pomorskie |
| Solvay Advanced Silicas Poland | Chemical industry | Włocławek |
| SPX Flow Technology Poland sp. z o.o. | Machinery | Bydgoszcz |
| Steico sp. z o.o. | Prefabricated wood construction products | Czarna Woda, Czarnków |
| Zakłady Farmaceutyczne "Polpharma" S.A. | Pharmaceutical industry | Starogard Gdański |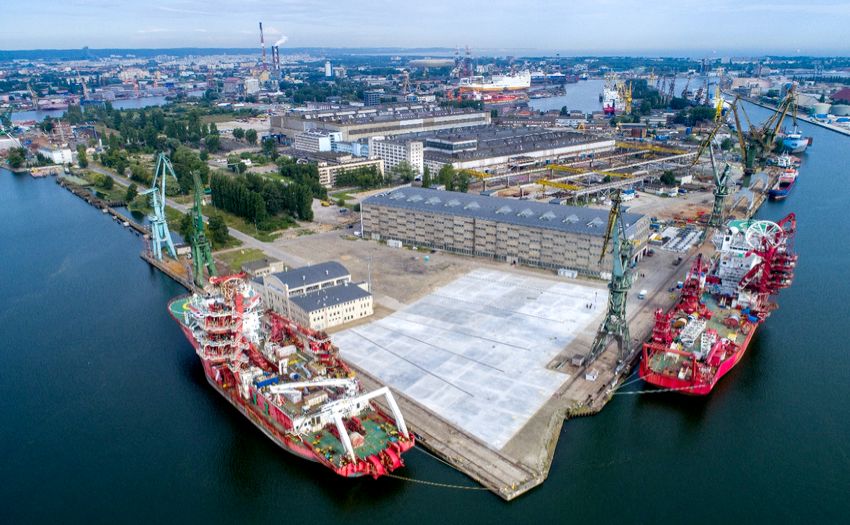 "Crystal Park" - Łysomice subzone near Toruń

Managing company:
Pomeranian Special Economic Zone Ltd.
9 Wladyslawa IV Str., 81-703 Sopot, Poland
Phone: +48 58 740 43 00
Fax: +48 58 555 97 11
e-mail: invest@strefa.gda.pl
www.strefa.gda.pl
www.facebook.com/StrefaPomorze
https://twitter.com/PomorskaSSE

More information: Publication - Poland Special Economic Zones


(Last data update: November 2018)