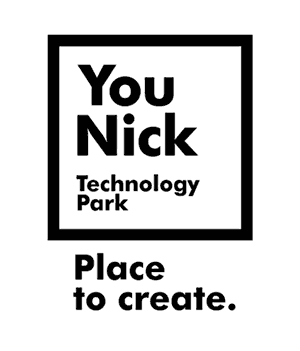 YouNick - the best place for you and your company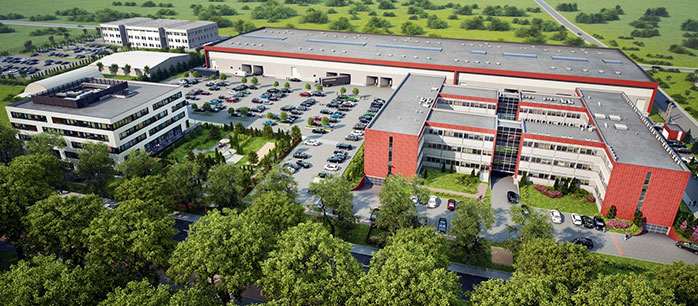 YouNick, the former Nickel Technology Park Poznań, is Poland's first private technology park. For 10 years, the park has been a place of development for innovative people, ideas and businesses. In 2014. Park changed its name and the philosophy of its activities. It focused all of its activities on the person – a tenant, employee, investor, originator, and recipient of the innovation. It offers services related to financing new businesses and the development of innovative products and services, as well as a modern, friendly office, warehouse, and laboratory infrastructure..

LOCATION
The YouNick technology park is located in Złotniki near Poznań. The Park's advantage is its location in the vicinity of the main domestic and foreign communication routes – near the national road no. 11 and the Poznań Western Ring Road. The Złotków interchange is located just 4.5 km from the park. YouNick is located 12 km from the city centre of Poznań, 15 km from the Poznań–Ławica Airport. You can reach YouNick by public transport, including a direct line from the Poznań Główny Railway Station.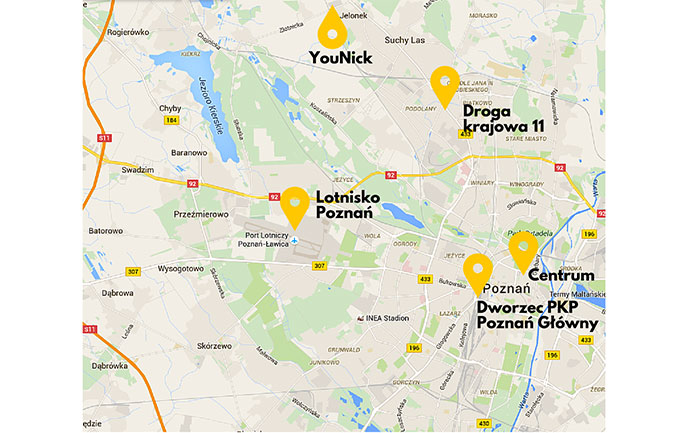 SECTOR PROFILE
IT/ICT/IOT/ Life Science/Biotechnology/Pharmacy/Health care/ Chemistry

OFFER
1. Infrastructure
a) Land for investment
YouNick offers 33 ha of a land for investment located in the dynamically developing Suchy Las commune. For years, this commune has been noticed by entities examining the financial health of local governments. The commune is always on the top of the published rankings (the commune's revenue per resident in 2014 were PLN 6581, while the average revenue for Poland in that year was PLN 5398.35). The rankings mainly appreciate a climate for entrepreneurs, tax policy, and the authorities' ability to manage budget of the commune. Being located in the vicinity of Poznań, an important economic, cultural, and educational centre, creates favourable conditions for investors interested in conducting their business activities. The area is well connected with the Poznań Western Ring Road – right by the national road no. 11 and near the Poznań Suchy Las junction. The YouNick investment area is intended for the construction of space for: offices, laboratories, warehouses, plants (light industry manufacturing), services, server rooms, and parking spaces. The area has access to IT infrastructure, gas, electricity, and water.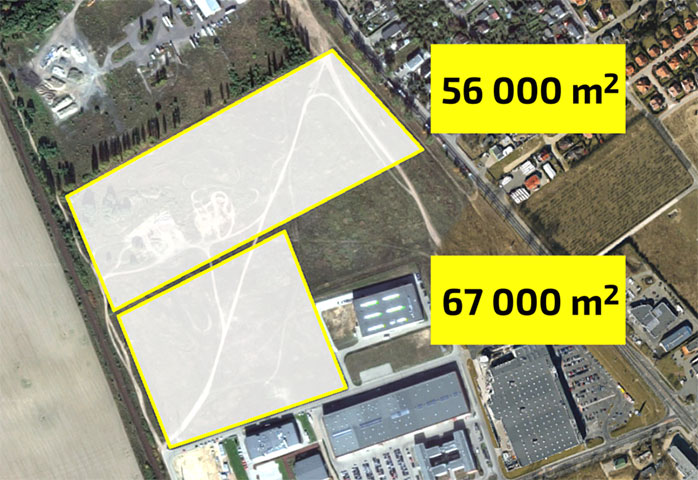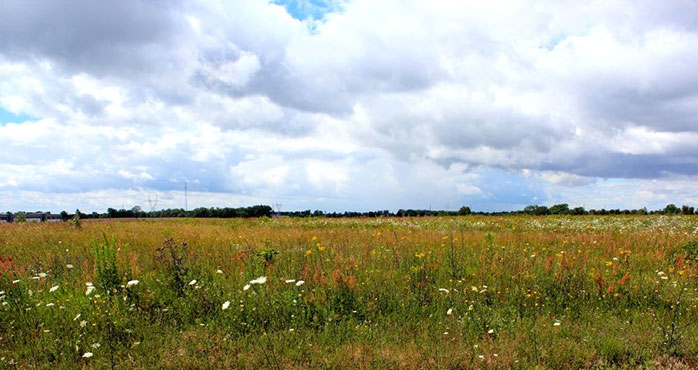 b) Offices
There is approximately 12,000 m2 of modern class A office space in the modern office complex, with the possibility of any arrangement, located in 4 office buildings.
The office space is intended both for companies which prefer standard types of office spaces and for businesses which are looking for open and friendly open-space.
The latest YouNick project - The Office Building No. 3 – it is a modern building in the industrial style with an area of 3,200 m2, composed of 4 above-ground floors and an underground parking lot. Each floor contains free common areas, such as kitchens, meeting rooms, chill-out spaces, creative work spaces, employee lockers, and bathrooms with showers, which allow for reduction of the office rental costs. In the building, there is also a conference centre with workshop premises (3 easily-connected rooms for a total of 130 people), 5 free meeting rooms, a restaurant with a terrace, and a multimedia library.






c) Laboratories
The Park contains BioNick – a modern centre gathering Polish and foreign companies and research teams from the Life Science, biotechnological, and pharmaceutical sector with an area of 2000 m2. Area adapted to the requirements of SANEPID [state sanitary and epidemiological station], GMP, GLP, HACAP etc. Opportunity to develop and optimise costs by using area common to all laboratory spaces and equipment, such as: sterilisation rooms, washing rooms, refrigeration rooms, centrifuge rooms, etc.






d) Warehouses
We give access to robust warehouse and assembly halls with an area of 12,000 m2 and a height of 10 m to companies with a need for a modern warehouse space. Warehouse space with a modular structure (module with a size of approx. 1,800-2,400 m2) and rest and refreshment area with changing rooms, restrooms and a kitchen. A convenient location at the western ring road of Poznań. Good natural lighting in the hall provided with the use of a rooflight system. Manoeuvring area for lorries and lateral unloading ramps. Specialised equipment in the form of docks and gateways from "0" level. Area is closed and monitored with 24-hour-a-day drive in and out control.






e) Additional infrastructure supporting the work-life balance and a professional and personal development (nursery and competency kindergarten, restaurant, green areas, original HumaNick Program).





2. Business services
a) financing innovative business in the biotechnological, medical, chemical, and ICT industry, based on capital investments, EU, VC, bridging and own funds, as well as loans and leases, and sweat equity. For 5 years of its investment activities, YouNick has invested PLN 32M in 21 companies, creating over 100 jobs. Furthermore: the virtual office services, Co-working Zone, networking, legal, accounting, and promotional services for start-ups.
b) support for activities of the entities connected with YouNick and for external companies and institutions in the NPD (new product development) with the TestLab which combines skills of process, technological, and industry experts with skills of investment managers, and a team of specialised laboratories which will help you develop and launch an innovative product/services.






AWARDS
2006 - Economic event of the year in the Wielkopolskie Voivodship - Forbes Regional Executive Meeting award for the "Economic event of the year in the Wielkopolskie voivodship.

2007 - Reliable entrepreneur 2007, a title awarded by Media Project.

2010 - The One Who Changes Polish Industry 2009 - the title was awarded for creating the first commercial platform for knowledge-to-business transfer and the social initiatives undertaken by its creators.

2013 - The Market Innovation Leader Quality, Creativity, Efficiency title awarded by Dziennik Gazeta Prawna. This is a title awarded to companies that focus on the supreme quality of their products, services, implemented management and customer service standards.

2015 - A nomination for the Eurobuild Award - one of the more prestigious awards in the commercial building industry for the YouNick 3 office building. Category: New Office of the Year 2015.

2016 - "The Company of the Future" certificate with the special "Gold Prize" distinction, awarded by the Foundation for Development of General and Higher Education to companies known for their modern and innovative approach to running a business.


COMPANIES AT YOUNICK
YouNick is created by more than 600 people from almost 60 companies. Together, we are building an environment that is friendly for people and business. We have here companies that design advanced IT systems, IT outsourcers, biotechnology, logistics, consulting and manufacturing companies, as well as those who specialize in advisory services related to obtaining funding from the EU, for example:
BCC sp z o.o. - an independent consulting company specialising in SAP services, IT outsourcing, and software development. It employs over 200 people and is one of the largest companies implementing IT systems in Poland. The leader of the Polish export of SAP services, it carries out project all over the world.

TRECOM - a dynamically developing IT company with Polish capital and traditions held since 1996, passionately supporting companies through development and optimisation of their IT systems. The main scope of activities of the company are fields related to Security, Data Center, Collaboration, and Enterprise Networking.

Exact Software Poland sp. z o.o. - it supports companies in their growth through delivery of modern solutions and IT systems, including systems supporting enterprise management (ERP), as well as customer relationship management (CRM) applications or electronic document workflow (Workflow) systems.

Digital - Center sp. z o.o. - one of the most well-known suppliers of equipment for digitalisation and digitisation services in Poland. It offers: digitalisation of the records, archive materials, audio, documents, museum exhibits, library collections, and many others.

PozLab - an independent research and development centre, leading on the Polish and European market. It deals with a complete development of innovative and generic products, and with the quality control of sterile and non-sterile medicinal products.

CEBIM - it provides consulting services for the Bio/Life Science sector. Among others, it supports innovative entrepreneurs (start-ups and spin-offs included), research units and investment funds.

Centrum Biotechnologii i Badań Mikrobiologicznych sp. z o.o. [Biotechnology and Microbiological Research Centre] - it provides comprehensive laboratory services, including microbiological research for pharmaceutical, cosmetic, and food industry.

Smart Pharma - it deals with development, production and commercialisation of innovative medical products. It supports medical groups - physicians and pharmacists, their patients and the patients' families, and in particular, parents of infants and young children.

CONTACT:
YouNick Technology Park
(Nickel Technology Park Poznań Sp. z o.o.)
Ul. Krzemowa 1
62-002 Złotniki
+ 48 61 65 85 505
E-mail: biuro@younick.pl
Website: www.younick.pl
Facebook: www.facebook.com/younick.placetocreate
LinkedIn: www.linkedin.com/company/younick
Last update: 2017-03-13