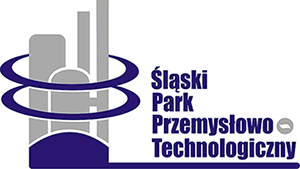 The Silesian Industrial and Technological Park was established by virtue of agreement concluded on 18th June 2004 by:
The City of Ruda Śląska,

The City of Świętochłowice,

"Inwestor" Sp. z o.o. [Ltd], Agency of Development in Ruda Śląska

PPUH "Rudpol - OPA" Sp. z o.o.[production, service and trade, Ltd] in Ruda Śląska,

ZCP "Carbo Energia" Sp. z o.o [group of industrial heat plants, Ltd] in Ruda Śląska.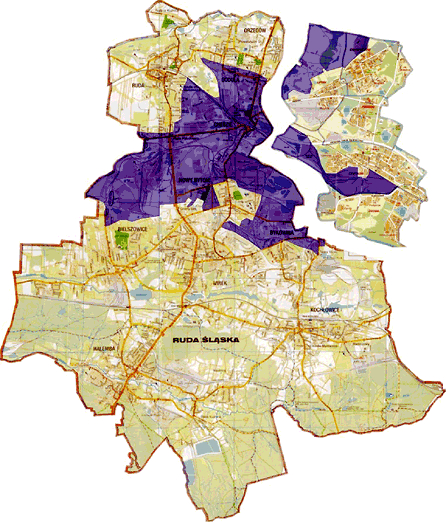 Location
Silesian Industrial and Technology Park covers Investment areas with excellent transport links located in the centre of the Silesian urban agglomeration. It was created for entrepreneurs with the intention of economic and social revival of these excellent areas in terms of investment attractiveness.
Silesian Industrial and Technology Park was built on post-mining areas such as coal mines: KWK "Wawel" located in Ruda Śląska and KWK "Polska" located in Świętochłowice.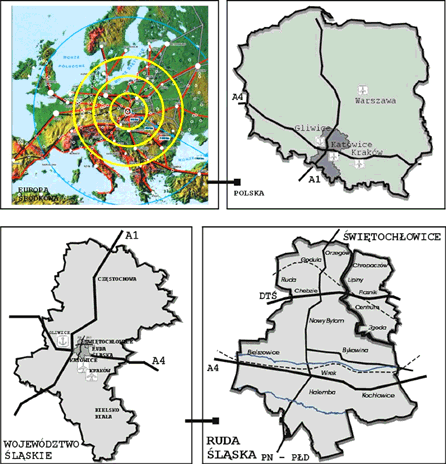 Purpose
Our tasks are creation of modern, coherent with EU standards and attractive to investors offer. Allowing for effective economic and social activities.
Equally important is also stimulation of local entrepreneurship and employment creation. We can obtain that by providing the most favorable conditions for running a business in Ruda Śląska.
Goals and mission
Mission: "Balancing investment attraction of Silesia with a tradition of good works"
Activity:
redevelopment of brownfield sites,

attraction of investments,

economic and social revitalization of degraded post-industrial areas,

creation of employment,

increase of competitiveness of businesses operating in Park boundaries,

development and modernization of the infrastructure,

fund raising, EU funds acqusition for infrastructure development,

creation of business incubator "Architecture and Construction" supporting local entrepreneurs

technology transfer and innovation stimulation

scientific cooperation with agglomeration universities
The main benefits for Silesian Agglomeration:
economic recovery,

social-economic potential increase,

local enviroment integration,

region competitiveness increase,

Investment attractiveness improvement.

OFFER:
Park offers modern office space located in building in city Ruda Śląska at Szyb Walenty street. For entrepreneurs disposal depending on their needs, we provide office space with variety of area for lease. Within Park are located exhibition hall with an area of approximately 300 m2 which might serve as a conference auditorium and smaller conference room for 30 people. Our advantages are free parking and major country roads closeby.
In addition, Park offers plot of lands for the purpose of sale or lease. We also provide services as Office of Investor Assistance such as: help with finding best offers on the markets concerning lease and sale, allows fast access to information about investment conditions in cities of Ruda Śląska and Świętochłowice; provides services in the field of property management and obtaining current information about the real estate market.
In park boundaries are currently operating about 30 companies from various industries i.a. construction, architecture, surveying, power industry, environmental protection, Innovative technology and services.
Surveying Laboratory
Surveying Laboratory at Silesian Industrial and Technological Park offers :
Land surveying and cartography :


utilization of Real Time Kinematic (RTK) technique,

creation of maps for design purposes,

construction site surveying service ,

as-built survey,

division of immovable property,

reestablishment of boundaries,

location survey of buildings and structures,

topographic surveys



Three dimensional scanning:
creation and record of three-dimensional models of the external facades and interiors of buildings

architectural and heritage records

creation of three-dimensional maps for design purposes,

structural elements measurement,

creation of three-dimensional models of individual parts or components of machinery.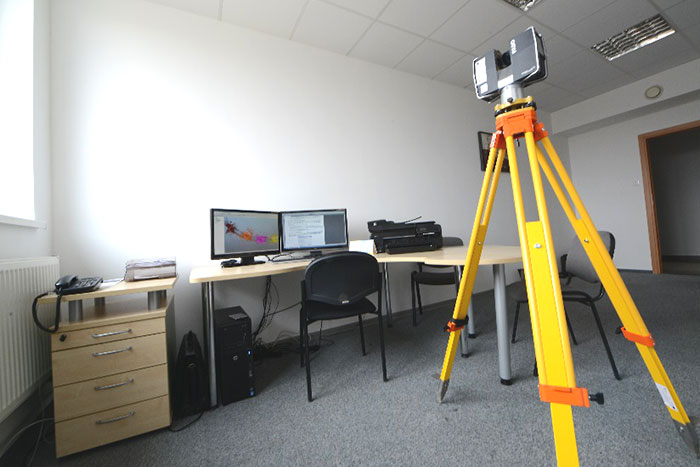 CONTACT
Silesian Industrial and Technological Park Ltd.
Szyb Walenty 26 Str.
41 - 700 Ruda Śląska
Phone: (+48 32) 78 95 100/101
Fax: (+48 32) 78 95 114
WWW: www.sppt.pl
E-mail: sekretariat@sppt.pl