Science and Technology Park Euro-Centrum, Katowice, fot. PNT EC
Name: Euro-Centrum Science and Technology Park
Type of park: Science and Technology Park
Stage of development: Developed


Science and Technology Park Euro-Centrum, Katowice, fot. PNT EC
Localization
Euro-Centrum Science and Technology Park is situated in Katowice - the capital of Silesian Voivodeship which belongs to most industrialized polish regions with dynamically developing economy. It owns numerous natural resources, including coal, zink, tin and natural gas. Capital of human Katowice metropolis it about 4,5 million residents and 45 universities. Favourable climate for investors provide Silasian Voivodeship first ranks in the investment attractiveness rating. Park is good located in a hub of European transport corridors (A4 and A1 motorway junction and Katowice Arterial Road) close neighborhood of Katowice International Airport in Pyrzowice.


Science and Technology Park Euro-Centrum, energy- efficient building and Green Building Prize, fot. PNT EC
Sector profile
The Euro-Centrum Science and Technology Park is thematically focused on the development of energy efficient technologies and energy saving in buildings. It is a place where business meets science. The Park implements its objectives by offering laboratories and research equipment, training and consulting services and facilitating access to knowledge and the results of the latest research from the sector. Additionally, the Park financially supports the establishment of technological companies, researches innovative ideas and has equity ties in new companies. It also coordinates the activities of the Cluster of Energy Saving Technology.
As a specialized business-related institution it creates technical, organizational and institutional infrastructure which is necessary to ensure favourable conditions for the establishment and development of companies conducting research, development or innovative activities in the areas of energy efficiency and renewable energy sources.
The scientific potential of the Park is provided by its cooperation with the leading research centers and universities in Poland e.g.: Cracow University of Technology, Silesian University of Technology in Gliwice, Silesian University in Katowice, University of Science and Technology in Cracow and the University of Economics in Katowice, The Institute of Innovative Technologies EMAG, the Institute for Chemical Processing of Coal, The Institute for Ecology of Industrial Areas, the Polish Organization of Heat Pumps Technology Development, The Institute of electron Technology Warsaw.
Energy-efficient buildings of the Park provide activity field for research centers. The Park, as a member of scientific and industrial consortia, conducted national research projects, which developed recommendations concerning RES implementation in buildings as well as guidelines concerning the design and use of buidlings to minimize electric power consumption in them.
A significant icon of the Euro-Centrum Science and Technology Park is an innovative passive building, which has been honoured with a Green Building Award as one of the most environment-friendly buildings in Europe. It sets an example of a successful implementation of energy-saving systems and renewable energy sources in buildings. There are also two other low-energy buildings, equipped with photovoltaics, which offer an additional production and assembly area for innovative companies.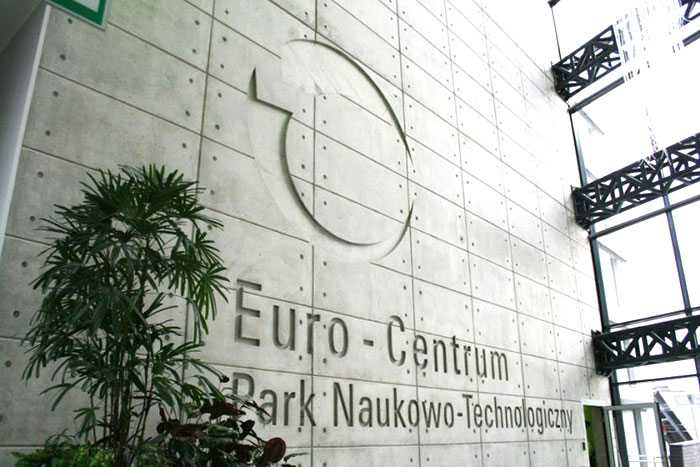 Science and Technology Park Euro-Centrum, Katowice, fot. PNT EC
Offer of the Park
Science and Technology Park offers infrastructure, laboratories and research facilities as well as training and advisory services, facilitating access to knowledge and the results of recent studies of the renewable energy sources.
Infrastructure
A modern, innovative entrepreneurship needs the proper conditions to develop dynamically. Dealing with the needs of innovative companies, there was a special rental offer prepared. Offices are equipped according to European standards. Technology companies which run a research, development and innovation businesses are welcome to use the area of the Park. Priority is given to the companies whose profile is connected to respecting energy and its renewable sources. Apart from the offices and other business-related space, our passive building hosts a number of laboratories for research into renewable and energy-efficient technologies and a Tier III certificated Data Centre.
Innovative tenants of Science and Technology Park will be granted a discount up to 30 % throughout the whole period of use (with funding from the EU). The presence in the Park means a close proximity and the opportunity to work with businesses and institutions dealing with advanced technologies and renewable energy.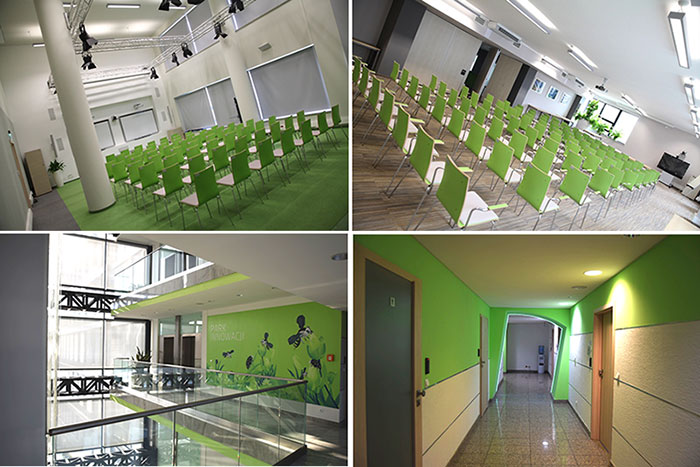 Science and Technology Park Euro-Centrum, Katowice, fot. PNT EC
Facilities for tenants:
The air-conditioned office open space,

Access to conference and training rooms, including the audiovisual room,

The possibility of renting exhibition space,

Guaranteed continuity of power supply,

Data center ,

High-speed internet connection (high-through fiber-optic cables allow you to connect telecommunications services)

External monitoring and surveillance (24-hour),

Car-park with the reservation of the exclusive disposal,

Restaurant ,

ATM,

Supermarket ,

discount up to 30% for rent and services (in accordance with state aid rules de minimis),

The bus stop,

Airports and main communication routes in the neighborhood (airport about 35 km).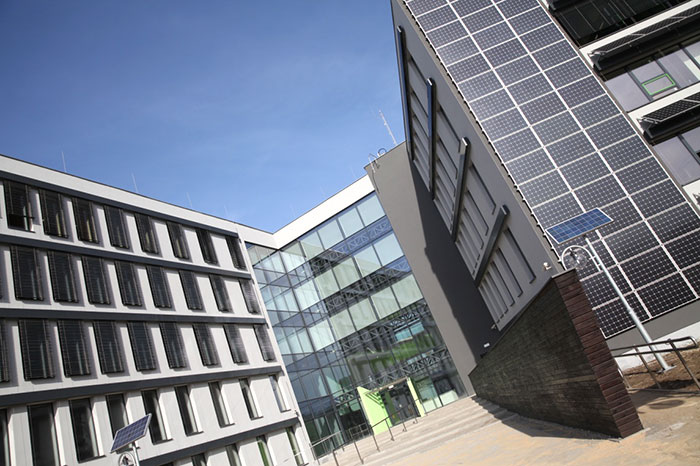 Science and Technology Park Euro-Centrum, Katowice, energy- efficient building, fot. PNT EC
Data center
There is also data center located in the Park, which store and process data, using advanced technologies. The DC's infrastructure consist of rooms equipped with appropriate installations with guaranteed power supply, access protection, fire safety protection, air-conditioning and round-the-clock supervision by the BMS. It was established to provide colocation services, rent virtual servers, provide software, data acquisition and data storage, data archiving, maintenance resources and administrative resources to maintain a complete data center to the isolated client's ERP software in SaaS mode and maintain backup or concurrent data center.


Science and Technology Park Euro-Centrum, Katowice, data center, fot. PNT EC
Laboratories
There are some laboratories in the area of Park:
The Centre for Solar Energy System Testing - It is an internal laboratory based on solar radiation simulator which consists of a lamp field, an artificial sky, a ventilation system, a thermostat, temperature sensors and devices for data generation. The device is designed to test the efficiency of solar collectors which use a mixture of water and glycol as a heat transfer medium.


Laboratory of processes in energy-efficient building - designed to make tests on building materials in respect of their resistance to climatic factors, corrosion or aging rate . Tests can be carried out in a specially designated chamber, characterized by a wide range of temperatures and humidity.


Laboratory thermal properties of buildings - allowing a thorough diagnosis of the building, including occurrence of thermal bridges, tightness, noise level or light intensity. It also lets you check the quality of the climate or comfort of the room.


Laboratory of Smart Grids - enables to conduct tests, integrate and manage energy systems of the building, also those located outside of Katowice.


Climate and weather station - located on the roof of the passive building, allows to monitor weather conditions for its operation. Particular importance, in respect of type of equipment installed on the roof, is measurement of solar radiation and the development of its balance sheet. Collected data are a useful material for assessing the climatic conditions, supporting the proper selection of RES installations, not only for passive building , but also for other facilities in the area.


Science and Technology Park Euro-Centrum, Katowice, laboratories, fot. PNT EC
Consultancy
Euro-Centrum Science and Technology Park prepared an expert advice based on Observatory of the market and energy-saving technologies which supports companies operating in the area of renewable energy sources and energy-saving technologies in the creation and strengthening of their market position. It is based on valuable and reliable knowledge. It makes it easier to acquire strategic information about markets and technologies which are used or are going to be used by companies. It supports efficient transfer of knowledge and technology on the domestic market and it participates in propagating Polish solutions on foreign markets.
Offer experts consulting includes:
For the units of local government:
Audit of technological innovation,

The analysis of the energy efficiency of the building,

Service of energy conservation in buildings,

Management of energy consumption in buildings.
For academic units:
For companies:
Market reports,

Search for funding projects,

Audits of technological innovation ,

Audit of strategic management,

Service market analysis,

The analysis of the energy efficiency of the building,

Service advisory - energy conservation in buildings,

Research service - climatic tests, corrosion and aging,

Consulting - management of energy consumption in buildings,

The study of the thermal properties of the building,

The study of solar collectors,

Service support conceptual solar installations.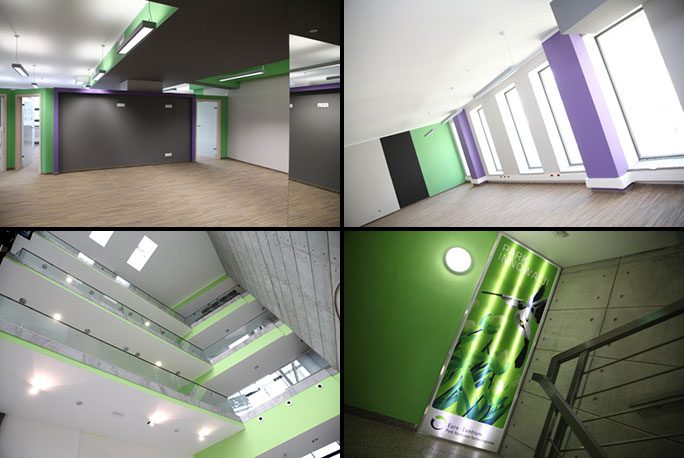 Science and Technology Park Euro-Centrum, Katowice, fot. PNT EC
Training
The Training Centre of Modern Techniques of Heating was designed for installers of equipment powered by renewable energy sources and manufacturers or entrepreneurs testing materials used in energy-saving building. The center has own four workshop with boilers, heat pumps, ventilation and photovoltaics.
Euro-Centrum Since and Technology Park prepared training funded by EU in cooperation with professional research and scientific centres, wchich established to take into account the needs of sectors connected with increasing the energy efficiency of building. The offer of the includes several thematic trainings:
The installer of low-power heating boilers,

The installer of heat pumps ,

The installer of solar collectors and solar energy systems,

The installer of ventilation systems and thermal modernization of buildings
Park, except to the projects EU trainings, provide also IT, management, multimedia applications, the protection of the environment and the law trainings.


Science and Technology Park Euro-Centrum, Katowice, training centre, fot. PNT EC
Companies situated in the Park
The Euro-Centrum Science and Technology Park together with the Euro-Centrum Industrial Park create a dynamic business center with over 100 companies operating there. For their actual list, please see: www.ligocka103.pl/firmy

Contact:
Science and Technology Park Euro-Centrum JSC
Ligocka Street 103
40-568 Katowice
Poland
tel.: +48 32 205 00 92
fax: +48 32 250 47 85
E-mail: kontakt@euro-centrum.com.pl
World Wide Web: www.pnt.euro-centrum.com.pl