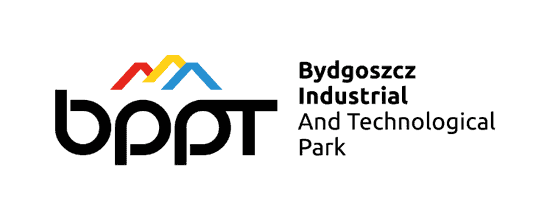 Bydgoszcz Industrial and Technological Park is one of the largest industrial and technological parks in Poland. It is located in central Poland, in Kujawsko-Pomorskie province, and occupies grounds of 280 ha. This area is developed, with modern technical and road infrastructure. It has convenient transport connections. The whole Park has been included in the local land use plan and part of it is in an Economic Zone. This makes it an even better place for industrial investments.
The Company with the name of Bydgoszcz Industrial Park, with the main purpose to stimulate entrepreneurship and create new jobs by organizing favourable investment conditions for companies, was registered on December 21, 2004. On January 24, 2011, it changed its name to Bydgoszcz Industrial and Technological Park (Bydgoski Park Przemysłowo-Technologiczny Sp. z o.o.). The City of Bydgoszcz, with over 94% of shares, is its major shareholder.

INVESTMENT PROJECTS AND DEVELOPMENT
Since its incorporation, BPPT has conducted energetic developmental activities, using its own resources and EU funds. This included construction of new roads with lighting, pavements, bicycle lanes, waterworks, and a sewage system, construction of two halls with an administrative-social connector and expansion of the premises of the Company.
It is worth mentioning that BPPT is a business supporting entity. Being an industrial and technological park, the Company makes every effort to create a place for implementing the latest business management solutions and for propagating process and product innovations.

ENVIRONMENT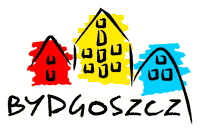 An unquestionable asset of Bydgoszcz Industrial and Technological Park is its convenient location; this makes it an attractive place on the investment map of Poland. The whole of BPPT is located within the borders of Bydgoszcz, the capital of Kujawsko-Pomorskie province and the eighth largest city in Poland, with a population of almost 360,000. Short distances to Toruń, Solec Kujawski, and Inowrocław make it possible for enterprises located in BPPT to operate in the labour market of the whole Bydgoszcz and Toruń agglomeration, with over 850,000 professionally active people. Bydgoszcz is also deemed to be a modern economic, cultural, and sports centre. Each year, a lot of cultural, sports, and trade fair events are held here, which are visited by several hundred thousand guests. Undoubtedly, a well-developed business environment is a great support for enterprises.
The Bydgoszcz labour market is favourable for investors. Here, enterprises have access to a scientific and research base, as well as to qualified staff. The city has a relatively low unemployment rate and low labour costs. Each year approximately 44,000 students attend courses in technical, economic, liberal arts, medical, and artistic universities in Bydgoszcz. It is a city of young people; the average age was calculated at 36 years, and the number of people of productive age was over 229,000, i.e. more than two-thirds of the total Bydgoszcz population.
For many years music lovers have been able to enjoy their stay in Bydgoszcz. There are many concerts, plays and festivals held in Opera Nova, the Pomeranian Philharmonic, Polish Theatre, BWA Gallery, museums and clubs.
LOCATION
Plots for investment offered by Bydgoszcz Industrial and Technological Park are located less than 5 km from the city centre and near main transport routes, i.e. 3 km from trunk road no. 5, connecting Gdańsk with Poznań; 3 km from trunk road no. 25, connecting Konin with Koszalin, and 0.8 km from trunk road no. 10, which connects Warsaw with Szczecin and is also the Bydgoszcz ring road. The distance to an international airport is 6 km and to an inland port – 6.5 km. In the Park there are rail sidings connected with international transit line no. 131 (C-E 65/1), connecting Silesia with sea ports in Gdańsk and Gdynia.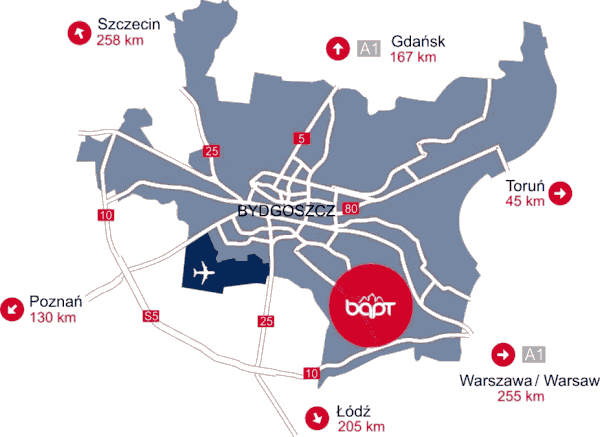 OFFER OF THE PARK
BPPT offers about 80 ha of free plots for new investments. These are plots for sale or lease, with convenient transport connections, located in the southern-eastern part of Bydgoszcz, and build-to-suit facilities, i.e. construction of buildings adapted to investors' individual needs. The Company conducts many activities to prepare the grounds for investors, including allocation and geodetic division of plots, hydrological and geological examinations of land, construction of new infrastructure, and expansion of existing infrastructure.
BPPT is able to allocate plots of a size and shape meeting the requirements of investors; however, the minimum surface area is 1 ha. The whole of Bydgoszcz Industrial and Technological Park is included in the local land use plan, entitled "Łęgnowo – Park Technologiczny", where this area was marked as a business activity area, including services, manufacturing, storage and warehousing. Geological examinations indicated that the land meets standards concerning the condition of soil and underground water.
BENEFITS FOR INVESTORS

A part of BPPT, with an area of almost 46 ha was included in the Pomeranian Special Economic Zone. In December 2013 six investors held permits to conduct activities in this area; at present, negotiations are being conducted with other entities. There is still an area of approximately 8,6 ha to be developed.
Enterprises operating in the Pomeranian Special Economic Zone are granted special income tax allowances on account of:
capital spending specified in their permit,

and/or


employment rate specified in the permit.
Minimum capital spending is EUR 100,000 and business activities have to be conducted for at least 5 years (3 years for SMEs). The public aid intensity rate in Kujawsko-Pomorskie province is 55%, 45%, and 35% for small-, medium-, and large-sized enterprises respectively.
Entrepreneurs can take advantage of the exemption from real estate tax for a period of three years, as part of regional aid for the creation of new investments (creation of a new or expansion of an existing business, introduction of new products or overall production process change in an existing business).
This exemption applies to the real estate on which new jobs were created and it depends on their quantity. The minimum thresholds to qualify for the exemption are:
5 new jobs for micro and small business;
15 new jobs for medium sized business;
50 new jobs for large business.
An entrepreneur who is seeking help (exemption from property tax) on the basis of this act must submit a written notification of the intention to use the exemption prior to the commencement of the investment, but before 30st June 2014.

COMPANIES OPERATING IN BITP

It is worth investing in BPPT - enterprises who have decided to locate their companies here or are going to invest in the near future have become convinced of this fact themselves. At the end of 2013 57 business entities were conducting activities or investments in BPPT, and about 1500 people were working here.
Enterprises operating in the Park represent the plastic products, metal products, construction materials manufacturing, and logistics industries.

You can obtain information on plots for investment at:
BPPT Investment and Investor Service Department
investments@bpp.bydgoszcz.pl
tel. +48 52 365 33 13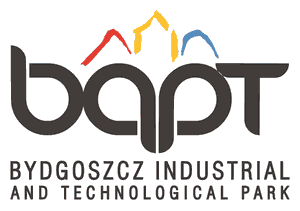 Bydgoski Park Przemysłowo-Technologiczny
Sp. z o.o.
ul. Bogdana Raczkowskiego 11
85-862 Bydgoszcz

tel.: +48 52 365 33 10
fax: +48 52 365 33 17
e-mail: office@bppt.pl