Polish-Turkish Business Forum: PAIH to open trade office in Istanbul
Turkey is Poland's main trade partner in the Middle East and a target market for a half of Polish sectors with the biggest export potential in distant markets. New trade and investment deals were the topic of Polish-Turkish Business Forum which took place on October 17th in Warsaw. The meeting was attended by president Andrzej Duda and president Recep Tayyip Erdogan and 300 businessmen from both countries.
- Polish-Turkish trade exchange is balanced, what proves that entrepreneurs from both countries know the markets inside out - Poland's president Andrzej Duda said in opening statement. As the president mentioned, Polish-Turkish trade turnover has been gradually growing; last year, its volume reached some USD 6 billion (PLN 24.5 billion). Moreover, only in first eight months of 2017 trade exchange between the countries valued at USD 4 billion. - There is a potential on both sides to work out USD 10 billion of turnover in a few years to come - Andrzej Duda said. - Poland and Turkey deserve this grow - president Recep Tayyip Erdogan argued.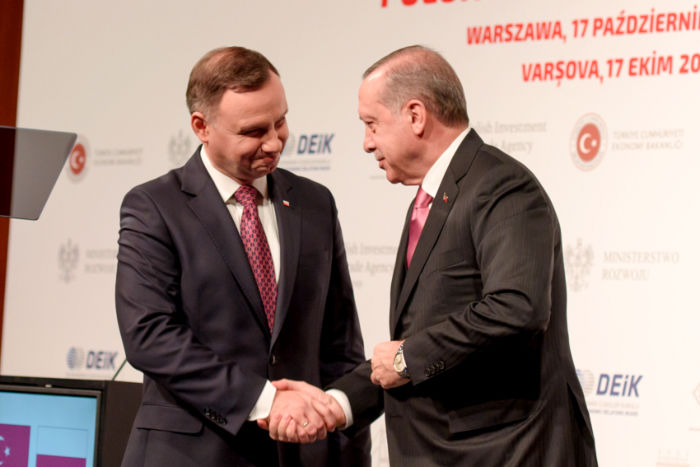 Both presidents announced that Polish-Turkish trade turnover could reach a value of USD 10 billion in a few years to come
Processing industry's products are the speciality of Poland's exports to Turkey. However, president Andrzej Duda believes that energy sector holds a great potential for the bilateral cooperation. - Turkey has been developing a program of conventional energy production. Our experienced engineers may help out. He noted that Polish company Farmur has been successfully delivering mining machines to Turkey for several years. - We could also cooperate in such fields as revitalization of energy blocks and solar energy - president Duda suggested.
- We could build bridges between East and West together - Erdogan said enquiringly. He referred to dynamically increasing Poland's and Turkey's economic growth. He moreover pointed out the opportunity of cooperation regarding infrastructure projects, including constructing Turkey's largest airport in Istanbul as well as roads and bridges. Erdogan underlined he meant not only ventures inside Turkey, but also in the Middle East - where Turkish companies have a solid position and a network of business connections.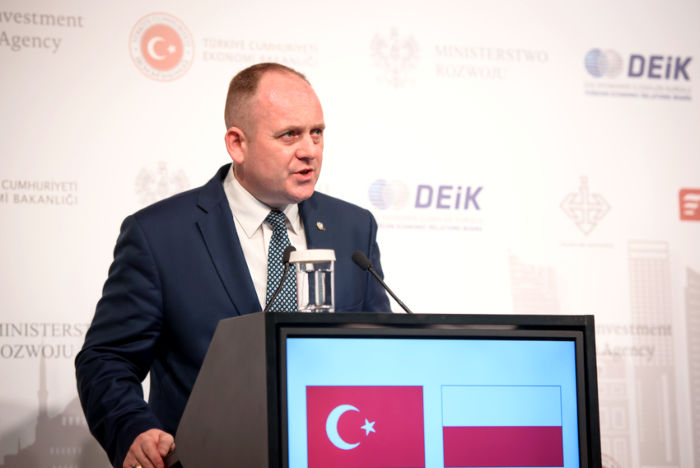 During the Forum vice-president Fedko said that PAIH is going to open Trade Office in Istanbul next year
In vice-president Wojciech Fedko's opinion Turkey is a perfect target market for the Polish automotive sector, especially for car components producers. - I encourage automotive companies to take a closer look at Bursa-Marmara region, for instance, where, among others, Fiat and Renault based their production plants, and their contractors have been operated. Passenger cars, delivery vans and trucks have been produced there. - I am sure that the Polish automotive sector will make itself at home by the Bosporus soon - Wojciech Fedko argued, mentioning Polish companies' experience in cooperation with foreign investors, including Turkish. - PAIH have been supporting six direct investments from Turkish this year alone. Three of them regard automotive sector. This is an opportunity for creating 1.700 new jobs and a foundation for building long-term trade and investment ties between our countries - he added.
W. Fedko also said during the Forum that PAIH is going to open its Trade Office in Istanbul so that the Polish-Turkish economic relation could be strengthen. (PAIH)
More information: www.paih.gov.pl/20171017/Polish_Turkish_Business_Forum
India - a promising direction for expansion in Asia
IT, food processing, furniture, medical equipment, mining, energy, defence, and even the film industry are these areas that may soon change the face of Polish-Indian economic relations. - India is above all an extraordinary variety and the mistake that we must absolutely avoid in the pursuit of success is making generalizations or insufficiently accentuated cultural context - said at the inaugural speech at the workshops of the Polish Investment and Trade Agency, and the Ministry of Development, president of Indian-Polish Chamber of Commerce (IPCCI), JJ. Singh.
Training for Polish entrepreneurs interested in the Indian market took the form of an open discussion with invited speakers and became a platform for business networking. Guests were welcomed by Lucyna Jaremczuk from the Ministry of Development, while inviting to take part in the November economic mission led by the Undersecretary of State, Witold Słowik. A delegation dedicated to the food processing industry will be associated with a promotional campaign at Word Food India 2017.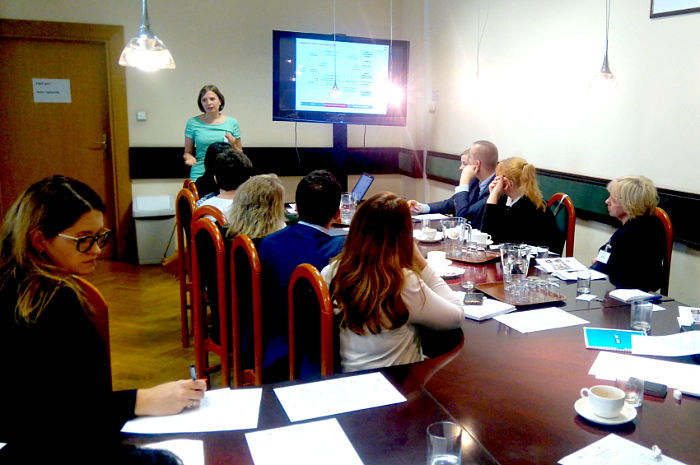 - India is the recipient of only 0.1% of Polish exports and 0.4% of Polish imports. Both, trade and investment relationships require better promotion and incentives - said JJ. Sigh. The Indian market, however, is significant for several Polish companies, where orders are closely linked to government policy and economic situation. Too small representation of Polish goods in India is not related to their poor competitiveness, but above all, the fact that only companies permanently present on the market can be successful, which requires a strong, locally anchored partner.
Especially in the current swing, which is taking place internationally among top players, China is balancing its influence and, according to the head of IPCCI, is increasingly keen on deepening relations with CEE countries, importing modern equipment and food. The location of the gateway to the European Union customs markets, its population and economic potential, makes it possible for Indian IT entrepreneurs to cooperate with Polish software talents. The biggest Indian IT companies are already present in Poland.
Macroeconomic data show that India's economy is climbing to higher levels of productivity. This absorbing, over one billion consumer market continually needs new goods and specialized know-how, which Poland in fact has in many areas. - An example here is medical equipment. The Indian health care industry, both state and private, is developing very dynamically - one billion consumers are also one billion potential patients. The equipment with the Polish label is no different from the Western quality and remains affordable for India. So the decision seems simple. Opportunities are also for manufacturers of medicines and hygienic materials - describes the situation JJ. Sigh from the Indian-Polish Chamber of Commerce. Interestingly, the driving force of the Indian economy is the small and medium-sized business sector, surrounded by the government care.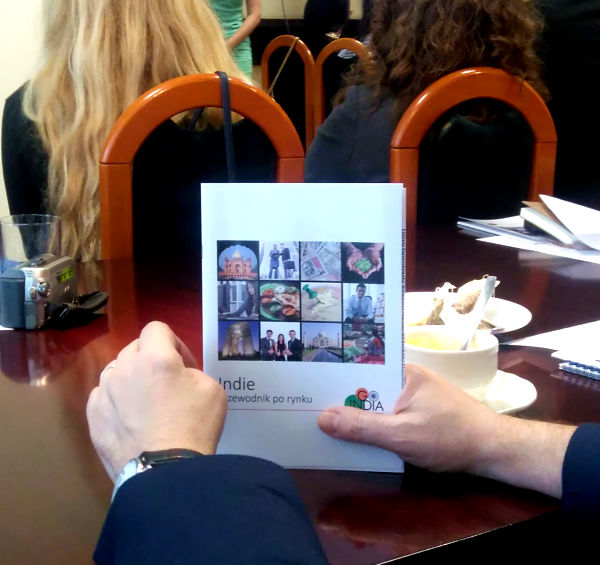 The meeting was also attended by presentations of export support and security instruments guaranteed by the Polish Development Fund - PAIH, KUKE and BGK. Aleksandra Sobczak presented the architecture of PAIH support dedicated to Polish companies, outlined the process of organizational changes. In line with the new policy, PAIH Foreign Trade Offices will be located in places that do not always coincide with the administrative functions of a given country, but are truly a business epicentre. In the case of India, the office will soon be activated in Mumbai, India's most important business city.
The culmination of the workshops was presentation of chosen case studies - the experiences of Billenium and TZMO companies as active participants of the Indian market, insight into the latest logistics solutions of commodity supply and practical study of nuances of business communication and brand marketing on the Indian subcontinent.
More information: www.paih.gov.pl/20171018/india_promissing_direction_for_expansion_in_asia
Polish Days in Budapest: Hungarian customers enjoy Polish confectionery
Budapest is hosting a 10-day long promotion of Polish food products. Until 22th of October, clients of the biggest retail chain in Hungary, CBA Prima, will have the opportunity to taste and then buy: ham, sausages, beverages, jams, confection as well as dairy products made in Poland. Supported by the ATL advertising, the campaign called the "Polish Days" ("Lengyel napok" in Hungarian) has grabbed the attention of the Hungarian consumers. The Polish Days has been arranged by the PAIH Trade Office in Budapest.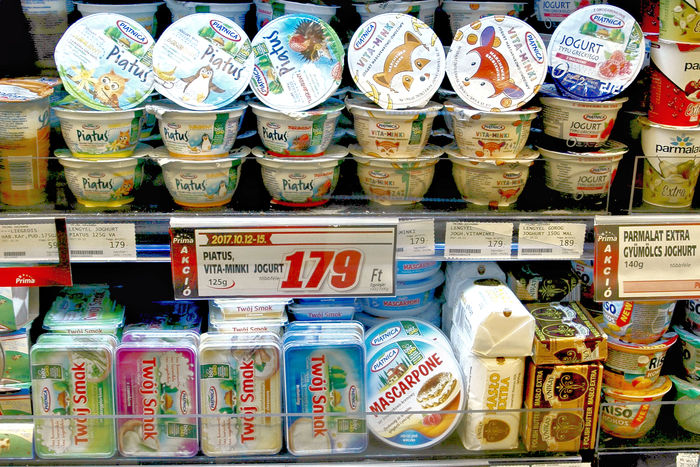 Polish products at CBA Prima shops
This is the first time when CBA Prima retail chain is holding "Polish Days" food promotion campaign during which one can buy Polish products in five shops of the retailer's. According to the head of PAIH Trade Office in Budapest, Marcin Karaskiewicz, primary the presentation of fifteen food products manufactured by five Polish producers had been planned. "However, we managed to make the presentation of the Polish food in Hungary much wider. Everyone who will visit CBA Prima shops in Budapest during the "Polish Days", will be able to buy one hundred of Polish specialties", Karaskiewicz says.
As head of PAIH office in Hungary says, in CBA Prima, products manufactured by well know companies with long-term tradition in the food business are being presented. Those are: producer of jams and juices Herbapol, the other is OSM Piątnica that shows its diary offer (cottage cheese, yogurts, milk and cheese). There is also Kupiec, a renowned producer of rice and corn cakes. Customers can find very attractive products of younger companies: AGI (geese and duck lard producer), PW MAT (producer of confection including chocolates), Milko (producer of cheese and butter), Marwit (producer of smoothies) as well as Cruz Group (producer of Vigo and Yoko herbal beverages). The last company from the list has already found business counterparts in Hungry. This Spring, Marcin Karaskiwicz's office supported Cruz Group entrance to the Hungarian market.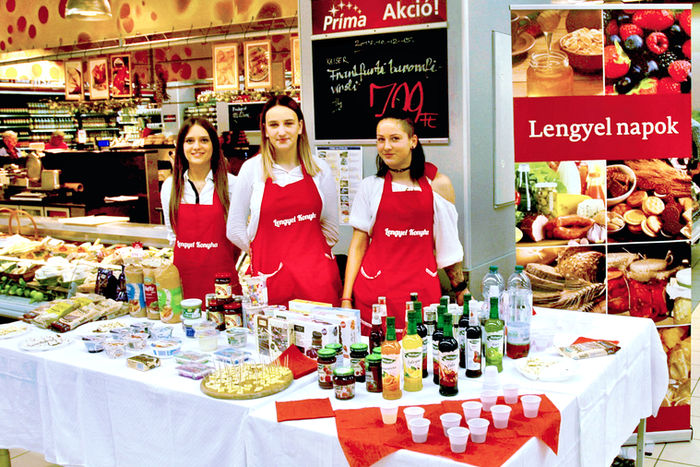 Presentation and tasting of Polish specialties
Promotion of the Polish Days in Budapest is supported by the billboard campaign in the capital city of Hungary. Moreover, the information about Polish food products were published in the CBA Prima weekly offer leaflet. Both the ALT campaign and the quality of Polish food attracted the vast group of Budapest consumers. "Only during two first days of the "Polish Days", some products just run out. Due to that, the retail chain had to increase the supplies of confectionery, jams, rice cakes and juices from Poland", Karaskiewicz explains.
He also says, that in the incoming days, the Hungarian side is to decide what Polish products shown during the "Polish Days" will be incorporated into the regular offer of CBA Prima.
After the success of the presentation of the Polish food in CBA Prima, PAIH Trade Office in Hungary is also planning the next "Polish Days" in Hungary. "The best time for such project is December, just before the Christmas", Marcin Kraskiewicz argues. (PAIH)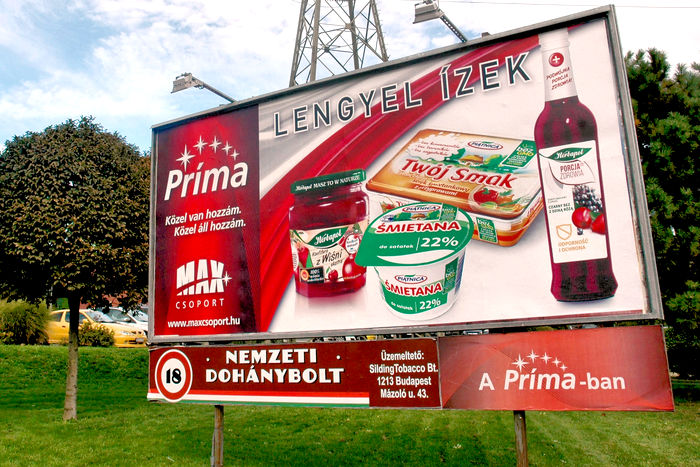 Billboards promoting Polish Days in Budapest
More information: www.paih.gov.pl/Polish_Days_in_Budapest
Cosmetics Basel Olten Pharm are heading to conquer Iran
The company has signed a partnership agreement with Iran to launch key brands: Mincer and Evre, as well as new brands dedicated to the pharmaceutical market - Neuronica and Solvea, the company said. The local partner is helping to build brand awareness among consumers in Iran and develop a network of outlets. Basel Olten Pharm also started distributing its flagship brand, MincerPharma in Russia.
- Iran is one of the largest markets in the Middle East and one of the highest growth rates in the Middle East. The population of this country is nearly 80 million and more than half are under the age of 35. The market offers excellent sales prospects for all brands in the Basel Olten Pharm portfolio - said CEO of the company, Mirosław Bryk.
Basel Olten Pharm is a cosmetic company with Polish capital, which was established by the merger of Skinea Polska and MCR Packaging. Company activity is based on the development of recipes and sales of innovative cosmetic products under the brands Mincer Pharma and Evre.
The newly established sales office of the Polish Agency for Investment and Trade in Tehran also supports the establishment of the concept of market entry, promotion strategy and the search for trading partners in Iran.
According to Jaroslaw Kaczynski, head of the office, the cosmetics market in Iran is very demanding for high quality products. - In order to succeed in the "import-distribution" model, the competitive price and a well-known brand are needed, but it is also a matter of so-called "the golden shot" - finding a stable and strong partner who will take on the burden of import and complicated certification - describes the investment climate prevailing in Iran, the head of ZBH.
Iran is not an easy market for expansion. The country has a policy of economic protectionism (the so-called eqtesad-e moqavemat). It involves limiting the influx of foreign products to promote local ones. - As far as products officially banned from import are low, reality shows that difficult-to-use certification, administration and high customs costs (up to 180%) are imposed on ready-to-sell and distribution of goods. Therefore finding a strong local partner may prove to be a valuable entry ticket for this market, with a high rate of return - informs Kaczyński.
More information: www.paih.gov.pl/20171810/cosmetics_Basel_Olten_are_heading_to_conquer_Iran
INVESTMENTS IN POLAND
Europe's biggest electric car batteries factory to be built in Poland
On behalf of the Polish Minister of Development, Industry Development Agency has issued business permit for Korean LG Chem Worcław Energy within Wrocław-Kobierzyce sub-zone of the Tarnobrzeg Special Economic Zone. Thanks to the investment Europe's biggest electric car batteries production plant will be developed in Poland.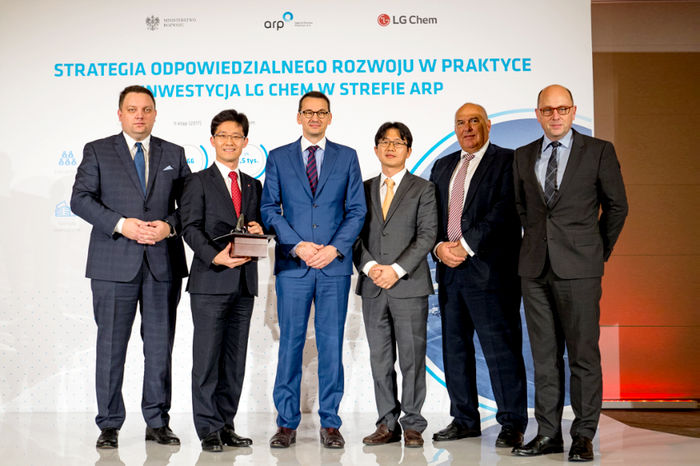 Source: Ministry of Economic Development
Korean LG Chem will produce some 100,000 batteries for electric cars yearly and hire 2.500 people. The factory is to be completed in 2018.
Tarnobrzeg Special Economic Zone has issued nearly 350 business permits so far. Investment expenditures amounted to PLN 8.5 bln and 30.000 jobs have been created. The SEZ is located in six voivodships and occupies an area of 1.868 sq m.
ANALYSES AND REPORTS
Deloitte Technology Fast 50 Central Europe with 22 companies from Poland
In the 18th edition of Deloitte Technology Fast 50 Central Europe, there were 22 companies from Poland, according to Deloitte data. The winner of the ranking was the Czech company Kiwi.com.
Out of the Polish companies the highest (the fourth place) was found Tooploox. The average growth rate of revenues of companies ranked in this year's ranking is 1 127% and is higher than in the previous year.
There are 22 companies in Poland, 19 of which are in the 'Technology Fast 50' category and three in the 'Upcoming Stars' category. Eighty companies from Lithuania, Germany, Latvia, Hungary, and Slovakia (2) and Bosnia and Herzegovina (5), Romania (3), Bulgaria and Herzegovina, Estonia and Latvia (after 1).
The top ten were three Polish companies: Tooploox (4th place), Absolvent.pl (5th place) and Cloud Technologies (9th place).
See the Deloitte ranking: https://www2.deloitte.com/content/campaigns/ce/technology/fast-50/fast-50-central-europe.html
FROM REGIONS
Mazurskie Meble Szynaka to expand its factory
Furniture producer Mazurskie Meble Szynaka Interline sp. z o.o was given a business permit at Warmińsko-Mazurskie Special Economic Zone.
The company will be expanding its production plan in Nowe Miasto Lubawskie, spending some PLN 13 million. A 8.000 sq m production hall will as well as automated production lines will be constructed. In addition a new information system will be implemented. The investor is going to hire 10 employees.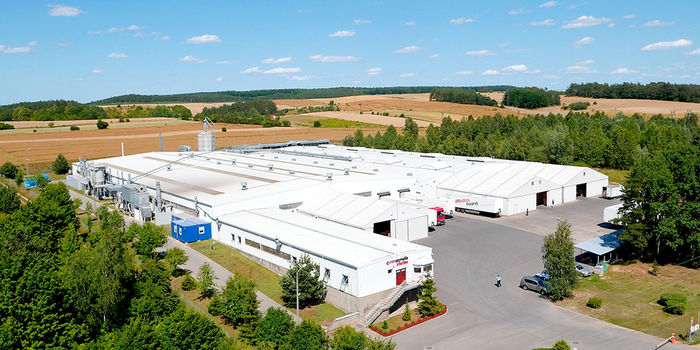 Mazurskie Meble Szynaka to expand its factory
Warmińsko-Mazurskie SEZ has issued Szynaka Group four business permits so far, including two issued this year. Mazurskie Mebla Szynaka Interline sp. z o.o. is one of six production plants owned by Szynaka Group.
Łódź SEZ to host another factory
As many as 100 people may find jobs at the new Goldbeck production plant located within the Łódź Special Economic Zone. The ground-breaking ceremony took place on October 12th.
The new factory of Goldbeck's will be based in Lućmierz, Łódzkie voivodship. The company designs and constructs production halls, office buildings and multi-story car parks. Lućmierz-based plant will produce steel structures provided for the internal investment usage.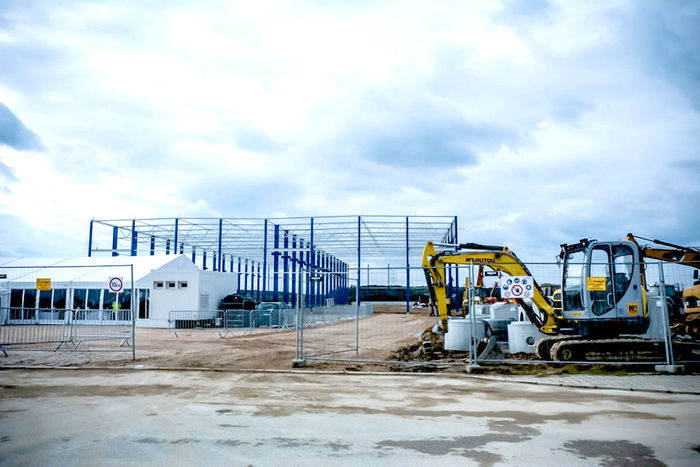 New Goldbeck production plant will be build in Łódź SEZ
In the near future the German Goldbeck Group is going to invest EUR 60 mln in Poland. The new production plant's costs amount to some EUR 23-24 mln, i.e. PLN 100 mln.
This is GoldBeck Elementy Polska's first investment within the Łódź SEZ.
DID YOU KNOW...?
Rugby without potato dainty?
New Zealand's consumers had to face a threat of shelves with no potato crisps bags and watching Rugby games without eating favourite snacks. Effects of natural disaster made retailers their blood run out.
This year's heavy rains and flood in the Southern part of New Zealand devastated approximately 20 percent of potato crops (in some regions even 30 percent). Majority of the damages affected the "crisping" varieties for potato crisps. As a consequence shop owners reacted dramatically and one of them informed its costumers that the shortages may last by the end of the year. The news spread in the internet quickly. However, the producers have been calming the moods, saying that there is a "sufficient" number of crisps bags in their warehouses. Nevertheless, it all could happen again next year, as the lands are not dry enough to plant new crops. (The Guardian)
---

Editorial office:
Polish Investment and Trade Agency, 00-585 Warsaw, Bagatela Street 12
Press Office, tel: +48 22 334 99 49, fax: +48 22 334 99 99,
e-mail:
redakcja@paih.gov.pl