NEWS
Investor's recommend PAIiIZ's services
Polish Information and Foreign Investment Agency is perceived as a professional institution with comprehensive knowledge regarding Polish market and vital contacts essential in the investment process in our country.
PAIiIZ was rated by foreign investors at 4.5 points. It is the highest result that the Agency received since the research has been conducted (in 2009 - 4.1 and in 2008 - 3.7).
The Agency is perceived by most of the companies that took part in the survey as a very important partner in the investment process. The first contact with PAIiIZ was rated very highly, as well as the staffs' professionalism. However, 29% of the respondents were not sure at the beginning what kind of services and help they may expect from PAIiIZ.
In this year's research 90% of the surveyed confirmed that PAIiIZ is an unquestionable and professional business partner. One of the strongest qualities of the Agency that was rated very highly were meetings with PAIiIZ's staff (84%), quality of preparation and competence of the employees who have direct contact with the investors (95%) and the quality and content of written information (72%). However, investors constantly expect the Agency to provide more consulting services.
The number of investment offers in the PAIiIZ's database has improved, however investors still would like to see a bigger range of choice. The information received from PAIiIZ regarding investment incentives was also more transparent for investors. The entrepreneurs, however, emphasized that they expect bigger financial support from the government.
The report shows that the main contact for investors with PAIiIZ and the main source of information was the Agency's website www.paiz.gov.pl (47% of respondents). Others mentioned personal contacts or information from both the Polish and foreign Embassies. Those who visited the Agency's website (84%) recognized that it contains the most useful information for foreign entrepreneurs. In comparison to last years' edition of the report the transparency of the website's structure was rated higher.
The research shows that in 2010, 95% respondents would recommend PAIiIZ's services to other investors.
The survey on investor's satisfaction with PAIiIZ services in 2010 was conducted by TNS Pentor.
The report was carried out in the fourth quarter of 2010. The report consisted of two modules: quantification research, which took 38 selected at random investors and qualitative research, where more direct and individual interviews with 11 randomly selected investors took place.
The analysis covered topics such as: first contact with PAIiIZ, PAIiIZ as a business partner, cooperation with PAIiIZ's project managers, recommendations and general assessment of the Agency.
TNS Pentor's presentation of the survey in Polish is available on: www.paiz.gov.pl/20110216/badanie_satysfakcji_inwestorow_z_uslug_paiz_2010.
Contact:
Aleksandra Bigda, PR Division, PAIiIZ
aleksandra.bigda@paiz.gov.pl, tel. +48 22 334 98 40
Go to top...
Programme of Economic Promotion of Eastern Poland in 2010 in figures
The Polish Information and Foreign Investment Agency on Programme of Economic Promotion of Eastern Poland in 2010.
The aim of the project is to attract attention to investment opportunities in the regions of Eastern Poland i.e. the Lublin, Podkarpacie, Podlasie, Świętokrzyskie and Warmia-Mazury region and consequently to boost the pace of socio-economic development of the regions. In 2010 the Polish Information and Foreign Investment Agency organized 17 promotional and economic events which were attended by 145 entrepreneurs and 108 representatives of local administration. Among the events there were exhibition fairs and trade missions to France, Italy, the UK, Russia, Malaysia, Singapore, India, Croatia and China during which entrepreneurs presented their products and local administration promoted investment projects. Participants took part in 1253 meetings with Polish and foreign contractors. Thanks to the meetings and established contacts several trade agreements were signed.
Plans for 2011 include realisation of 36 events geared towards entrepreneurs and local administration from Eastern Poland. For the complete list of events please visit www.paiz.gov.pl/polska_wschodnia. (PAIiIZ)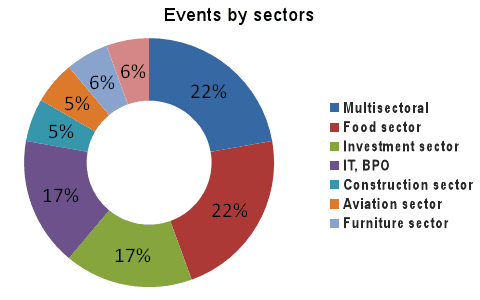 Go to top...
INVESTMENTS IN POLAND
Uflex Group to invest in Poland
Uflex first European manufacturing project will be located in Poland.
India's UFLEX Group (formerly known as the Flex Group) is one of the world's 5 largest manufacturers of flexible packaging films (flexible laminates & pouches, plain and metallised BOPET/BOPP/CPP/coextruded films). In keeping with its core policy of being as close as possible to its customers, it is taking a major step forward in its international operations by investing in a large manufacturing facility in Europe. Its first European manufacturing project will be located in Poland. The first phase of this operation will be the setting up of an 8.7 meter wide/500 meters per minute Biaxially Oriented Polyester (BOPET) Film line and a high-barrier plasma enhanced vacuum metallising plant near Poznań in central Poland.
The plant is being set up under the aegis of Flex Film Europa. The state-of-the-art BOPET Film plant will be one of the world's largest film lines and will be capable of turning out about 36,000 MT (about 80 million lbs.) of film annually. The total investment in the first phase will be US$ 90 million and the plant is due to start commercial production in mid-2012. This facility will enable European users of BOPET films to obtain their requirements at short call.
Poznań is considered Poland's second most prosperous city after Warsaw. It is a well-known centre for trade, industry, education and culture. Many leading multinational corporations have manufacturing plants located in the Poznań area.
UFLEX decided to set up the plant in Central Poland after a detailed study of various alternative locations. Poland is very centrally located in Europe and is close to most user markets in that region. Poznan has good industrial infrastructure and many well-known international companies have large plants operating here. This makes for good availability of quality manpower and engineering facilities. Poznan is also well-known for being a leading hub for trade, education and culture.
The UFLEX Group is India's largest Flexible Packaging conglomerate and is the world's only fully vertically integrated company in this business. Its products include plain and metallised films, flexible packaging laminates, bags and pouches, PET resins, holographic materials, printing inks and coatings, adhesives, rotogravure cylinders, flexographic plates, packaging machinery and converting machinery. All these products are manufactured in-house in state-of-the-art global scale facilities and present annual revenues are about INR 40 billion (US$ 870 million). It has manufacturing plants located in India, Dubai, Mexico and Egypt.
Because of its extensive domain knowledge of every link of the Flexible Packaging value chain, it offers a wide variety of customised end-to-end packaging solutions for almost any application. Its depth of understanding and expertise enable the delivery of optimum packaging solutions to its customers.
The Group is a leading international player in Flexible Packaging with an extensive global manufacturing and marketing footprint. At last count, its products are used in 103 countries and this number is going up all the time.
Two more new 8.7 meter BOPET Film lines are under installation - one each at its Mexico and Egypt facilities - and a new CPP Film line is under commissioning at Egypt. With the lines presently under installation, UFLEX will emerge as one of the world's top three BOPET Film producers. Almost all the Group plants are certified as being compliant with ISO 9001 and ISO 14001 specifications. The Mexico facility has recently been accredited with ISO 9001:2008 certification, a further testament to the company's total commitment to the highest quality standards.
The Group has a long and impressive track record of winning prestigious international awards for product quality, innovation and corporate performance year after year. Ever since its inception in 1983, it has maintained a consistent double-digit annual rate of growth that has been one of the highest in the global Packaging industry.
The Group has plans on its anvil to further extend manufacturing operations to new strategic locations in other parts of the world to service customers' requirements better. (UFLEX)
Go to top...
Federal Mogul extends its operations in the Tarnobrzeg SEZ
Federal Mogul to extend its factory in Gorzyce.
The company plans to construct two automatic production lines for the production of engine pistons (for gas and diesel engines). The investment will substantially increase the level of production and will help the company distribute more products to European markers. To make the products meet clients' expectations, in this project Federal Mogul will pay special attention to the implementation of new technologies. The project will cost EUR75 million and will create 20 new jobs. The investment will be located in Poland thanks to the commitment of the Polish Information and Foreign Investment Agency. (PAIiIZ)
Go to top...
Hamilton Sanstrand in Rzeszów
The American company chose Rzeszów for its project in the production and services sector.

The new factory will produce and repair APU engines (auxiliary power unit) which power aircraft during parking on an airport ramp and constitute an emergency power source during flights. The project is expected to cost EUR20 million and should create 250 workplaces. Investor was granted a business activity permission to develop the investment in the Special Economic Zone EuroPark Mielec. The investment will be located in Poland thanks to the commitment of the Polish Information and Foreign Investment Agency. (PAIiIZ)
Go to top...
MACROECONOMIC POLAND
According to the latest estimates of the National Bank of Poland (NBP), the inflow of foreign direct investment to Poland in 2010 totalled EUR 7 538 million. (NBP)


Exchange rates (as of 17.02.2011):
| | | |
| --- | --- | --- |
| | Buy | Sell |
| USD | 2.8745 | 2.9325 |
| EUR | 3.8750 | 3.9532 |
Source:
www.nbp.pl
Go to top...
FROM THE REGIONS
Smart Development
Prospects for social and economic development of Katowice and Śląskie Voivodship.
Śląskie Voivodship is the most attractive place for investors. This is confirmed by the ranking of The Gdańsk Institute for Market Economics according to which Śląsk firmly retains its roles as a leader. A proof of this is the operation of the biggest in Poland special economic zone (1917 ha) in which over 200 companies run their activities. Other companies are on the horizon. They are attracted with an offer available thanks to the first in Poland system of informing about regional investment opportunities, Invest-in-Silesia.pl. Economic and investment promotion also lies within competence of the Silesia Metropolis i.e. an association of 14 communes with poviat rights. Although Śląskie is one of the smallest voivodships on the map of Poland, it is at the same time most densely populated - 4.7 million inhabitants. This voivodship generates 13 % of the Polish GDP, which is the second result in the country. In this region there are registered 430 thousand companies 96 % of which are private economic operators. Every year 200 thousand specialists graduate from 51 higher education schools in Śląskie. The investment potential of the voivodship is additionally enriched by a network of institutions which support business and by a large number of research facilities. Śląsk traditionally associated with coal mining, today is oriented towards development and modernity. In order to set proper directions, local self-government authorities have invited to cooperation international experts. As an example can serve preparation of the project of a smart city which is carried out in cooperation with IBM within the programme IBM Executive Service Corps. Katowice itself has started a large project "In the centre of change" concerning a thorough reconstruction of the city centre which is to become a real heart of the Silesia Metropolis. Development, in particular so ambitious, entails a struggle against numerous problems of different nature, including legal, social, demographic, technological and financial. How to define them properly? Where to look for support to solve them? Whose experience shall we use? What innovations shall we introduce? How in the course of smart development to combine strengths of institutional, local self-government and business partners? What projects can be favourable to each of the mentioned operators?
Answers to these questions will be given by panellists and speakers at the seminar "Smart Development" which will be held in February 2011 in Katowice. The seminar is another meeting within the series "Prospects in Poland" promoting Polish cities and their investment potential. The aim of the conference in Katowice which will last half a day is:
to talk over the investment policy on the territory of the Silesia Metropolis paying particular attention to cooperation with business

to analyse investment potential of Katowice in the context of the changes made on a large scale in the city centre

to present companies which operate in Górny Śląsk and make large steps on the road of success

to present needs and expectations of representatives of the private sector towards local self-government

the strategy of creating an image of the Silesia Metropolis in the near future

the financing of investment, innovation and research projects

to define the most important challenges related to organisation, logistics and law for Śląsk.
To the group of presenters we have invited representatives of the authorities of Katowice and Śląskie Voivodship. The seminar will be also attended by advisers from the best global consulting companies, lawyers, financiers and experts of business organisations. Equally important guests will be representatives of companies which have invested in Śląsk. For more information please visit: www.bluevine.pl or www.prospectsinpoland.com. (Bluevine Consulting)
Go to top...
---

Editorial office:
Polish Information and Foreign Investment Agency, 00-585 Warsaw, Bagatela Street 12
Economic Promotion Department, tel: +48 22 334 99 49, fax: +48 22 334 99 99,
e-mail:
redakcja@paiz.gov.pl