Why have your company invested in Poland?
What made you and your company choose Poland while investment decision making and looking for the best location and business environment for foreign development of your company?
If you are a decision maker at your company, send your testimonial to
redakcja@paiz.gov.pl
. Write a short, few-sentence answer to the question why have your company invested in Poland. Tell us about factors that brought you to Poland. Don't forget to attach your photo.
INVESTMENTS IN POLAND
January: three investments completed
During January, PAIiIZ has successfully completed 3 investment projects with a total value of €29.8m that in the future can create even 1,400 new jobs. One of them is MoneyGram in Warsaw, two others represent electronic and aviation sectors.
Meanwhile, PAIiIZ portfolio has been strengthened by 4 new projects. Due to that the Agency is currently providing 162 investments worth €3,010.59m in total that can lead to the creation of 29,909 new jobs in the country.
As recently, American investors lead in terms of the biggest number of FDI. 51 American ongoing investment projects have a total value of €998.61m and can create 6,652 new jobs. The Agency also runs 22 German FDI (total value of €312.35 m; 4,013 new jobs). France with 12 investments (total value of €240.7m; 2,427 new jobs) is the next in "the big five" then there is Japan with 9 projects and Italy with 8 investments.
The automotive sector with 34 projects (total value of €652.25 m; 6,668 new jobs) took over BPO industry and is "number one" regarding the sector with the biggest number of investments supported by the Agency. The business service sector has 32 projects (total value of €28.85m; 9,210 new jobs). The third on the list is R&D sector with 19 projects (€62.44m; 1,989 new jobs). It is followed by electronics (11 projects) and aviation industries (9 projects). (PAIiIZ)
Euro-Park Mielec SEZ - summarises 2014
2014 was the best year for Euro-Park Mielec SEZ. The zone issued 42 new business permits, the declared total value of new investments reached PLN 1.36m while the expected number of new jobs is 1,521. Moreover, in 2014, the zone got bigger, now it covers 1,460 hectares of land.
Euro Park was created in 1995 as the first special economic zone in Poland. It consists of 26 sub zones. During two decades, 298 business permits were issued in the zone while the total value of all investments reached PLN 6,4 billion and almost 28,000 new jobs were created there. Aviation, automotive, metal and plastic processing industries dominate in the zone. Among the biggest investors operating in Euro-Park Mielec zone there are: Lear Corporation Poland II, Polskie Zakłady Lotnicze, KIRCHHOFF POLSKA, BURY, BORGWARNER POLAND, MTU Aero Engines Polska, DĘBICA, Zelmer Pro, BRW. (Euro-Park Mielec)
MACROECONOMIC POLAND
Exchange rates (as of 29.01.2015):
| | | |
| --- | --- | --- |
| | Buy | Sell |
| USD | 3.7101 | 3.7851 |
| EUR | 4.1956 | 4.2804 |
Source: www.nbp.pl
EVENTS
Outsourcing Awards - BiznesPolska
PAIiIZ took the patronage over the third annual "CEE Shared Services and Outsourcing Awards". The grand Gala will be held in Warsaw at the Hotel Intercontinental on 5 February.
Central and Eastern Europe (CEE) with Poland as the strongest location in the region is well know as a world-class destination for Shared Services Centres and BPO investments. Global outsourcing firms, business services projects and sector professionals will be presented with awards of acknowledgment - by an independent jury from the industry - for their contribution to the development of the business services sector in CEE for 2014.
The awards gala will be preceded by a half-day discussion panels.
More information: http://ceeoutsourcingawards.com. (BiznesPolska)
ANALYSES AND REPORTS
Poland still as an "green island" - GUS estimates
Polish Statistical Office (GUS) published data on the condition of Polish economy. GUS estimates that GDP in 2014 increased by 3.3% y/y.
This impressive increase of GDP is due to the positive impact of domestic demand, and on the other hand, of the negative impact of foreign demand. The increase of domestic demand was recorded in the industrial and construction sectors, as well as in service sector.
Central Statistical Office also made preliminary estimates regarding Polish economy in 2014 everything seems to be "green": situation on the labour market has improved as unemployment went down. In addition, the increased of wages in the corporate sector was reported, also industrial production went up by 3.2%. (GUS/Ministry of Economy)
Poland's goes up in the Index of Economic Freedom
Poland was ranked as 42nd among the global economies and made an eight - step progress compared to last year's results in the Index of Economic Freedom. This is the best score the country has ever had.
Poland is 19th out of 43 countries in the Europe region regarding the index of Economic Freedom and its overall score is above the world average.
Over the past five years, Poland improved by 4.5 points. This is the biggest progress in the region. This year's 1.6-growth in the ranking y/y has been caused by the improvements in half of the 10 economic freedoms: regarding corruption, fiscal freedom, management of government spending, and monetary freedom. Due to that, in total Poland scored 68.6 points. Also openness of the Polish market for investments was highly evaluated in the index. At the top of the World's Index of Economic Freedom there are: Hong Kong, Singapore, New Zealand, Australia and Switzerland.
The report listing countries by the Index of Economic Freedom is published annually by The Wall Street Journal and Heritage Foundation. (www.heritage.org)
Best cities in Real Estate investment market
According to "Emerging Trends in Real Estate Europe 2015" report prepared by PwC and Urban Land, Warsaw has been ranked as the 14th best city in Europe regarding prospects in real estate investments. The research also shows that there is a growing trend of locating investments in markets affected by economic crisis. Also the popularity of cities outside the "European top list" is increasing.
The real estate market in Poland is very good, argue authors of the report. The country's robust economy and political stability continues to attract both existing and new players, they add. Polish capital - Warsaw - with 14th place in Europe, has been described in the survey as a dominant market in the CEE region. The city saw €2.5 billion transacted in the first three quarters of 2014. It offers good opportunities because of strong population growth. International players are pre-eminent, accounting for around 90 percent of Warsaw's real estate deals, say authors of the report.
"Emerging Trends in Real Estate Europe 2015" based on surveys with 50 key opinion leaders in Europe regarding real estate market.
Read the whole report: www.pwc.com/en_IM/IM/publications/assets/emerging-trends-in-real-estate-europe--2015.pdf.
DID YOU KNOW...?
Mouse Box - new thinking, new technology
Polish doctoral students from the Opole University of Technology have invented a unique and innovative computer. All of its elements were put into a computer mouse. Thus, the device has been called the Mouse Box.
Mouse Box is a computer different than ever before. It combines two most important element of computer set - computer and a mouse - in a single, small unit covered in a mouse. Maximum efficiency allowing free work and keeping a small size has been achieved due to a four core processor. The best image quality is a result of using a popular micro HDMI interface. Moreover, its users stay in touch with the world thanks to Wi-Fi b/g/n technology.
Currently, Polish team is looking for support among the companies that would help finance the project.
Wristy - a cell phone of the 21st century
Innovative idea, modern look and a project made by Polish designers: Rafał Czernik and Elżbieta Jarmusz. This is what defines a newest wrist phone called "Wristy". The device has been prepared to make the contact between members of family - especially the youngest and the oldest ones - much easier.
A cell phone that is worn on a wrist completely changes the way of communication. "Wristy" helps you to be at hand with our loved ones as only four telephone numbers can be uploaded to the device. Dialling the number is also easy - by using just one, single button. This function is very useful in case of an urgent contact with your child or when a senior person need to call the emergency. "Wristy" is lightweight and does not hinder movement. Another advantage is its low price, so the possible lost of "Wristy" will not be so painful, as in case of loosing traditional smart phone.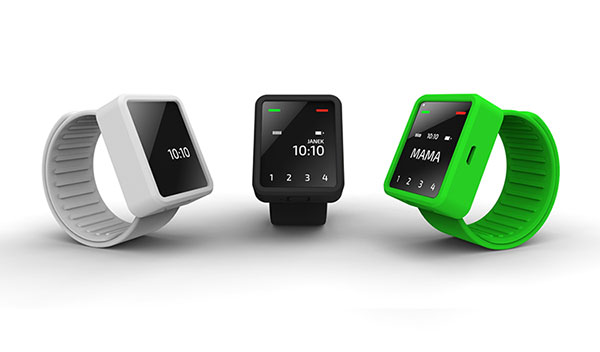 WRISTY
"Wristy" is supposed to be available on the market in Spring 2015. (http://wristy.com)
---

Editorial office:
Polish Information and Foreign Investment Agency, 00-585 Warsaw, Bagatela Street 12
Information and Communication Department, tel: +48 22 334 99 49, fax: +48 22 334 99 99,
e-mail:
redakcja@paiz.gov.pl