INVESTMENTS IN POLAND
Half year of investments in Kraków SEZ
Kraków Special Economic Zone summed up its investment activity in the first six months of 2015. Due to new investments worth PLN 228m, 350 new jobs will be created.
Business permits of the Kraków SEZ went to: Japanese automotive company Nidec; Elettrostandard Polska that plans to increase its production capacity and enlarge office space; Alupol Films; Dako or SWT. Additionally, two companies: Olident and JCG will build new production facilities and equip them with new machines. Also three Polish software developers: Grape Up, Wind Mobile and Noala entered the zone. So did Poland-based Pracownia Ślusarska Bartosz Wójcik. (Ministra of Economy)
Two Special Economic Zones get bigger
The Council of Ministers decided to enlarge investment areas of two Special Economic Zones - Wałbrzych and Kamienna Góra. The area of Wałbrzych SEZ will be extended by 318 hectares while Kamienna Góra by over 19 hectares.
New areas incorporated to Wałbrzych Special Economic Zone will create conditions for innovative investments targeted at the export production. Within the next few years thanks to new investments worth approx. PLN 4bn in total, around 8,482 jobs may be created. In turn, the development plan of Kamienna Góra Special Economic Zone consists of obtaining new locations in Dolny Śląsk province. Within the next few years, new investments (planned total value of PLN 245m), are supposed to generate approx. 750 new jobs. (Ministry of Economy)
Pasta Food Company investment in Opole
In Wałbrzych Special Economic Zone, the French-Belgian join venture built a chilled food plant for PLN 80m in Opole.
In new plant, ready made dishes for Biedronka supermarkets will be produced by join venture of two companies: the French market leader in production of frozen lasagna, Stefano Toselli and the Belgian Ter Beke, manufacturer of fresh food. Initially 50 people will be employed in the Pasta Food plant in WSEZ. The employment is planed to grow up to 150 people.
Currently, 11 companies are operating under Wałbrzych Special Economic Zone in Opole. They have already invested PLN 220m in total, creating 800 new jobs. (Invest-Park WSEZ)
MACROECONOMIC POLAND
Exchange rates (as of 30.07.2015):
| | | |
| --- | --- | --- |
| | Buy | Sell |
| USD | 3.7059 | 3.7807 |
| EUR | 4.0910 | 4.1736 |
Source: www.nbp.pl
ANALYSES AND REPORTS
Automotive sectors ready to employ
Polish automotive sector is ready to increase production and create new jobs. According to "Badania opinii i nastrojów przedstawicieli Automotive" (Survey on Opinion and Moods of Automotive representatives) by Exact Systems, such optimism in the sector hasn't been recorded since 3 years.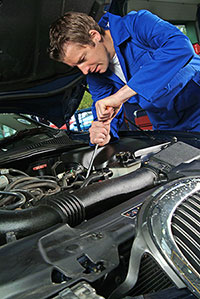 © Jonny - Fotolia.com
59% representatives of automotive sector in Poland expect that the production of cars and automotive accessories will increase in the nearest six months. The growing demand for cars in the European Union that has been observed since two years is the main engine powering the optimism of Polish automotive producers. Over 80% of Polish automotive production is sold to the UE customers.
The survey also shows that the sector is ready to increase creation of new jobs due to the expected growth of the production. 39% of surveyed companies plan to increase the employment. Workers are the most wanted employees in the sector: 59% companies declare that is looking for them. Also new managers will be needed by the industry.
Poland is described as the country with strong economy, stable political environment and developing infrastructure. Also competitive labour costs, highly qualified engineers and the access to variety of car accessories' plants, make Poland the "Best Cost Country". Poland is no longer the "Low Cost Country". Now, one should look for the "Low Cost Countries" in the East of Europe - in Romania, Bulgaria or in the Balkiness. Thus, the strong advantages of our country create new opportunities for new orders for the sector and the inflow of new automotive investments", comments HR expert Tomasz Tomasz Hanczarek from Work Service.
The survey was made by Exact Systems using CATI system among producers of cars and accessories operating in Poland. (Exact Systems)
FROM THE REGIONS
Świętokrzyskie province full of magic EXPO 2015
For one week, the Polish Pavilion at EXPO 2015 in Milan has become the centre of magic and witchcraft, as from 27 July to 2 August promotion week of Świętokrzyskie province symbolized by "Świękorzyskie Witch" is held in Milan.
Entering the pavilion, one can admire panorama of the Świętokrzyskie Mountains and the Castle Hill in Kielce. Also the jewellery made of striped flint stone; famous porcelain from Ćmielów and hand made glass is presented at the exhibition in the Polish Pavilion.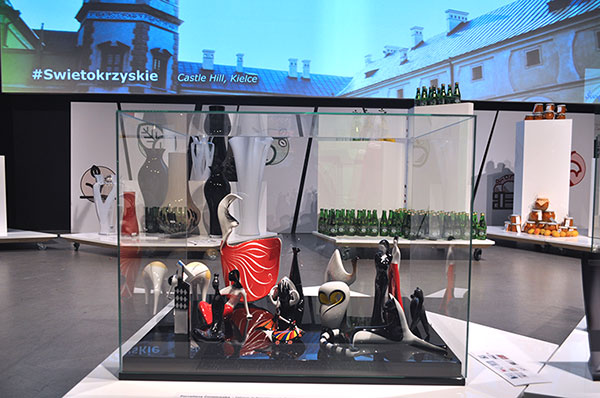 Porcelain made by Ćmielów (source: PARP)
There is also a chance to listen to regional music, taste exceptional cuisine - all straight from Świętokrzyskie province.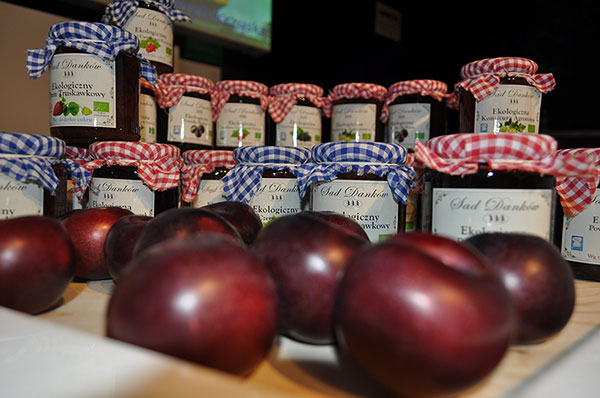 Regional food from Świętokrzyskie (source: PARP)
During seven days, the representatives of the region will also present business opportunities of Świętokrzyskie, showing the assets of the most promising sectors in the region.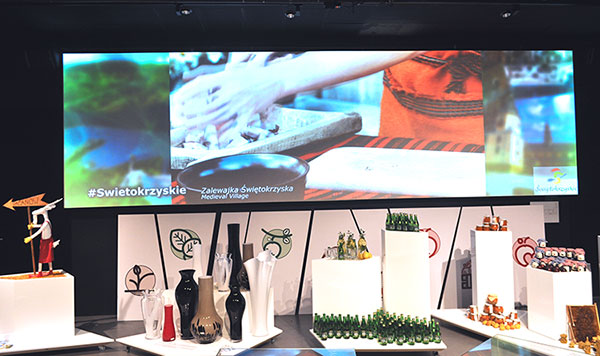 Promotion of Świętokrzyskie at EXPO 2015 in Milan (source: PARP)
Among them there are: modern services sector, food industry, tourism and health-care centres. (PAIiIZ /Świętokrzyskie Province Authorities)
DID YOU KNOW...?
Warsaw promotes start - ups
In Warsaw, a start up's incubator has been launched with the support of Warsaw City Hall under "Innowacyjna Warszawa" project.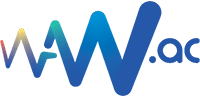 Faster implementation of ambitious business concepts is now possible thanks to a new accelerating project, launched jointly by the Warsaw authorities, Centre for Entrepreneurship "Smolna" and Med INN Foundation for Innovation Development. The programme is addressed to all start-ups, offering innovative solutions in such sectors as: life science, materials technology, optoelectronics, energy, IT and mobile.
40 participants will get a chance to get support by experienced mentors, and to be provided with training regarding communication of values, development options, planning competitive advantages, analysis of business environment and train other skills needed in business. Application is open until 2 August.
For more information visit: http://waw.ac (Polish version only)
The support for R&D activity
The Polish government introduced new tool supporting R&D projects. Access to the project is available between September and November 2015.
The PLN 460m-worth project is held under the EU Operational Programme "Smart Development" 2014-2020 with the total budget reaching PLN 2,3m. The newly established tool will help to develop, implement and commercialize effects of the R&D activities within companies.
The programme supporting R&D projects is available for companies planning to invest in new equipment, technology and other infrastructure elements that allow conducting research and development. One can expect the support reaching 70% of the total value of investment; however, the final level of co-financing will depend on the location and the size of the company applying for the support. (Ministry of Economy)
---

Editorial office:
Polish Information and Foreign Investment Agency, 00-585 Warsaw, Bagatela Street 12
Information and Communication Department, tel: +48 22 334 99 49, fax: +48 22 334 99 99,
e-mail:
redakcja@paiz.gov.pl