NEWS
The 4th Europe-China Economic Forum: China needs Poland
"We want to connect famous Chinese dream of New Silk Road with our Polish dream", said Sławomir Majman, PAIiIZ president, during The 4th Europe-China Economic Forum, which was held on the second day of European Economic Congress in Katowice.
This year marks the 40th anniversary of establishing economic relations between China and European Community. As deputy minister Ilona Antoniszyn-Klik stated at the beginning of the debate, the revival of economic cooperation between Poland and China started 4 years ago, after president Bronisław Komorowski signed a Strategic Partnership Agreement with China. Establishing Go China programme tightened this relationship. According to deputy minister the programme became an impulse to change the strategy of the Polish foreign economic policy. - Due to Go China, Poland has opened for the Go Global thinking. As a result, we are preparing to launch another project. Now it is time for Go India, said Antoniszyn-Klik.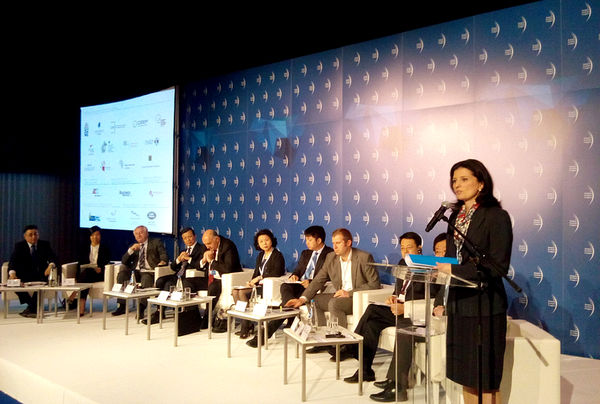 Deputy minister Antoniszyn-Klik: Due to Go China, Poland has opened for the Go Global thinking
The increasing economical potential size of its internal market and fast infrastructural development, as well as increasing export volume to China, Poland is aspiring to play an active role in Asia-Europe transport routes. That is why, both ambassador of China, H.E. Xu Jian and economic counsellor of Chinese embassy Liu Lijuan invited Poland to cooperate under One Belt and One Road initiative. It is a multinational Chinese strategy, involving the extension of maritime and rail connections with the whole world. One of them runs from China throughout Asia to Europe, alluding to historical Silk Road. According to data presented by the ambassador of China, currently, 60 countries and international organizations are interested in taking part in One Belt and One Road initiative.
China is now entering the path of sustainable development based on newly established consumer society. As argued by Andrzej Pieczonka, First Counsellor of the Trade and Investment Promotion Section of Polish Consulate General in Shanghai, in the face of transformation, contemporary Chinese economy needs to ensure energy security, food security, which means healthy, uncontaminated food, and a rapid development of intellectual potential. "Chinese want to have access not only to hi-tech. China lacks of know-how in companies management", he said.
More information: www.paiz.gov.pl/20150421/4th_europe_china_economic_forum_china_needs_poland.
Looking on Seoul from Katowice
South Korea is a country that in the last half-century has achieved the most spectacular economic success. Does Korea experience the fall of chaebol business model and a transition towards SMEs? How these changes and cultural differences affect the Polish - Korean business cooperation? Those highlights were discussed during the Poland - South Korea Economic Forum arranged by PAIiIZ on 22 April. The Forum was held under the European Economic Congress in Katowice.
"Korea is becoming a strategic partner of Poland. Over decades it has transformed into technological power", said PAIiIZ president Sławomir Majman who moderated the Forum. He also stressed that Korea was one of the first countries that had decided to invest in Poland after 1990. Currently, according to the National Bank of Poland, the total value of Korean investments in Poland has reached €750m. Among the biggest Korean investments in Poland there are: LG, Samsung, Daewoo Electronics, SK Chemicals, Mando and Humax.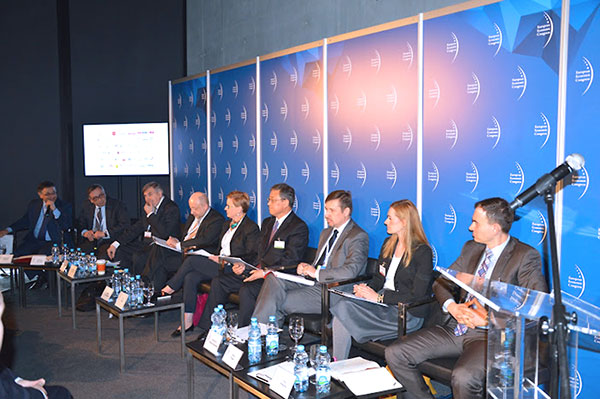 Panellists of the Forum
"Korea knows that it is worth investing in Poland", said former ambassador of Poland in Korea Tadeusz Chomicki. To prove it he talked about the case study of Daewoo and Samsung. "The last one - he argued - has invested in Polish minds". "Today using Samsung products means using the technology, which was made in Poland", he added.
For many years the business model of the Republic of Korea was based on cheabol, corporations supported by authorities, which originated in the 70s from small private companies. Promoting economic planning and discipline within the company, Chaebol had a huge impact on Korea's rapid economic growth. This model was implemented by Daewoo, Hyundai, LG Group and Samsung. Now, Korea observes a change in the economic model and a turn towards the promotion of small and medium-sized enterprises. As Filip Hewelke from the Korean Agency for Trade and Investment Promotion (KOTRA) noted, today, 99% of companies are SMEs in Korea. "These companies have very significant financial resources. For example, the total budget of Korean start-ups is $3.8 bn", said Hewelke.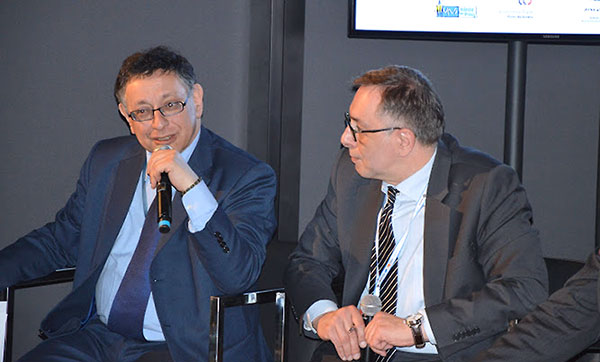 Sławomir Majman: Over decades Korea has transformed into technological power
More information: www.paiz.gov.pl/20150422/looking_on_seoul_from_katowice.
Globalization of Polish economy: Choosing the technology
Globalization is not just a concept, it is an opportunity for business to create new jobs and maintain the economic growth - argued participants of the conference "Globalization of Polish foreign policy - Poland outside Europe." This was the second event organized this year by PAIiIZ during the European Economic Congress in Katowice.
"Recently, Polish entrepreneurs have been focused on close EU markets. Soon, this will change", argued the deputy minister Katarzyna Kasperczyk. As the PAIiIZ president Sławomir Majman who moderated the meeting said, 80% of Polish foreign trade is made in Europe. However, in the times of global competition, Polish companies have to look for new markets. The strategy of globalization is also the result of entering the Polish economy to the next stage of development. Poland is not only receiver foreign investments, but becomes significant international investment player.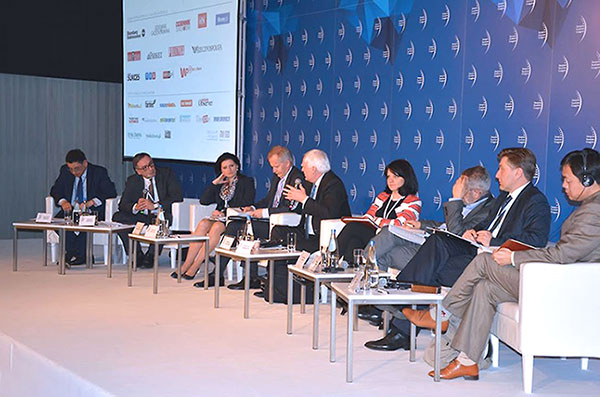 Participants of conference "Globalization of Polish foreign policy - Poland outside Europe
The detailed analysis of what non-European regions should be treated as a priority markets is the starting point for globalization, panellists argued. In addition, it is important how to define what should be presented abroad as Polish specialty. "We have created the list of industries that now are able to compete with global brands", said deputy minister Anotniszyn-Klik. On the other hand, it's time to promote intellectual capital, she added. "We have to go to the next level of consciousness and technology and start promoting through it. However, still there is much to be done to achieve that goal", concluded Deputy Minister Antoniszyn-Klik.
Moreover: www.paiz.gov.pl/20150421/globalization_of_polish_economy_choosing_the_technology.
First Ukrainian investment in KSEZ
Kraków Technology Park issued the business permit to Safe World Technologies. This is the first Ukrainian company that is supposed to start its activity in the Kraków Special Economic Zone and the first business permit issued this year in Zator sub-zone.
Safe World Technologies is to incest PLN 21m to establish the production of low-voltage devices with a wide diapason in Kraków SEZ. However, as other companies registered outside the EU, to start manufacturing in Poland, Safe World Technologies should obtain the approval of the Ministry of the Interior to acquire real estate in the country.
Zator sub-zone is one of the youngest and the fastest developing sub-zones in Kraków SEZ.
This year Kraków Technology Park has already issued 9 business permits that together are worth PLN 207 m.
Two new investments in Wałbrzych Special Economic Zone
German and American companies operating in the automotive sector are joining the group of investors in the Wałbrzych SEZ.

Framo Morat plans to spend over PLN 10m. The company that produces propulsion systems will buy technology line and will operate in the newly built by INVEST-PARK production and warehouse hall in Nowa Ruda. German company will hire 40 people. Already, 5 companies have invested in WSEZ in Nowa Ruda. Also 730 jobs have been created there.
Another new investor in the zone is Global Steering Systems. The company's steering component's factory will be built in Opole. Americans declared to employ at least 200 staff and invest about PLN 27m. This is the second GSS production plant outside the US. Recently, the investor launched a factory in China and the next factory is being built in Brazil. (WSEZ)
MACROECONOMIC POLAND
Exchange rates (as of 23.04.2015):
| | | |
| --- | --- | --- |
| | Buy | Sell |
| USD | 3.6881 | 3.7627 |
| EUR | 3.9605 | 4.0405 |
Source: www.nbp.pl
ANALYSES AND REPORTS
Polish fitness sector
According to the recent European Health & Fitness Market Report 2015 prepared by Europe Active and Deloitte, Polish fitness market is considered as the fastest developing in Europe. Fitness clubs in Poland recorded PLN 3,6 bn income in 2014.
Fitness penetration in Europe continued to grow strongly in 2014. At the end of 2014, there were 50.1 million members in European health and fitness clubs and the projection for 80 million members by 2025 is on target. In Poland, there are 2,500 fitness clubs with 2.73 million members that together generate PLN 3.6bn of income.
According to the experts, among the biggest challenges in sector in Europe there are: the demographic revolution that means the aging society. In terms of Poland, this local markets need segmentation regarding the type of clients and sport preferences. Polish fitness specialists argue that mid-market with various service offer dedicated to large group of clients has the biggest chance to develop in Poland. (EuropeActive/Deloitte)
FROM THE REGIONS
Polish Aviation sector in Australia
Delegation of Polish companies from the Eastern Poland Macro-Region representing aviation sector is visiting Australia. During conferences and B2B meeting, 12 companies are looking for new business partners and expedience the new market.
On 21 April, Polish delegation met the representatives of Aviation Aerospace Australia in Melbourne where Polish - Australian B2B talks were held. In the incoming days Polish companies will pay a visit to Australian counterparts in Melbourne and Sydney to provide business talks. Also a meeting with the ambassador of Poland J.E. Pawł Milewski will be arranged.
The trade mission to Australia has been arranged by PAIiIZ and Austrade investment agency. The mission to Germany to Hannover Messe trade fair was arranged under the Eastern Poland Economic Promotion Programme. (PAIiIZ)
The Eastern Poland at Hannover Messe 2015
The Hannover Messe 2015 trade fairs dedicated to metal and machine industry has just finished. During the event, 80 Polish companies including about 20 from the Eastern Poland Macro-Region presented their offers at the Macro-Region stand.
This year's Hannover Messe 2015 gathered 5,000 exhibitors and 18,000 visitors from over 100 countries. It is the world's biggest machine sector event.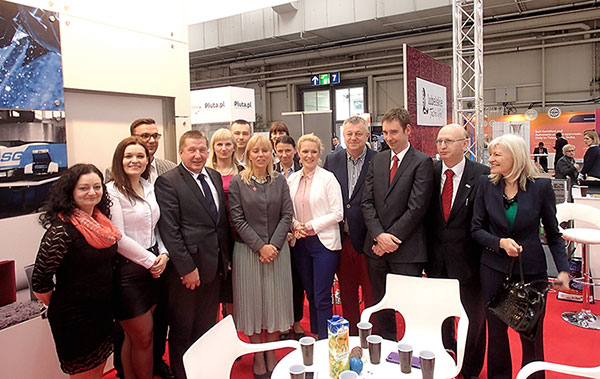 Polish participants of the Hannover Messe 2015
At the Eastern Poland trade stand arranged by PAIiIZ one could see the offers of such companies as: APS., BIKO-SERIWS, EXPOM, KANEX, PPHU MALINEX, NOTA, PROMOTECH KM, ROZTOCZE, RUFUS, STARPOL II, AGWO SERWIS, 4INDUSTRY, JAZON, ZAKŁAD WYROBÓW GALANTERYJNYCH, PBM BULAK, ITM and WOLCO.
The mission to Germany to Hannover Messe trade fair was arranged under the Eastern Poland Economic Promotion Programme. (PAIiIZ)
DID YOU KNOW...?
Polish Coalition for Innovation
Polish Coalition for Innovation, supporting Polish start-ups is just to be introduced. The project has been created by Polish scientific, academic and business institutions.
The coalition will provide researches on the innovative potential in Poland, the country's know-how market and the favourable conditions to create start-ups. Participants of the project will also support the dialogue between science and business, attract new investors, encourage youth in planning technological career and support the construction of the leading science centres. Among the founders of the coalition there are: Foundation for Polish Science, Pomeranian Special Economic Zone, Intel, Lewiatan Confederation, National Research and Development Centre, PwC, Start-up Poland and many others. More information: www.koalicjadlainnowacji.pl.
---

Editorial office:
Polish Information and Foreign Investment Agency, 00-585 Warsaw, Bagatela Street 12
Information and Communication Department, tel: +48 22 334 99 49, fax: +48 22 334 99 99,
e-mail:
redakcja@paiz.gov.pl