NEWS
Africa teaches us patience
Africa is a continent of spectacular economic growth, reaching 5-7% per annum. It is also the market of a rapidly growing middle class that is currently estimated for nearly 300 million people. In a short time, this group will need the access to new goods and services. This may be considered as a business opportunity by Polish business. Challenges and expectations of Africa were discussed during the Polish-African Economic Forum. The meeting took place on 19 May in the Polish Parliament.
One of the most effective tools supporting Polish business in Africa is "Go Africa" programme, argued PAIiIZ president Sławomir Majman during the Forum. This programme is a consequence of a globalisation of Polish foreign policy, he added. Under "Go Africa", 38 events were organised, for instance to Nigeria, South Africa, Zambia, Senegal and Ghana. Majority of them were headed by president of Poland, Polish prime minister and ministers.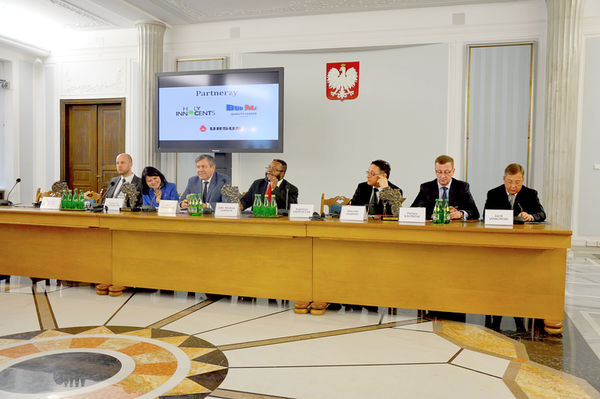 Poland - Africa Economic Forum 2015, participants of the pannel discussion
"How to support Polish business in Africa"
However, to succeed in Africa, one needs to learn the rules of this market. "Africa teaches us patience. We need to learn about the perception of time in Africa", said Mr Majman, describing cultural differences in doing business there. According to deputy minister Andrzej Dycha, high entry costs or legal barriers pose serious challenges in business relations with Africa - especially for SMEs. "We would like to lower the taxes and costs of certificates while entering Africa by Polish companies" - underlined Dycha. Currently, Poland is negotiating economic agreements with Nigeria and South Africa. They will allow to arrange meetings at governmental level", he added. In addition, the deputy minister of foreign affairs Katarzyna Kacperczyk talked about the development of a diplomatic network in Africa. Soon a Polish diplomatic office will be opened in Dakar - the capital city of Senegal.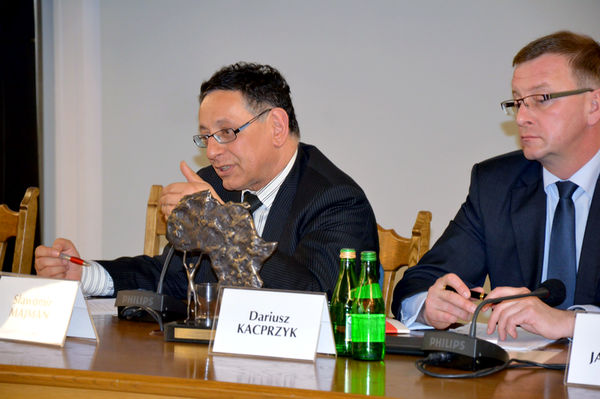 Sławomir Majman: "We need to learn about the perception of time in Africa"
At the end of African Day in the Polish Parliament, PAIiIZ president Sławomir Majman received the Przyjaciel Afryki (Friend of Africa) Award in the Business category. The award was given to him by the Polish Parliamentary Group and Instytut Afrykański for exceptional achievements in strengthening cooperation between Poland and Africa.
More information: www.paiz.gov.pl/20150519/africa_teaches_us_patience.
Ukrainian Business Days in Warsaw
"We wish the trade turnover between Poland and Ukraine will increase, so will investments of the Ukrainian business in Poland and the Polish in Ukraine", said deputy minister of economic development and trade of Ukraine, Yulia Klymenko during the Ukrainian business' days. 2nd International Forum - that was held from 14 to 15 May 2015 in the Polish Ministry of Economy in Warsaw.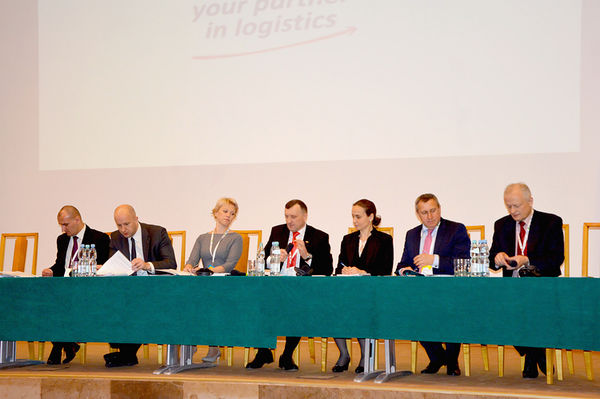 Representatives of Ukrainian and Polish governments discussing economic cooperation
"Poland has been supported the development of our neighbour and still will do that. We hope Ukraine will finally became a country with a stable position; the country where common Polish and Ukrainian effort will lead to the creation of the welfare state based on strong economy", said Polish deputy minister of economy Andrzej Dycha at the Forum. Polish Ministry of Finance granted Ukraine a loan for modernization of border crossings and the construction of transport infrastructure. The project will be implemented by Polish contractors.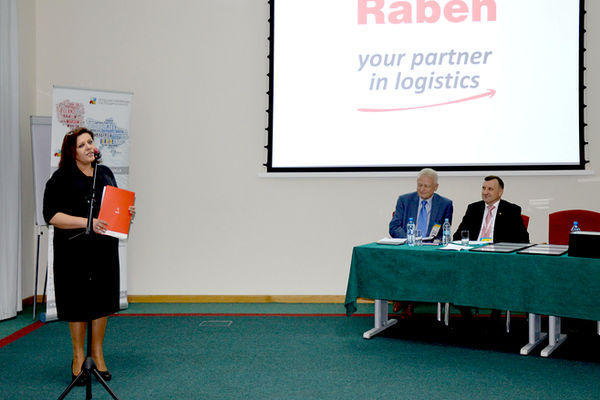 PAIiIZ deputy president Anna Polak-Kocińska speaking on Ukrainian investments in Poland
Under the Forum, the International Investment Project Contest (Międzynarodowy Konkurs Projektów Inwestycyjnych) promoting Ukrainian investment initiatives in Poland was held. This years the awards went to 6 Ukrainian companies: SenVGroup Sp.zo.o, Budsol Sp.zo.o, Trailmech, StudioPak and Ukrekopak. (PAIiIZ)
More information: www.paiz.gov.pl/20150515/ukrainian_business_days_in_warsaw.
INVESTMENTS IN POLAND
Mielec SEZ celebrates 20 birthdays
Exactly twenty years ago, in 1995, the first Economic Zone in Poland - Euro Park-Mielec - was established. Today, Euro Park-Mielec is one of the most diversified zones in Poland regarding sectors.
Real results of the zone regarding job creation and value of invested capital are much higher than it was expected at the beginning, in the zone development plan. Euro Park-Mielec has already hosted investment projects with the total value reaching PLN 7bn. Until recently, 30,000 new job were created there. The zone has already issued 300 business permits. The very first one went to Agmar-Telecom in 1996.
Many companies that have gowned in the zone now are also active on international markets. (ARP/Euro Park-Mielec SEZ)
The Polish Aviation Upland: Łódź-Dęblin-Radom
On 15 May deputy prime minister and minister of national defence Tomasz Siemoniak together with PAIiIZ president Sławomir Majman paid a visit to WZL No 1 in Łódź to talk about establishing the project of Wojskowa Wyżyna Lotnicza (the Military Aviation Upland).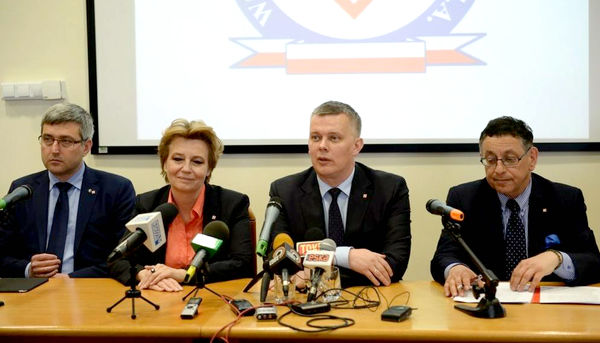 Press meeting on "Wojskowa Wyżyna Lotnicza" project with minister Siemoniak (source: DKS MON)
Wojskowa Wyżyna Lotnicza is expected to cover three Polish cities: Łódź, Dęblin and Radom. According to PAIiIZ president, it is an important moment for the economic development of Poland as the project should play a role of a engine of development of at least few regions of the country. The first meeting of parties interested in the implementation of Wojskowa Wyżyna Lotnicza: Łódź-Dęblin-Radom has been planned for the beginning of June 2015. (PAIiIZ)
S8 motorway - Inwestycje Nam po Drodze project
Inwestycje Nam po Drodze - this is a common project of Łódź, Wałbrzych, Warmia-Mazury and Suwalska SEZs and five provinces in Poland.
The project focuses on the establishment of a coherent investment policy regarding the investment area around S8 motorway in Poland that links such cities as Wrocław, Łódź, Warsaw and Białystok.
Mean while, Kamienna Góra SEZ opened a new office in Żmigród that will provide investment assistance mostly for Polish companies that are planning to invest around S8 motorway. (Invest-Park)
MACROECONOMIC POLAND
Exchange rates (as of 21.05.2015):
| | | |
| --- | --- | --- |
| | Buy | Sell |
| USD | 3.6378 | 3.7112 |
| EUR | 4.0387 | 4.1203 |
Source: www.nbp.pl
FROM THE REGIONS
Cooperation with Lubuskie Province
"Zielona Góra is an attractive investment zone covering 120 hectares in one piece. Your success is just a matter of time, argued PAIiIZ deputy president Anna Polak-Kocińska on 18 May in Zielona Góra, during the ceremony of signing the cooperation agreement between PAIiIZ and Zielona Góra - the major city of Lubuskie Province.
Under the agreement, both sides will cooperate to prepare region for providing professional service for foreign investors through increasing the attractiveness of investment offers, improving collection and sharing business information and creating and managing databases of the city's business activity.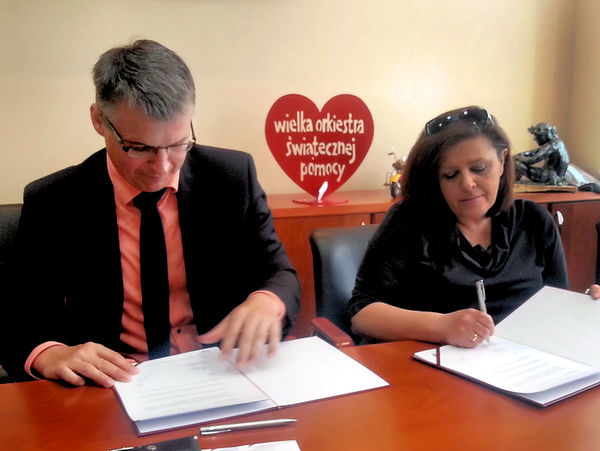 Signing the cooperation agreement between PAIiIZ and Zielona Góra (photo by: Filip Czernicki)
Lubuskie province has developed an attractive investor offer. It has well-prepared investment sites of investment. On the other, it's a great capacity to develop human capital. 12 universities are operating where over 26,000 students is studying, 19,2% of young people study in technical secondary schools while, 19,2% in vocational schools. (PAIiIZ/Urząd Miasta Zielona Góra)
Poland - perfect base for home appliance sector
On May 20 in Pabianice, representatives of manufacturers, distributors and experts of home appliances met at 3rd International Forum of Home Appliance Manufacturers. This annual conference is dedicated to the future of the sector in and outside Poland. PAIiIZ deputy president Anna Polak-Kocińska participated in the discussion on the global economic situation and its impact on home appliance industry.
"Poland is a perfect place for home appliance producers to grow", said Mrs Polak-Kocińska. "We do have knowledge, experience and a broad network of suppliers and cooperators", she added. In her opinion the presence of the biggest companies and easy access to the UE and Eastern Europe markets are Poland's biggest advantages. Moreover, Poland has a receptive internal market with over 12 million of households. It is also a country with an attractive system of support, for both Polish and foreign entrepreneurs, underlined Mrs Polak-Kocińska Łódź Special Economic Zone, is considered as the hub of home appliances in Poland. "For our producers the best ground to grow have been created there", said LSEZ president, Tomasz Sadzyński.
More information: www.paiz.gov.pl/20150520/poland_perfect_base_for_home_appliance_sector. (PAIiIZ)
Spring salary survey
The results of Salary Surveys by Advisory Group TEST Human Resources has just been publishes.
508 companies operating in Poland took part in the survey. The results of the survey are available on: http://raportplacowy.pl/en/start.html. (Advisory Group TEST Human Resources)
DID YOU KNOW...?
The longest Bike Route in Poland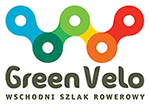 In the Eastern Poland, the longest bike route is being constructed. It will be one of the flagship tourist investments in the Macro-region.
The bicycle route will be situated along cultural and natural tourist attractions including 5 National Parks and even 15 Landscape Parks. Through the development of tourism, the project should contribute to the social and economic development of the region and lead to the local economic growth. Along the bike route, hotel and leisure sector and small business sector will be developed.
More information: http://greenvelo.pl. (Greenvelo)
---

Editorial office:
Polish Information and Foreign Investment Agency, 00-585 Warsaw, Bagatela Street 12
Information and Communication Department, tel: +48 22 334 99 49, fax: +48 22 334 99 99,
e-mail:
redakcja@paiz.gov.pl