NEWS
Polish delegation visiting UAE
United Arab Emirates is a paradise for foreign investors and a gate for Polish entrepreneurs to Gulf countries. Polish government delegation chaired by the Deputy Prime Minister Janusz Piechocinski and a group of Polish business people visited the country this week.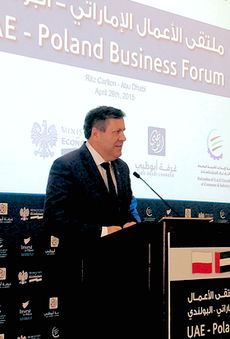 Janusz Piechociński during the Business Forum Poland-UAE
On the 29th of April in Abu Dhabi Business Forum Poland-UAE was held. - I am convinced that today's Forum, as a platform of exchanging views and initiating projects, encourage the creation of new activities - said the Deputy Prime Minister Janusz Piechociński. The lack of financial and administrative barriers to market and the possibilities of using sophisticated and modern infrastructure make the United Arab Emirates an attractive place for investment and trade partner for Polish entrepreneurs. A milestone in strengthening bilateral cooperation was the opening of the Trade and Investment Promotion Section in Abu Dhabi in April last year.
April 30 was held in Dubai Polish-Emirates Business Forum, ending an official visit of Deputy Prime Minister, Minister of Economy Janusz Piechocinski, accompanied by 30 Polish entrepreneurs. In business discussions attended by 130 representatives of UAE business and business environment institutions.
Dubai plays a significant role in the global economy as a specific financial center and transit. From the point of view of Polish business UAE are perspective market. In the years 2013-2014 were acquired by the Ministry of Economy project "Promotion of Polish economy on international markets", which in 2014 implemented PAIiIZ. - These actions allowed the Polish and UAE companies to develop economic relations and will certainly result in an increase in mutual trade - said Piechociński. Why UAE is an attractive market? UAE is well developed and modern infrastructure, lack of financial and administrative barriers and numerous free zones.
This makes that the market could become the next direction of Polish expansion.
In a two-day economic mission took part over 30 business people representing such sectors as modern technology, food processing, construction, green energy, furniture, baby products and automotive.
The events were i.a. organised by PAIiIZ, Trade and Investment Promotion Section in Abu Dhabi, the Ministry of Economy, Abu Dhabi Chamber of Commerce and Industry and the Federation of UAE Chambers of Commerce and Industry.
More information: www.paiz.gov.pl/20150429/polish_delegation_visiting_UAE (PAIiIZ)
How to do business in China
How to prepare and present an offer to Chinese partners, highlight your booth in China and to finance participation in economic missions? These topics were discussed on April 24, during the training "How to decorate in China" organised by PAIiIZ, addressed to Polish entrepreneurs.
"How to decorate in China" was addressed to Polish entrepreneurs, who will take part in the PAIiIZ mission in June at the fair in Yiwu, (4-7 June) and in Ningbo (7-12 June).
In the case of the final event, Poland received the prestigious title of "Country of Honour", so the fair will gain the status of leading the country. As part of the trip will be organized business meetings between Polish and Chinese business partners.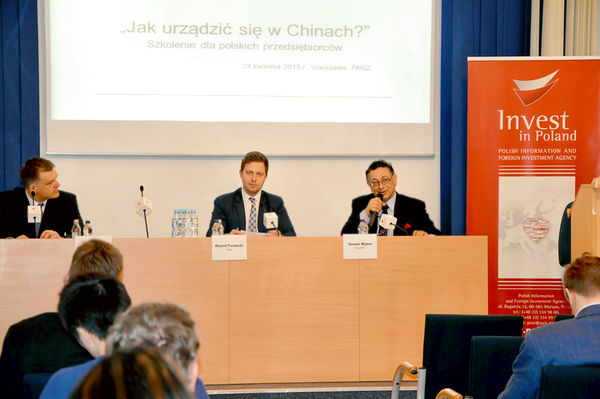 Majman: - Poland was the only country in Central and Eastern Europe volunteered to participate in the Chinese flagship project - Asian Infrastructure Investment Bank
There will also be a conference at ministerial level, on commercial cooperation - investment and cultural exchange week.
Eighth training seminar on the Chinese market was organized by the Centre for Economic Co-operation Poland-China working in PAIiIZ. Their knowledge shared among Jacek Kisia³a, an expert in the field of national and international exhibitions. (PAIiIZ)
PAIiIZ investments after 4 months of 2015
The first four months of 2015 PAIiIZ finishes with 12 completed investment projects that in total are worth €180 m. Also they may lead to the creation of 2,977 new jobs. Investors that have chosen Poland, operate in such sectors as: automotive, aviation, BPO, R&D, ICT and food.
Currently, the Agency supports 172 projects that in total are worth €3,156m. In case of the implementation of all of those projects in Poland 31,431 new jobs will be created.
In terms of the country of origin of the ongoing investments supported by PAIiIZ, the majority comes from the US that currently, provide 46 projects (total value €854.91m; 6,424 new jobs planned). The second are German investors with 28 projects (total value €361.65m; 4,701 new jobs planned) while the next are represented by the French, Italian, Japan capital - 11 projects each.
As far as the sectors are concerned, the biggest number of investments come from the automotive sector (35 investments; total value €747.15m; 7,251). It is followed by: BPO (32 projects; €30,1m; 9,460 new jobs planned), R&D (19 projects; €56,74m; 1,991 new jobs planned), aviation (12 projects) and food sector (11 projects). (PAIiIZ)
CEDROB investing
A company with Polish capital - CEDROB - will invest 70 million PLN in the Wa³brzych SEZ. With the new investment, CEDROB will create 70 new jobs.
Building and equipping new factory as the main project issue. The new production plant will be producing farm animals food.
In the area of the WSEZ operates 170 companies, of which most with the Polish, German and Italian capital. So far, investors have employed over 40 thousand people and invested 18.6 billion PLN. (WSEZ)
New R&D centre
A new R&D centre was formed in Opole. It will employ nearly 100 people. The centre is a part of the German company IFM Electronic.
The German company specialises in the production of industrial automation. The company has centres in more than 70 countries all around the world. Newly constructed building will have laboratories with the most modern equipment. 100 engineers, mainly from the University of Opole will work on new innovative technologies and patents. (WSEZ)
MACROECONOMIC POLAND
Exchange rates (as of 30.04.2015):
| | | |
| --- | --- | --- |
| | Buy | Sell |
| USD | 3.5856 | 3.6580 |
| EUR | 3.9700 | 4.0502 |
Source: www.nbp.pl
ANALYSES AND REPORTS
Polish products on 218 markets in the world
By 2020 Polish exports will increase by more than a one third, and entrepreneurs will be bravely explore new, previously unexplored markets - predict experts in Grant Thornton's report, "Foreign expansion of Polish companies. Achievements, ambitions, perspectives".
Economic expansion is one of the greatest Polish achievements of the past 25 years. Polish companies successfully take the opportunity that gave them the introduction of the free market and openness of the world economy. They have rapidly increased value of exports and improved its structure - in terms of both the quality if the product and geography of the distribution. According to the report, in the last quarter of a century Polish exports increased 21-fold (2069% exactly). Currently in Poland there are 60 thousand companies receiving revenue from exports, and according to Polish Central Statistical Office statistics Polish goods were sold in 2014 in 218 countries around the world, including such exotic as Equatorial Guinea, and Kiribati.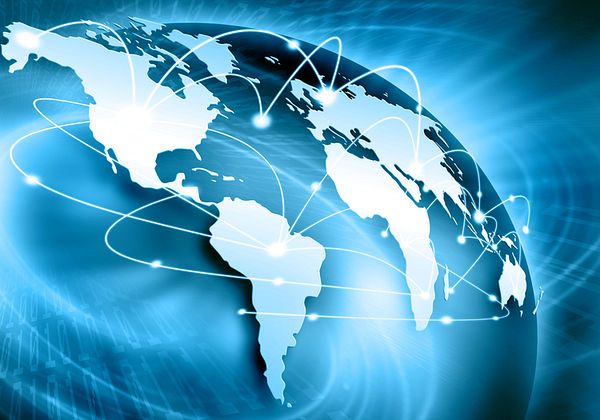 © Victoria-Fotolia.com
According to experts of Grant Thornton, this dynamic expansion of Polish companies in foreign markets will follow in the coming years. By 2020 Polish exports is expected to increase by a 35.6%, which represents the average annual growth in exports of 5.2%. (Grant Thornton)
FROM THE REGIONS
On the education way- £ódzki Education Cluster
On the 27th of April, during the conference "Zonal opportunities for vocational training in £ód¼" an agreement for the creation of £ód¼ Education Cluster have been signed.
It will support vocational training in the region and adapt it to the needs of the local economy. Preparing a program of education with the needs of entrepreneurs will be also a big challenge. The cluster will allow traineeships for students of vocational schools in £ód¼. £ód¼ SEZ is the patron of the initiative. (£SEZ)
What does Lublin inspire business with
"Openess, friendly attitude, entrepreneurship and university-oriented approach" - these are four pillars of the Lublin business strategy, that has been implementing by the city for several years now.
In the course of the conference "What does Lublin inspire business with", that was held in Warsaw on April 28th, entrepreneurs, investors, experts and economic advisors discussed what it meant in practice and how the city managed to establish mechanisms encouraging the entities to locate their investments in the very heart of Lubelskie region. Polish Information and Foreign Investments Agency was supporting the event.
Agriculture, food industry, ecological food products, biotechnologies, aviation, logistics - over 100 participants that took part in this meeting tried to define the business profile of Lublin and variety of their opinions proves that the city holds a significant potential. (UM Lublin)
DID YOU KNOW...?
European Rover Challenge - a record number of applications
Between 5 and 6 September in the Regional Centre for Science and Technology will be held the second edition of the European Rover Challenge.
Among the teams are American Yale University, the award-winner of the American edition competition from Bialystok University of Technology, as well as ERC Last year's finalists from Kielce University of Technology and the University of Cairo. The competition will be judged by experts from the European Space Agency.
The task team is to construct a robot that will compete in simulated Martian tasks like navigation, geology and terrain.
Competition ERC conference will be preceded by Space Business Days Poland, whose aim is to combine the interests of the space sector with companies and institutions from various industries, interested in establishing commercial relations, transfer the technologies or experience in project management. (Ministry of Economy)
---

Editorial office:
Polish Information and Foreign Investment Agency, 00-585 Warsaw, Bagatela Street 12
Information and Communication Department, tel: +48 22 334 99 49, fax: +48 22 334 99 99,
e-mail:
redakcja@paiz.gov.pl