Gas sulfonitriding
Gas sulfonitriding is a modern thermo-chemical method used for the treatment of steel and cast-iron machine elements and tools. The sulfonitride process is carried out in retort furnaces in an ammonia and sulphur vapour atmosphere at temperatures of 773-973 K, for ten minutes to several hours. As a result of this treatment the friction coefficient of surfaces is low, wear resistance is high and their resistance to seizing is complete. The sulfonitriding process is the final one and the treated elements do not need subsequent mechanical working.
---
Technology application
Using the method of gas sulfonitriding low-, medium- and high -carbon steels may be treated, as well as low-, medium- and high -alloy steels and cast iron. The technology is recommended for treating machine parts and mechanisms which work in conditions of dry or mixed friction, such as:
Cylinder liners
Slide bearings
Shears
Sliders
Car mechanisms
Worm wheels
Injection moulds and many others
---
Results of the test of seizure resistance:

Tempered steel Spheroidal pearlitic Constructional steel after cast iron gas sulfonitriding process
---
Particular advantages of the sulfonitriding process:
It enables to form the surface layer with demanded properties
The layers created in the process preclude seizure of mating parts
The process warrants high durability of the treated elements
Decreases co-efficient of friction
Increases resistance against corrosion
Increases fatigue strength of steel substrate
The offered technology reduces the production and operating costs
---
Qualities of sulfonotrided layer
Thanks to their complicated structure the sulfonitrided layers fulfill two main functions. The first one is the weakness of adhesive relation of frictional stream elements and decrease of endurance on cutting of unevenness of surface. The other one is the possibility of transfer in zone of point of contacts the pressures in consequence of raised surface layer.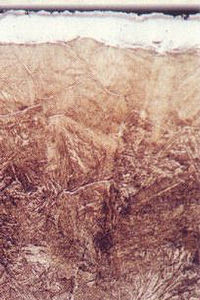 The structure of chromium constructional steel after sulfonitriding process (mag. x 400)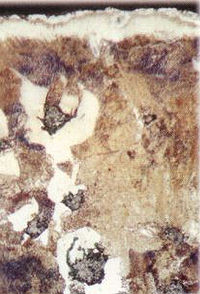 The structure of spheroidal cast iron after sulfonitriding process (mag. x 400)
---
Download information about Gas sulfonitriding...
THE INDUSTRY AND TECHNOLOGY PARK BEŁCHATÓW KLESZCZÓW Ltd. 2004