NEWS
PAIiIZ with 57 companies and president of Poland visiting China
The first mission of the newly elected president of Poland, Andrzej Duda to China has begun on 23 November. Mr Duda is accompanied by representatives of 57 Polish companies from sectors with highest investment and trade potential for Chinese partners. The Agency is represented by president S³awomir Majman and deputy president Micha³ D±browski. The business mission has been co-arranged by PAIiIZ.
Over 700 people joined Poland-China Trade and Investment Forum in Shanghai
Poland - China Trade and Investment Forum in Shanghai arranged on Monday, 23 November, where nearly 700 participants were present opened the official programme of the visit. During the meeting, 6 Polish - Chinese business contracts were signed. It is estimated that in total, contracts signed by such Polish companies as: Kopex, Hastrans or OSM £owicz are worth tens of millions dollars. Moreover, that day PAIiIZ gained two new partners: Shanghai Commission of Commerce and Hezhong.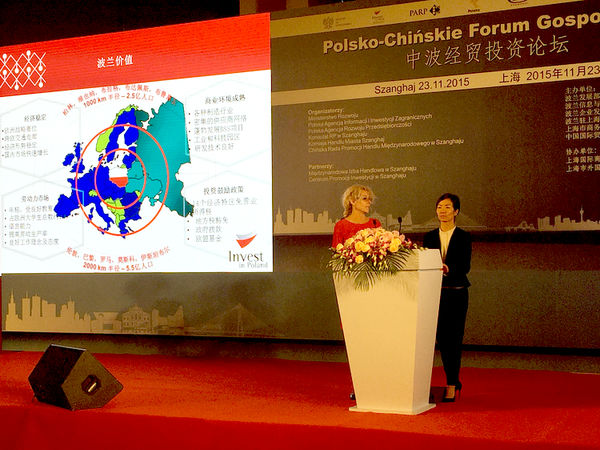 PAIiIZ experts present investment climate in Poland
On Tuesday, Polish business delegation visited China-CEEC Economic and Trade Forum in Suzhou to talk about cooperation between Central Eastern Europe and China. The CEE region as "a unity of differences" was the main motto of presentations made by both PAIiIZ representatives and Polish president during the official meetings in Suzhou.
Signing the cooperation agreement between PAIiIZ and Shanghai Commission of Commerce
After the visit in Shanghai and Suzhou, on Wednesday the Polish business delegation went to Beijing where the memorandum of understanding between PAIiIZ and Commercial Bank of China was signed. (PAIiIZ)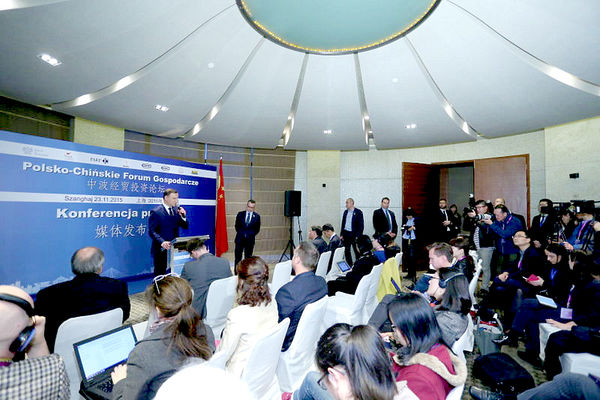 Press conference for Chinese media co-arranged by PAIiIZ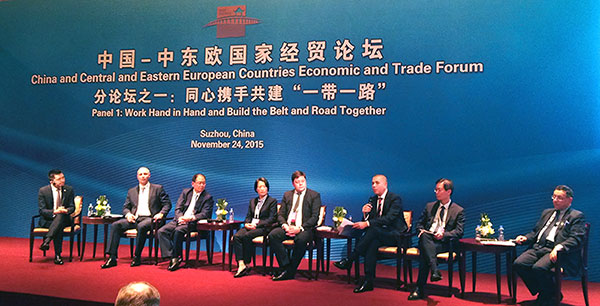 Participants of China and Central Eastern Europe Countries Economic and Trade Forum
Poland as an entrance to EU for Japan
Business opportunities in Central Eastern Europe including Poland were discussed by investment agencies from Czech Republic, Slovakia, Hungary and Austria, during business seminar in Vienna arranged for 150 Japanese companies.
Japan is the biggest Asian investor in Poland. Among 300 Japanese entrepreneurships, 90 operate in production sectors. The growing importance of Japan business in Poland is reflected in PAIiIZ investment portfolio. Currently, the Agency supports 10 Japanese projects, which in total are worth € 274m and can generate 2,000 new jobs in the future. Poland is said to be a door opener for Japanese companies interested in entering UE markets. Such Japanese giants as Mitsui, Mitsubishi, Toyota, NSK, Bridgestone, Sumitomo, Hitachi, Sharp, Marubeni or Itochu operate on Polish market. (PAIiIZ)
More information: www.paiz.gov.pl/20151120/poland_as_gate_to_ue_for_japan
45 investments already competed this years
Since the beginning of November, PAIiIZ has successfully completed two investment projects. Now, the list of completed investments in 2015 has reached 45 positions. All finished projects are worth €650m and can generate 8,000 new in Poland.
Currently, the Agency supports 167 ongoing investments with a total value of €3,564m and a chance to create 33,000 new jobs. The leader's position has been maintained by the US that provides 42 investments (total value of €356m; 7,300 new jobs planned). Moreover, BPO is the number one on PAIiIZ list in terms of the sectors with the biggest number of ongoing investment (38 projects; total value of €30.52 m; 10,755 new jobs planned). (PAIiIZ)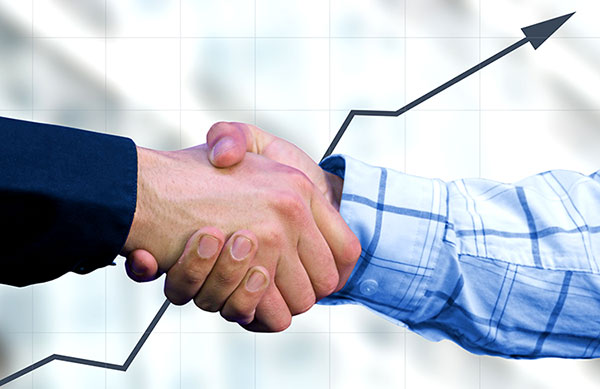 © Andres Rodriguez-Fotolia.com
More information: www.paiz.gov.pl/20151123/45_investments_already_competed_this_years
Six new investments to be launched in Poland
PAIiIZ experts returned from an investment mission to Germany with 6 new projects that soon should be implemented in Poland. Due to all of them 1,400 new jobs is to be created in Poland.
The negotiation with potential investment partners were held in Hamburg, Dusseldorf, Stuttgart. PAIiIZ experts also visited Bavaria to talk with companies representing industrial and high-tech sectors as well as parties interested in establishing R&D centres in Poland. The mission also focused on promoting Poland as an attractive investments location and reliable business partner. (PAIiIZ)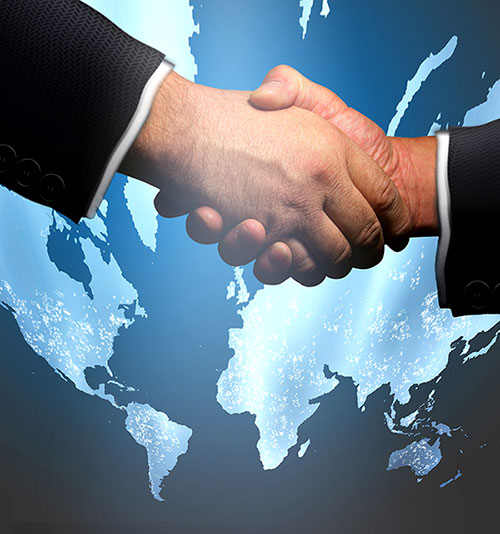 © Robert Mizerek - Fotolia.com
Three investors enter £SEZ
Euros, POPRAWA Producent Opakowań Tekturowych and Tommark received a business permit to operate within £ód¼ Special Economic Zone. The total value of those investments has been estimated for PLN 22m.
Both, Euros and Poprawa will operate in Ostrzeszów subzone of £SEZ. Those companies plan to build new production facilities as well as to purchase new technology lines to increase production capacity. On the other hand, producer of blinds, Tommark will invest in Konstantynów £ódzki.
Since the beginning of 2015, £SEZ has issued 9 investment permits. Together, those projects are worth PLN 252m and can generate 1,123 new jobs. (£SEZ)
MACROECONOMIC POLAND
Exchange rates (as of 26.11.2015):
| | | |
| --- | --- | --- |
| | Buy | Sell |
| USD | 3.9930 | 4.0736 |
| EUR | 4.2207 | 4.3059 |
Source: www.nbp.pl
EVENTS
What is the investment climate in Poland?
PAIiIZ welcomes to the conference presenting the results of survey conducted among foreign investors in collaboration with the consulting firm Grant Thornton and HSBC bank.
During the study, foreign investors assessed 27 factors that, in the greatest extent, determine the quality of the investment climate in Poland. The results will be presented on 3 December 11:00 am, at the headquarters of HSBC Bank Poland SA (22 floor of the Rondo 1 building, at Rondo ONZ in Warsaw).
Registration at: www3.paiz.gov.pl/konferencje/?investment_climate_2015&lang=en
10th Conference on Independent Automotive Market
The 10th Automotive Aftermarket Conference will be held on 3 December 2015, at the Ministry of Economy in Warsaw.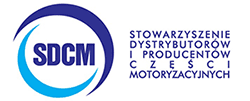 Every year, the conference attracts the growing number participants. Last year it was attended by around 350 guests, including presidents and board members of the largest companies and organizations operating in the sector.
The participants will be able to discuss the situation, trends and prospects of the Polish and European automotive market's development, challenges that the automotive industry has to face with and the current legal regulations. The conference will be accompanied by the announcement of the results of the "Competition for the best workshop", which will be carried out in Poland for the first time.
The event is organized by the Automotive Parts Distributors and Producers Association SDCM under PAIiIZ patronage. More information: www.moto-konferencja.pl. (SDCM)
Congress E(x)plory
On 2 December 2015 in the University of Warsaw's Centre of New Technologies, the 2nd E(x)plory Congress will held. The event gathers young innovators and start-ups with investors and business.

The event will be focused on the optimal conditions for innovation development, necessary legislation changes and new support instruments for innovators. The congress will begin with Arnon Barnes's 'Speed of success' lecture on how to visualize and name our life goals. Arnon Barnes, is an international motivational speaker, mentor and business coach. He will also explain how positive thinking impacts on success.
Participation in the event is free of charge. Limited number of places available.
The programme and registration are available on www.kongres.explory.pl
ANALYSES AND REPORTS
2015 to be crucial for renewable energy sector
PAIiIZ, TPA Horwath and BSJP have prepared a report on 7th "Wind Energy/Power Industry in Poland". The premier of the report has coincided with the introduction of the Act of Renewable Sources of Energy. This new law regulation will replace the old support system based on green certificates with the auction model.
As Wojciech Sztuba of TPA Horwath stressed, the dynamics of changes in the legislative environment creates a variety of investment opportunities. However, there are lots of risks and dangers, resulting from instable support system and others restrictions.
The power coming from wind farms in Poland amounted to 4,1 GW by the end of June 2015. To compare, the total amount of power installed in the National Power Transmission System was app. 38,1 GW. Polish energy sector turns increasingly away from traditional fossil fuels. However, the conventional power plants still using hard and brown coal were responsible for the production of nearly 86 % of electric power in 2014", he added.
More information: www.paiz.gov.pl/20151119/2015_to_be_crucial_for_renewable_energy_sector
Polish companies invest in research, development and innovation
Access to a vast range of support mechanisms, including EU funding, but also the ability to navigate among them smoothly, may affect the profit of Polish companies. Such are the conclusions of z 5th "R&D&I Market in Poland - Support for research and development and innovation activity of enterprises" report developed in cooperation of Crido Taxand, PAIiIZ and techBrainers.
The study shows that a group of Polish entrepreneurs increasing spending on R&D&I is growing. In 2012, the average share of business spending on R&D was 37%, while in 2014 it was already 47%. According to the survey, there is a growing number of businesses that employ in-house research and development teams. A readiness to protect innovations by patents proves strongly that the importance of running R&D&I activity within the company is getting more important. European Patent Office (EPO) recorded a fourfold increase in applications from Poland over the last decade.
Companies recognise the correlation between investments in innovation and business benefits. As many as 90% of the representatives of the R&D departments believes that the development of innovative solutions will generate additional revenue. The companies also report that investing in developing innovations allows them to successfully enter new markets abroad. (Crido / PAIiIZ)
FROM THE REGIONS
Constructor's Park in Gdynia
Owing to common efforts of Pomerania Scientific-Technology Park of Gdynia and Pomerania Special Economic Zone, the Constructor's Park was created in former shipyard in Gdynia. This space will allow designers and engineers develop advanced technologic projects basing on the idea "from the concept to a product".
In Constructor's Park, R&D activities will be provided to implement industrial design projects including electronic and automatic ones. The value of the investment reached over PLN 30 bn and was mostly co-finances from EU OP Innovative Economy. (Ministry of Economy)
DID YOU KNOW...?
BASF has produced catalyst No. 1,000,000
The millionth catalyst just came off the production line with BASF's plant in ¦roda ¦l±ska. In 2012, this BASF flagship factory, was awarded by PAIiIZ as the biggest investment of the year.
Launched in 2014, the plant in ¦roda ¦l±ska is the largest factory of catalysts owned by BASF. The factory manufactures catalysts used in passenger cars with gasoline engines, as well as in cars and trucks with diesel. Both types of catalysts meet Euro VI standards.
Already, 400 people have been employed there and the total value of investments amounted to EUR 150 m. (BASF)
---

Editorial office:
Polish Information and Foreign Investment Agency, 00-585 Warsaw, Bagatela Street 12
Information and Communication Department, tel: +48 22 334 99 49, fax: +48 22 334 99 99,
e-mail:
redakcja@paiz.gov.pl