NEWS
Programme of Economic Promotion of Eastern Poland in 2010
The Programme of Economic Promotion of Eastern Poland brings first benefits to entrepreneurs. The first 12 months of the programme were summed up and new goals for 20011 were set during a ceremony which took place in December 2010.
Among the major goals established by the programme's creators were: creation of an attractive and investment-encouraging image of the whole macroregion of Eastern Poland and creation of international networking opportunities. The goals were successfully pursued during the whole 2010, even despite the unfavourable economic conditions. Sławomir Majman, president of the Polish Information and Foreign Investment Agency emphasised that 2010 was exceptionally hard for the global economy. Yet it was during that difficult time when Poland became even more attractive. It turned out that the country benefited from the crisis. - We now see that dozens of foreign companies which earlier have not been interested in investing here, turn their eyes on Poland - a country which managed to be successful in the era of global crisis - says president Majman.
Thanks to co-operation with the Polish Information and Foreign Investment Agency numerous companies from Eastern Poland see concrete benefits for their business. The Fruit and Vegetables Processing Plant owned by Kowalkowski is a point in case. - The company was developing rapidly until it reached a point when the Polish market wasn't enough. We decided that it was time we started international expansion - says Robert Kowalkowski, president of the company. - It was at that time when we established closer contacts with PAIiIZ. Thanks to the Agency representatives of the company took part in three international trade missions and a mission to EXPO 2010 in Shanghai. During the missions we met businesspersons who were really interested in business contacts with Europe - adds president Kowalkowski. - Now we are struggling to start exporting our products to China. It is a very difficult market, it takes a lot of time to negotiate a contract there.
The Programme of Economic Promotion of Eastern Poland helped establish interesting contacts also to other representatives of the macroregion. - We have been negotiating with a company which is active on five continents and is listed on BSE and NASDAQ - says Piotr Fałek, president of CSF Polska. The name of the possible partner cannot be revealed at this stage of negotiations but the Polish company hopes the process will finish in the first half of 2011. Also here president Fałek emphasises that the contacts were established thanks to the Polish Information and Foreign Investment Agency. - The fact that CSF Polska qualified for the PAIiIZ international trade mission made the capital group more credible for the foreign partner. The potential Partner did not have to check up on us, we were reliable enough to start the talks - stresses president Fałek.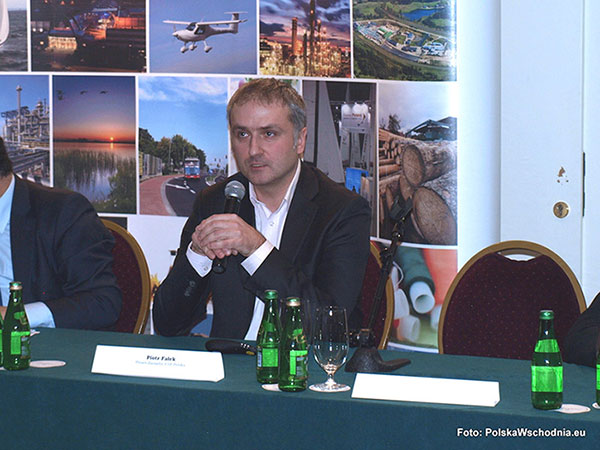 Piotr Fałek - President of CSF Polska
Another company which took part in missions organised by PAIiIZ is Spółka Inżynierów SIM. The company has been expanding internationally for years now but participation in PAIiIZ missions provided opportunities for new international contracts. PAIiIZ representatives estimate that the number of companies from Eastern Poland which enter in co-operation with foreign entrepreneurs will be growing every month.
- This is only the beginning. I hope the upcoming years will be even more fruitful for the country - admits Bożena Czaja, Member of the PAIiIZ Board. - We will do everything to make the whole of Europe and all other places where we will operate, remember one thing: Eastern Poland means business - summed up PAIiIZ president Sławomir Majman. (PAIiIZ)
Go to top...
INVESTMENTS IN POLAND
Novortsrt's largest European factory opens in Poland
Novostrat starts production of polyethylene foam in its EU largest factory situated in Olszyna.
The factory will produce foam for building insulation and soundproofing and for the packaging and floorboard industry. The factory's entire output will be exported to Western Europe, to among others, France and Germany. Novostrat runs factories in France, Ireland and in Poland ,in Pabianice where the company produces packages for the computer producing Dell.
Henryk Arciszewski, vice president at Novostrat assures that the decision to choose Olszyna for the project was carefully thought out. The place's favourable localisation in the vicinity of borders with Germany and the Czech Republic undoubtedly played a vital role in the selection process. - This factory will not only be Novostrat's largest factory but it will be the largest polyethylene foam producing facility in the whole of Europe. In fact, it is the scale of the production that we plan to start in Olszyna, that makes the project so profitable - explains Henryk Arciszewski. Lionel Junique, founder and president of the company, confirms the motivation and plans. - We found the facility in Olszyna and we realised that the localisation is very good. That is why we decided to invest here, buy the buildings and incur a lot of money to renovate and adapt them - says Junique.
The buildings were acquired from the Olszna Furniture Factory which went bankrupt 2 years ago. Nearly 360 people were then laid off. Now thanks to the Novostrat investment all the people may find job in the refurbished facility. - The company has already employed 40 people. And this is only the beginning - says Leszek Leśko, Olszyna's mayor.
After the production have started the factory will be able to employ 300 people. The Novostrat project in Poland was supported by the Polish Information and Foreign Investment Agency. (PAIiIZ)
Go to top...
Danish X-Yachts invests in Poland
The internationally recognised luxury yachts producer from Denmark will manufacture laminate yacht components in Poland.
The world-class products will be turned out in the X-Yachts facility in Gołdap with the use of modern technical and organisational solutions from Denmark.
The facility's annual turnover, with its 100% of production destined for export, is estimated to reach EUR60 million (PLN250 million). The facility is situated within the Suwałki Special Economic Zone (the Gołdap subzone). The company, which has already started co-operation with local subcontractors, will invest EUR15 million and the project is expected to generate 80 jobs.
Investor's plans include also construction of an R&D centre, worth nearly EUR10 million, for modern technology, composite engineering and material science.
X-Yachts has been realising the project in co-operation with the Polish Information and Foreign Investment Agency. (PAIiIZ)
Go to top...
New investors in the Suwałki Special Economic Zone
KAN and Bianor invest in Białystok.
The business activity permission No 159 was granted to KAN, a company producing modern water and heating installation systems. Permission No 160 was given to Bianor which produces plastic components for electric and households devise. Both investments will be localised in Białystok. The projects' value according to investors' declarations should exceed PLN43 million. Investments are estimated to generate 110 jobs. (SSSE)
Go to top...
MACROECONOMIC POLAND
Polish GDP on the increase

The World Bank estimates that GDP growth in Poland will accelerate in 2011 and is expected to reach 4.1% and 4.5% in 2012. - Economic growth prospects for Poland have been improving. It is expected that GDP in Poland will gradually accelerate and equal 4.1% and 4.5% in 2011 and 2012 respectivellty thus reflecting growth in private consumption - says the communiqué of the Wold Bank. (Wold Bank)


Exchange rates (as of 20.01.2011):
| | | |
| --- | --- | --- |
| | Buy | Sell |
| USD | 2.8423 | 2.8997 |
| EUR | 3.8351 | 3.9125 |
Source:
www.nbp.pl
Go to top...
FROM THE REGIONS
Kujawy-Pomorze COI attracts four new investors
Poland Tokai Okaya, Apator, Plastica and W-tech invest in the Pomeranian Special Economic Zone.
Apator was granted a business activity permission to operate in Olszewo in the Łysomice commune. On a 5ha plot the investing company wants to create a modern production and development centre for switchgear and metering systems. The project is estimated to cost PLN 50 million and create 100 new jobs.
Poland Tokai Okaya Manufacturing, a company producing TV set components has been present in the SEZ since December 2006. The new permission will make it possible to expand the factory's product range and distribute new metal components also among consumers from outside the electronic and audiovisual sectors. The company declared to maintain the current level of employment (250) and buy new production equipment.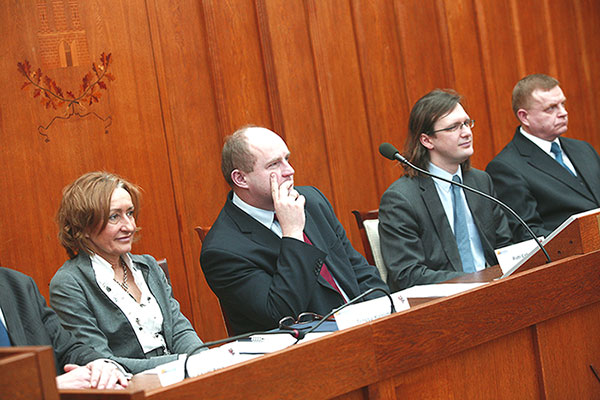 From left: Teresa Kamińska, president of the Pomeranian SEZ; Piotr Całbecki, Head of the Kujawy-Pomorze Region; Michał Korolko, Member of the Management Board of the region
Plastica, which forms part of the Toruń Dressing Material Works, was granted its third permission in the Frydrychów subzone situated in the Kowalewo Pomorskie commune. The investment aims at implementing an innovative primary product production technology which will help develop a new quality of the company's sanitary products. Thanks to the project employment level in the Frydrychów subzone will reach 560 jobs.
W-tech will invest PLN 2 million in the Grudziądz Industry Park. The company will hire 20 persons and wants to produce components for the renewable energy sector.
The Pomeranian Special Economic Zone has 9 subzones. In Ostaszew, Grudziądz, Świecie, Bydgoszcz, Kowalew Pomorski, Toruń and Wąbrzeźno which jointly measure 630 ha and host 24 investors. To date, the subsones attracted investment projects worth PLN 3 billion which created 7200 jobs. (KPCOI)
Go to top...
DID YOU KNOW...?
The new dimension of Guangxi LiuGong Machinery Co. Ltd (China) and Huta Stalowa Wola S.A. (Poland) co-operation
The Preliminary Enterprise Acquisition Agreement concerning the civil part of Huta Stalowa Wola was signed in the presence of Minister of Treasury Aleksander Grad and Director General at the Chinese Ministry of Industry and Information Technology Zhang Xiangmu.
Guangxi LiuGong Machinery Co. Ltd (LiuGong), a Guangxi-based listed Chinese construction equipment manufacturer, has come to an agreement regarding transaction price and other important conditions into a Preliminary Enterprise Acquisition Agreement (PEAA) with Huta Stalowa Wola S.A. (HSW) over acquisition of assets of HSW involved in production of civil equipment (i.e. Division I, and its subsidiaries).
This preliminary agreement makes room for further negotiations leading to the final agreement, expected to be completed within the next few months, required inter alia to obtain necessary Chinese and Polish administrative and governmental approvals.
PEAA was signed in the presence of Mr Aleksander Grad - Minister of Treasury Republic of Poland and Mr Zhang Xiangmu - General Director of Equipment Department of Ministry of Industry and Information Technology People's Republic of China by Mr Wang Xiaohua - Chairman of the Board of Directors in LiuGong and Mr Krzysztof Trofiniak - President of HSW.
Guangxi LiuGong Machinery Co., Ltd is one of top 500 Largest Industrial Enterprises in China. Since developing and manufacturing the first wheel loader in China in 1966, LiuGong product line has enlarged to cover wheel loaders, hydraulic excavators, rollers, pavers, motor graders and planers, skid steer loaders, backhoe loaders, forklifts, cranes, bulldozers, and pipe layers. LiuGong has also extended its business to 17 manufacturing locations in China, one factory in India, and 9 overseas subsidiaries including LiuGong Machinery Europe B.V. in the Netherlands. In addition to the Chinese market, LiuGong has developed 119 global dealers and 881 outlets covering over 80 countries, and more than 300 foreign employees have joined LiuGong. Through the continuous efforts in the past 50 years, the company has now become one of the leading construction machinery manufacturers in China and in the world.
Huta Stalowa Wola S.A. (the steel and defence equipment works) was founded in 1937. The construction machinery division was founded in 1952 and for 40 years has been one of the biggest machinery equipment suppliers in Central Europe, specializing in heavy construction equipment (bulldozers, pipelayers, wheel loaders, crawler dozers, crawler loaders, backhoe loaders etc.). Apart from sales on the domestic market, HSW has been exporting its products to over 80 countries.
The Polish Government is implementing a program of privatization of state-owned companies which includes HSW Division I producing construction equipment. The privatization process was started in January 2010 and LiuGong was selected as preferred investor as the result of the public tender procedure.
The anticipated acquisition of Division I of HSW corresponds to LiuGong's long-term development strategy and aims at establishing in Poland a major production and distribution centre, for the domestic and overseas markets including Europe, North America, and CIS. LiuGong intends to increase production as well as expand the product range of Division I which would inter alia be a result of expected investment programme. (Guangxi LiuGong Machinery & HSW)
Go to top...
---

Editorial office:
Polish Information and Foreign Investment Agency, 00-585 Warsaw, Bagatela Street 12
Economic Promotion Department, tel: +48 22 334 99 49, fax: +48 22 334 99 99,
e-mail:
redakcja@paiz.gov.pl