FROM THE EDITOR
Dear Readers,
Polish Information and Foreign Investment Agency invites you to participate in a conference on the prospects for development of renewable energy in Poland. More information can be found in the News section. Today we inform also about the increase of foreign direct investments inflow to Poland in January in comparison with last year, and we present the results of a survey of Polish-German Chamber of Industry and Commerce in which foreign investors have recognized Poland as the best place to invest in Central and Eastern Europe. This week we've received also information about new investments: the company Genpact intends to invest in Lublin and Eco-Gwarantor in Ostrowiec ¦więtokrzyski in Starachowice SEZ.
Pleasant reading!
PAIiIZ's editorial team
Go to top...
NEWS
"Renewable energies: the chance for Polish entrepreneurs" - PAIiIZ conference

Polish Information and Foreign Investment Agency invites to the conference "Renewable energies: the chance for Polish entrepreneurs", which will be held on the 31
th
of March from 11.00 am to 1.00 pm, at the Information Centre, PAIiIZ seat, Warsaw, 12 Bagatela St.
The major purpose of the conference is to exchange experiences in the field of renewable energy and to discuss the possibility of support for the companies manufacturing equipment for generating energy from renewable sources. We hope that the meeting will allow the development of activities that significantly affect the growth of investments and use of renewable sources of energy in our economy. In the conference will take part: members of PAIiIZ Management Board, representatives of the Institute for Fuels and Renewable Energy (IPIEO), representatives of the National Fund for Environmental Protection and Water Management (NFO¦iGW), Marshal's Office of Zachodniopomorskie Voivodship, Frost&Sullivan, LM Glasfiber, Northern Europe.
Admission is free. Conference in Polish. We provide simultaneous translation into English. For more information contact directly Katarzyna Rosińska, Economic Promotion Department, e-mail: katarzyna.rosinska@paiz.gov.pl
Go to top...
Minister of Treasury's visit to the Middle East
Monday was the last day of the Minister of Treasury's Aleksander Grad two-day visit in the United Arab Emirates. The main goal of the visit to the Middle East was to promote the privatization programme planned for the years 2008-2011, as well as to meet with potential investors.
The Minister of Treasury, Aleksander Grad, has presented to the Arab investors 22 companies from the privatization list. Companies presented in the United Arab Emirates included among others entities from chemical, financial, energy and shipyard sector, as well as coal mines, passenger airlines, financial institutions, health resorts and companies from hotel and tourist sector. (Ministry of Treasury)
Go to top...
New contracts from Scandinavia for Polish Solaris buses
Polish company Solaris Bus & Coach signed new contracts for delivery of their buses to Scandinavia. In the next few months, in Denmark, Norway and Sweden new Urbino buses from Solaris will appear. With new orders for a total of 126 buses, Solaris Bus & Coach will significantly expand its presence in Scandinavia.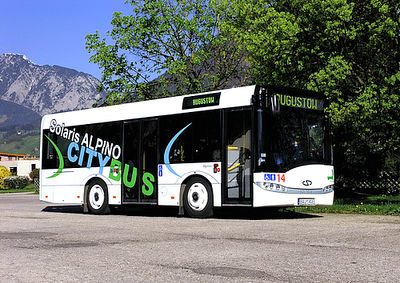 The Alpino - the shortest midibus from Solaris (Source: Solaris)
In the Romerike region in the north-east of the Norwegian capital Oslo, the bus network will be renewed from 1 July 2009 with the commencement of new service tenders. Part of the new face of public transport in Romerike will be 58 brand-new Solaris Urbino 12 LE buses. UniBuss, owned by the City of Oslo, will operate 45 of them. The remaining 13 new Solaris buses for Romerike will be in the hands of Nettbuss, Norway's largest bus company.
The Solaris Urbino 12 LE unites excellent accessibility with high levels of comfort by combining a low floor front section with a traditional rear that allows all seats to be forward-facing. On the vehicles for Romerike, passengers will benefit from seats with reclining backrests and individual overhead spotlights. Full air-conditioning also is provided along with a CCTV monitoring system. The buses for Romerike will be powered by biodiesel-fuelled DAF engines meeting the demanding EEV emissions standard. A further Norwegian order calls for eleven Solaris Alpino 8.9 LE midibuses for Concordia Bus. The buses will be delivered in August 2009 for services in the Nordhordland region centred on the country's second-largest city, Bergen.
- Thanks to these orders, the number of Solaris buses in Norway will double and will reach the number of 138 vehicles - said Solange Olszewska, the chairman of the board.
In Sweden, Solaris buses will soon become a familiar sight on the streets of the capital Stockholm with the delivery of 28 Solaris Urbino 12 CNG for Busslink, the city's main bus operator. Busslink, owned by a French transport group Keolis and Greater Stockholm transport authority Storstockholms Lokaltrafik, operates a fleet of 1,500 buses throughout the metropolitan region. The new Solaris buses will have Iveco engines running on environmentally-friendly biogas.
Completing the recent Scandinavian contracts is an order from Denmark. Århus Sporveje operates bus services in Denmark's historic port and university city of Århus on behalf of tendering authority Midtrafik. This year, its fleet will be enhanced by 22 Solaris Urbino 12 and seven Solaris Urbino 18 low floor city buses, bringing the total number of Solaris Urbino buses in Århus to 91. Solaris Bus & Coach is a family-owned and family-run enterprise, situated in Bolechowo, near Poznań. The company is one of the leading producers of different types of vehicles: urban and suburban, low floor and low entry buses, trolleybuses, special vehicles. (source: Solarisbus.pl)
Go to top...
e-Taxes Programme
Ministry of Finance launched this week a program "e-Taxes". It is a package of operations on organizational, legislative and information level that are intended to provide tax administration modern information management tools.
Under the new system, the Ministry plans to provide an access to each taxpayer's account in the tax office. Electronic accounts (as those in e-banking system) will allow each person immediate access to information regarding the state of the fiscal accounts.
The expected effect of the new system is to increase the efficiency of tax administration operations by reducing the costs of collecting taxes, improving the carrying out of tax affairs thanks to quick access to information.
It is also expected to create a centralized database of taxpayers which will be available on-line for tax administration. Taxpayers will have their own accounts to access the personal tax by Internet and telephone. The program has already been positively assessed both by the tax administrations, as well as independent experts. (Ministry of Finance, Gazeta Prawna)
Go to top...
INVESTMENTS IN POLAND
Genpact to invest in Lublin and employ 500 people
An international outsourcing company located in India, Genpact, announced the opening of its operations centre located in Lublin, which will serve clients in Europe.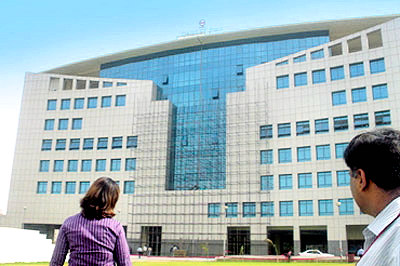 Genpact headquaters in Dehli (Source: Genpact)
Genpact, a leader in the globalization of services and technology, with revenues over 1 bln dollars, officially announced the opening of its operations centre located in Lublin. The largest city in Eastern Poland will be now home to Genpact's seventh European operating centre.
Patrick Cogny, CEO of Genpact Europe, said that they are very excited about their expansion into Poland and see this as a crucial step in the ongoing growth of their European delivery capabilities. This new facility is a welcome addition to Genpact's multilingual centres in Romania and Hungary and will strengthen their ability to deliver integrated, pan-European solutions to their clients.
Genpact's decision to launch operations in Lublin was due in large part to the area's cultural make-up, as well as its proximity to several major universities.
The inauguration of the facility was marked by a conference on the "Globalization of Services," the first of its kind ever hosted in Lublin. Adam Wasilewski - the Mayor of Lublin, Patrick Cogny - CEO of Genpact Europe, Tomasz Maciejak - Genpact's newly-appointed Lublin site leader and Prof. Slawomir Nowosad - Vice-Rector of Catholic University of Lublin, took part in the conference.
In Europe, Genpact has also two operating centers in Romania, one in Hungary, as well as in the Netherlands, two centers in Spain, and sales and marketing office in London. The company's worldwide network of over 35 operations centers employs more than 36 000 people in 12 countries. (Genpact)
Go to top...
MACROECONOMIC POLAND
In January the FDI in Poland rose by 35%

In January 2009, foreign direct investments in Poland has reached 1,47 bln EUR - informed the National Bank of Poland (NBP). It is by 35% better result than in January of 2008, when FDI value in Poland stood at 1,092 bln EUR. (Source: NBP)

PZPM: sale of new cars in Poland on the rise

February 2009 saw sale of new cars in Poland grow. It grew by 7,3% to reach 30,2 thousand vehicles. It is a 7,3% better result in comparison with February 2008 and it shows a growth by 13,1% compared to January 2009 - informs the Polish Automotive Industry Association.


The sale increasing from the beginning of the year was on the same level in comparison with the same period of 2008. In the last six months sale of the new cars grew by 6,1% y-o-y to reach 164,4 thousand cars. In January 2009 this index was 4,7%. The sell in the last 12 months was 320,3 thousand vehicles. It was by 5,3% (16,06 thousands) more than in the same period of 2008. (PZPM)

Exchange rates (as of 19.03.2009):
| | | |
| --- | --- | --- |
| | Buy | Sell |
| USD | 3.4431 | 3.5127 |
| EUR | 4.5214 | 4.6128 |
Source:
www.nbp.pl
Go to top...
FROM THE REGIONS
New investment in Ostrowiec ¦więtokrzyski
Eko-Gwarant, company operating in the organic industry, will invest in Ostrowiec sub-zone of the Starachowice Special Economic Zone. The enterprise plans to implement an investment worth over 25 million zlotys.
Polish company Eco-Gwarant, existing since 2006, operates in the organic industry. Company recycles vehicles withdrawn from service in Poland in cooperation with over 130 entrepreneurs leading the dismantling of vehicles stations and with 1620 importers of the new and used cars.
The new plant in Ostrowiec ¦więtokrzyski will be involved in the processing and recycling of waste from demolition of vehicles. Andrzej Wójcik, COO in the company, announced, that they will establish the advanced lines, which allow to convert mineral waste into alternative fuels, and organic waste will be the subject of the accelerated fermentation.
The company intends to recruit from 30 to 50 new employees. The implementation of the investment is planned for April 2009, and their completion is scheduled for the end of 2010. One of the company's division will be located in the growing industrial area, called "Stary Zakład".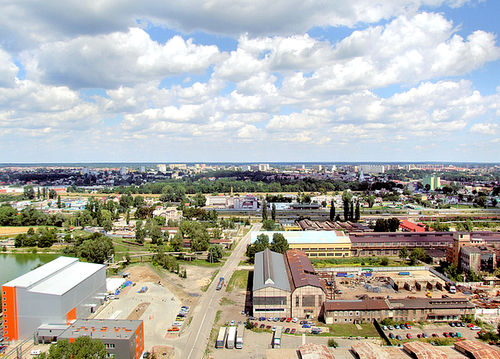 Industrial Zone "Stary Zakład" in Starachowice SEZ
(Source: Ostrowiec ¦więtokrzyski, Mayor's Office)
A significant influence on the development of this area was the implementation of the project "Revitalizing of the postindustrial area in Ostrowiec ¦więtokrzyski", financed from the PHARE 2002 funds. The construction and modernization of the roads allowed to open this area and to include it in the communication system of the city. This way, it became possible to provide investors with 60 hectares of land and 40 production facilities. Revitalized area was incorporated as a sub-zone into the Starachowice Special Economic Zone.
Investors who are implementing in this area their investments, highly value the advantages of this location. In recent times, Statoil Poland has launched here the production of oil and lubricating oil. Currently, the construction of a modern rolling mill is in the process.
- Our own investments, full assistance for investors, support for entrepreneurs and the constant development of our infrastructure contribute to the fact that investors often decide to locate the investment in Ostrowiec Swietokrzyski - says Jarosław Wilczyński, Mayor of the City.
Go to top...
First permission isued by Legnica SEZ this year
The Legnica SEZ (LSSE) management granted the first business activity permission this year. CaseTech Polska intends to invest 300 thousands euros and create 40 new workplaces in its factory. The new investor will operate on leased hall in Legnica sub-zone.
CaseTech Polska belongs to an international ADCURAM Group AG, which focuses on the production of food casings.
The owner is a holding company ADCURAM CaseTech Holding GmbH, based in Munich. ADCURAM Group has its factories in Germany, United States and other countries.
In the Legnica SEZ the company intends to continue the tradition of Walsroder Darm brand - one of the oldest companies in the world producing cellulose-based casings for the food industry.
The company plans to create a manufacturing plant producing plastic-based casings for sausages. Moreover, the company plans to conduct research exploring the developmet of new types of plastic products used in production processes. (Legnica SEZ)
Go to top...
ANALYSES AND REPORTS
Poland - the most attractive location for new investment in CEE
Enterpreneurs surveyed by the Polish-German Chamber of Industry and Commerce (PGCIC), concluded that Poland is the most attractive location for investment in the region.
Among the 163 companies with a diverse business capital which operate in Poland, 82% are satisfied with their decision regarding the location of investment.
Poland received in this rank an overall evaluation of 4.7 points out of 6 possible and thus took the first place. Czech Republic and Slovakia - leaders of the last year's report - have also improved their results, but with a general assessment of 4.3% took the second and third places.
In the opinion of entrepreneurs, the most important factors decisive for the choice of the investment location are: qualifications of emploees, stable law, productivity, employees, commitment and membership in the European Union. According to the report's, decisive factors, domestic demand fell by nine seats: after a second place in 2007 and the first in 2008, in this year's edition of the survey, it ranked only on tenth position. Contrary to expectations, new factors which were introduced in his year's survey, such as: quality of higher education and professional education, also did not rank very high.
Ten percent of companies did not respond to the survey's questions, and 8% admitted that they are not satisfied with the choice of Poland. In the list of alternative investment locations for Poland were: Germany, Slovakia, Czech Republic, and on the following places: Russia and Turkey.
Cyclical survey conducted by Polish-German Chamber of Industry and Commerce was held from, 16th to 27th of February. Representatives of 163 companies operating in Poland participated in this pool, including: 73 - from the services sector, 39 - from productive, 18 from construction, 10 - from energetic and 18 from the others sectors. (PGCIC)
Go to top...
---

Editorial office:
Polish Information and Foreign Investment Agency, 00-585 Warsaw, Bagatela Street 12
Economic Promotion Department, tel: (+48 22) 334 98 15, fax: (+48 22) 334 99 99,
e-mail:
redakcja@paiz.gov.pl