NEWS
Intrall Rus, PAIiIZ and the Zachodniopomorskie region signed Letter of Intent
The Letter was signed on February 7th, 2011 in the PAIiIZ Information Centre in Warsaw and concernes Intrall Rus R&D centre and a car factory in Poland.
The Letter was signed by Anatolij Lejrich, Head of the Council of Directors at Intrall Rus; Sławomir Majman, President of the Polish Information and Foreign Investment Agency; Marek Łyżwa, Member of the PAIiIZ Management Board and Jan Krawczuk, Member of the Management Board of the Region of Zachodniopomorskie.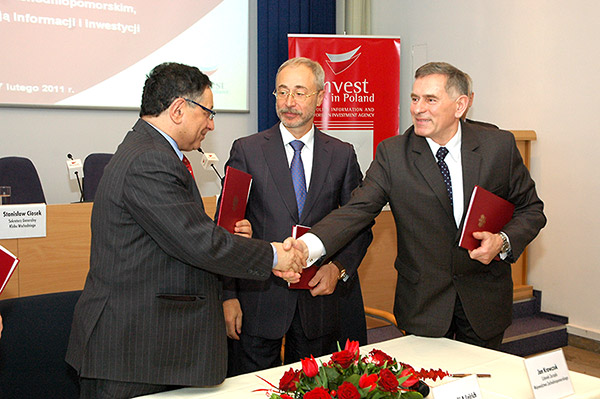 Intrall Rus, PAIiIZ and the Zachodniopomorskie region signed the Letter of Intent in the PAIiIZ seat in Warsaw. From left: Sławomir Majman, President of the Polish Information and Foreign Investment Agency; Anatolij Lejrich, Head of the Council of Directors at Intrall Rus and Jan Krawczuk, Member of the Management Board of the Region of Zachodniopomorskie
All the signatories declared to act together and help in the development of the region, create new jobs and support the investment project.
- We have been ready to invest in Poland for some time now and I am really glad that we signed the Letter of Intent - said Anatolij Lejrich, Head of the Council of Directors at Intrall Rus. Investor decided to locate the project in the region of Zachodniopomorskie due to its favourable geographic location, positive investment climate and the investor-oriented approach of local administration which proved very helpful. - The region offers access to a pool of highly-skilled people from which to choose workforce and an excellent environment to create a Research and Development Centre in which we plan to design the majority of our new cars - said Anatolij Lejrich.
In order to support the project authorities of the region declared to enter in co-operation with the regional Labour Office and help in the recruitment and training process of the Centre's future staff. Local authorities will also support the investor's co-operation with schools and higher education establishments in the region what should result in creation of syllabuses and training programmes for specialist who may in future work at the Itrall Rus R&D Centre.
- We are very pleased with the profile of the new investment. The project does not focus on production but on research and development processes which create employment for engineers who graduated from local higher education institutions - said Jan Krawczuk, Member of the region's Management Board. - Nevertheless, we are well aware that the Letter is only the very beginning of the investment process.
The Polish Information and Foreign Investment Agency declared to co-operate with the investing company. - I am glad that Poland attracted Russian project of this type and scale - said PAIiIZ President Sławomir Majman.
Among the conference panelists there were: Aleksander Aleksiejew - Russia's Ambassador to Poland, Stanisław Ciosek - Sekretary General of the Eastern Club, Ekaterina Belyakova - Trade Representative of the Russian Federation and Elzbieta Bodio - Vice Director of the International Co-operation Department at the Ministry of Economy. (PAIiIZ)
Go to top...
Conference: Results of the annual survey "Investors' satisfaction with services provided by PAIiIZ"
The Polish Information and Foreign Investment Agency invites you to the presentation of the survey's results on February 16th, 2011 at 10.00.
The conference will take place on February 16th, at 10.00 in the PAIiIZ Information Centre at 12 Bagatela Str. in Warsaw. The meeting will be held in Polish. Simultaneous translation into English will be provided. Admission is free of charge. We kindly ask you to confirm your presence at: Aleksandra.Bigda@paiz.gov.pl, tel: +48 22 334 98 40. (PAIiIZ)
Go to top...
SIAL 2011 in Shanghai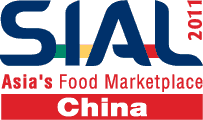 PAIiIZ opened a contest in which entrepreneurs active in the food industry in Eastern Poland will be selected and entitled to participate in a trade mission to Shanghai in May 2011 and to take part in the China International Food Products and Beverage Exhibition SIAL 2011.
The visit is organised by the Polish Information and Foreign Investment Agency in the framework of the project "Programme of Economic Promotion of Eastern Poland" financed by European Union's Operational Programme - Development of Eastern Poland 2007-2013.
Participants of the mission will take part in match making sessions with prospective partners and in SIAL 2011. The China International Food Products and Beverage Exhibition SIAL 2011 is the biggest event in the sector on the Asian continent. The SIAL Exhibition in 2010 was attended by 1339 exhibitionists from all over the world who presented their products on 46.000 m2 and attracted 30.000 visitors.
This year SIAL will take place between May 18-20, 2011 in Shanghai. Among the product groups presented during the Exhibition there are: food products, meat, fresh and dry fruit and vegetables, smoked cold meats, canned fish, vegetables, jam and alcoholic beverages.
SIAL China offers opportunities to present products to international public and also gives chance to introduce products to hypermarkets, shop chains and restaurants in China, India and other countries of the continent.
Applications may be sent in by February 11th, 2011.
For more information please visit:
www.paiz.gov.pl/o_agencji/przetargi_ogloszenia/polska_wschodnia/targi_wystawy (PAIiIZ)
Go to top...
INVESTMENTS IN POLAND
New investments in the Legnica SEZ
The SEZ closed 2010 with 4 permissions for new projects. The projects worth jointly PLN197 million will be executed in 2011.
Investors will create over 180 workplaces. Employment has been growing steadily also in companies which have been active in the region outside the zone due to partnerships with the SEZ-based partners. Co-operation between Fisher Dynamics and the German Sitech which has been operating within the SEZ is a case in point. Last year the co-operation generated 20 jobs.
The biggest success of the SEZ in 2010 was the investment of Pittsburgh Glassworks in the Środa Śląska subzone of the SEZ. PGW declared to invest at least PLN 173.8 million and hire 151 people. The foundation stone for the company's window pane factory was laid in autumn 2010.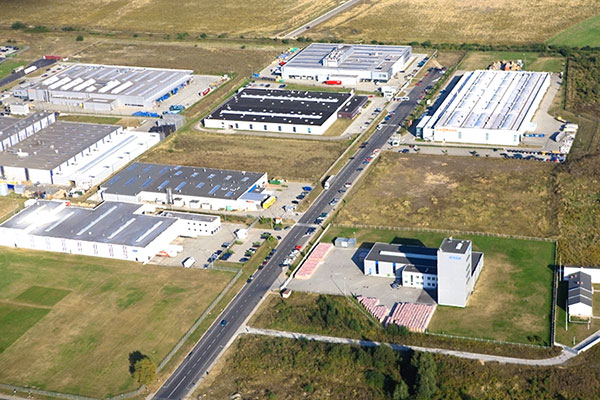 Facilities in the Legnica sub zone
Since 600ha of new investment plots were included in the SEZ the zone has been now covering the area of 1042ha in the Lower Silesia region. Due to the incorporation of new areas the SEZ in now the only zone in Poland which offers a unique plot of 500ha ready to host huge investments.
This year the Legnica Special Economic Zone plans to attract 8 new investment projects which are expected to create over 500 jobs. Projects already situated in the SEZ are expected to maintain over 1100 existing workplaces. (LSSE)
Go to top...
MACROECONOMIC POLAND
Exchange rates (as of 10.02.2011):
| | | |
| --- | --- | --- |
| | Buy | Sell |
| USD | 2.8124 | 2.8692 |
| EUR | 3.8519 | 3.9297 |
Source:
www.nbp.pl
Go to top...
FROM THE REGIONS
Polish cities: still (un)tapped potential
Conferences "Prospects in Poland" aims at presenting development potential of the biggest Polish cities and wants to create a platform for opinion and experience exchange between representatives of local administration and business world.
Sopot opts for small and medium-sized companies. Katowice and the Silesian agglomeration want to be seen as a modern metropolis, Wrocław works on maintaining its image of a strong business centre, whereas in Poznań the second Technology Park is already under construction. Polish cities can still offer a lot to entrepreneurs.
- Public and private operators always declare their willingness to co-operate. It is sometimes difficult to determine mutual expectations and forms of co-operation as well as to gather all interested parties in the same place and at the same time. This is what we are for - says Aneta Kłodaś, Business Development Director in Bluevine Consulting, a company which organises the "Prospects in Poland" conferences.
An advantage of the series of conferences are substantive programmes based on an analysis of the local market, representatives of the highest level local authorities who make speeches, representatives of local institutions of the business environment (including institutions which support entrepreneurship, financing institutions, market analysts and lawyers) and business operators themselves. The form of the meetings is also of huge importance - a substantive part begins in the afternoon and finishes with an informal part during which participants can enter into closer relations.
The nearest conference within the series "Prospects in Poland" called: "Smart Development. Prospects of social and economic development of Katowice and Śląskie Voivodship" will already take place on February 24th in the Monopol hotel in Katowice. The following one "One step ahead. Forecasts for dynamic expansion of companies from Dolny Śląsk" will be held on March 3th in Wrocław (also in the Monopol hotel). It is also planned to arrange a meeting in Poznań "INNO-Poznań. The capital of Wielkopolska as a centre of creating innovative market values" on April 14th in the Andersia hotel. Next, there are also: Białystok, Lublin, Rzeszów and Olsztyn. For more information please contact: aneta.klodas@bluevine.pl. (www.prospectsinpoland.com)
Go to top...
DID YOU KNOW...?
Manpower: the World Is Entering the Human Age
Employers have discovered that the right talent is more important than ever, but at the same time, talent is becoming a scarce resource.
Manpower Inc., world leader in innovative workforce solutions, announced at the World Economic Forum (WEF) in Davos, Switzerland, the dawn of a new world era; the Human Age.
Chairman & CEO, Jeffrey A. Joerres kicked off the WEF with the announcement, followed by a panel discussion with CNBC, "Entering the Human Age - unleashing and leveraging human potential in the new reality" with moderator Frank Brown, Dean of INSEAD and co-panelists Don Tapscott, Chairman of Moxie Insight and best-selling author of Macrowikinomics, Sharan Burrow, General Secretary of the International Confederation of Trade Unions, Kris Gopalakrishnan, CEO and Managing Director of Infosys, and Jim Quigley, CEO of Deloitte.
Previous eras were defined first by the raw materials that transformed them - the Stone Age, Bronze Age and Iron Age, then they were characterized by the domains people conquered with ever-improving technology - the Industrial Age, Space Age and Information Age. Now we're entering a new age: The Human Age. Manpower confirms that this is the new reality and it has significant implications both for employers and for individuals, as human potential now becomes the major agent of economic growth.
- Our ability as companies, as governments and of course individuals to adjust to this new reality, this new way of doing things, will depend upon to what extent we can tap into inner human potential - talent has become the key differentiator - said Joerres - This new reality is creating new societal norms. New ways of doing business are required both for the individual and for companies to succeed. How you organize yourself as a company, how you're able to get work done in a different way, such as through virtual work, teaming, collaboration. The whole way of acting as an individual in a global environment is changing rapidly - said Joerres.
In the Human Age, it is more important than ever that companies take the time to understand exactly what their talent needs will be, not just now but five or ten years down the line - and align their talent strategy closely with their business strategy. Then, they must become more agile in terms of how they attract, retain and develop their employees. Employers need to ensure that they update their work models and people practices to allow them to unlock the potential that they need to thrive in this new reality. This means that the world is likely to see a shift in power from the organization to the individual. As talent becomes the key competitive differentiator for employers, skilled individuals will increasingly be able to dictate terms to employers, around how, where and when they work. Technology will continue to liberate; redefining concepts of flexible and collaborative working, allowing some skilled individuals to vault the restrictions of national borders and migration caps, and organizations to take advantage of a geographically disparate workforce. (Manpower)

Go to top...
---

Editorial office:
Polish Information and Foreign Investment Agency, 00-585 Warsaw, Bagatela Street 12
Economic Promotion Department, tel: +48 22 334 99 49, fax: +48 22 334 99 99,
e-mail:
redakcja@paiz.gov.pl