NEWS
Poland again in Abu Dhabi
In the capital of the United Arab Emirates, SIAL Middle East - the biggest business fair for the food and beverage industry in the region - was held. Polish entrepreneurs from Eastern Poland again had the opportunity to present their offer in Abu Dhabi.
On November 24, the first day of the fair, the Polish stand was visited by deputy prime minister of the UAE H.H. Sheikh Mansour Bin Zayed Al Nahyan who also holds the position of minister of presidential affairs and chairman of Abu Dhabi Food Control Authority and by Marek Sawicki - minister of agriculture of Poland. Polish stand was very popular among visitors of the fair. One could enjoy there a culinary show performed by a famous Polish chef, Karol Okrasa.
| | |
| --- | --- |
| The conference on Polish Food Sector.From the left: Bożena Czaja, Lucjan Zwolak, Monika Piątkowska, Marek Sawicki and Anna Polak-Kocińska ©PAIiIZ | Minister Marek Sawicki visits Polish Stand at SIAL Middle East ©PAIiIZ |
On the second day, PAIiIZ arranged a conference on the potential of the Polish food sector.
With a 37% increase in visitors' numbers in 2013, SIAL Middle East has cemented its position as the genuine business class event for the food and beverage industry in the region. SIAL Middle East 2013 attracted more than 17,000 attendees over 3 days to meet more than 700 exhibitors from 52 countries.
PAIiIZ organized a Polish stand during SIAL ME.
| | |
| --- | --- |
| Culinary show by deputy president of PAIiIZ Anna Polak - Kocińska and Karol Okrasa - one of the most recognisable and popular Polish chefs ©PAIiIZ | B2B talks at the Polish stand during SIAL Middle East ©PAIiIZ |
The project was co-financed by EU funds as a part of sub-measure 6.5.1. "Promotion of Polish economy on international markets: POIG 2007-2013 and under the Operational Programme Development of Eastern Poland 2007-2013, projects "Economic Promotion of Eastern Poland". More information: www.paiz.gov.pl/20141126/eastern_poland_again_in_abu_dhabi. (PAIiIZ)
Polish business in Kazakhstan
Deputy prime minister and minister of economy Janusz Piechociński and PAIiIZ president Sławomir Majman took part in Polish - Kazakhstan Economy Forum which took place in Astan on the 21st of November.
"Currently there are about 160 companies with Polish capital operating in Kazakhstan", stated deputy prime minister Janusz Piechociński. "We are interested in deepening our investment relations with Kazakhstan", he added.
During the forum moderated by PAIiIZ president Majman, the participants had an opportunity to learn about the specifics of doing business on Polish and Kazakh markets. "Kazakhstan is begging to become an object of interest for Polish exporters. It is one of the richest countries in central Asia with its dynamic internal market and developing middle class. It is also a country of fast growing new investments and many different investment programs such as constructional, urban or communal", the president added.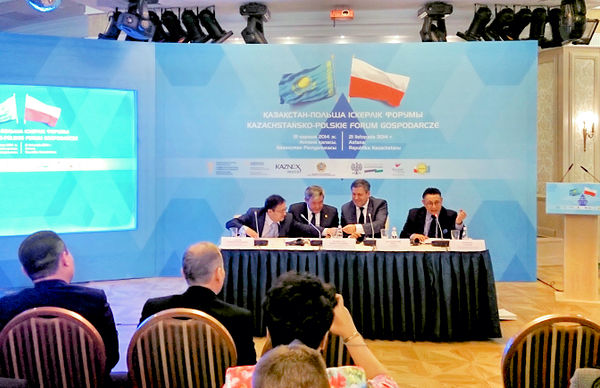 Polish - Kazakhstan Economy Forum
Polish companies taking part in the even represented construction, food, pharmaceutical, agricultural machinery and mining sectors.
Polish companies operate in Kazakhstan mainly in electricity, infrastructure, construction, building materials, machine industry, transport equipment and plastic pipes production sectors.
More information: www.paiz.gov.pl/20141121/polish_business_in_kazakhstan. (PAIiIZ)
Wind energy in Poland
Investors and developers are right to forecast that the decline of the support scheme for new RES installations based on green certificates is close. They also estimate that the tendering model will impose much higher requirements in terms of efficiency and quality on the projects taking part in an auction.
Future projects will more strongly compete against one another not only in location and the quality of readiness but also in terms of technology and the cost of capital. Therefore, today we are able to observe the race against time of those companies which are planning to set up wind farms and start generating electricity before the implementation of the new auction model. The RES Bill assumes that this will happen on January 1, 2016. Due to the prolonged works on the draft and as a consequence of demands submitted by investors and banks, this date may be postponed. Projects which are able to produce energy before this unknown date will have the right to receive green certificates.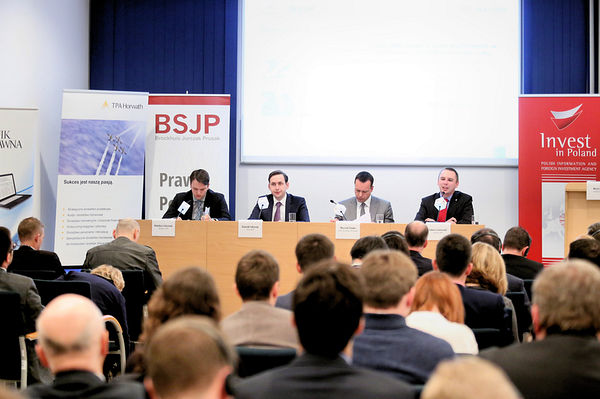 Participants of "Wind energy in Poland" conference
The new RES Act most probably will block in the coming years the development of expensive renewable technologies, such as photovoltaics or offshore wind energy. In the auction model the competition may be visible separately in the basket of highly efficient sources, i.e. above 4,000 MWh/MW/year and those with lower productivity.
The meeting took place on 20 November at PAIiIZ. The 6th edition of the report "Wind Energy in Poland", whose authors are PAIiIZ, TPA Horwath consultancy and BSJP law firm, is dedicated to the abovementioned and many other matters in question.
More information: www.paiz.gov.pl/20141121/wind_energy. (PAIiIZ/TPA Horwath)
Construction industry of Dubai
Big 5 - the biggest design and construction fair in region took place in Dubai. Polish Information and Foreign Investment Agency participated in organisation of Polish stand. The Agency was represented by its deputy president Anna Polak-Kocińska.
This year, more than 2,700 exhibitors from 60 different countries took part in the fair. Participants from Poland represent innovative approach in building investments, both energy-efficient, ecological and economical as well as modern installation systems producers. During a three-day event, Polish companies had an opportunity to promote their products and services at business meetings.
The program is realized as a part of sub-measure 6.5.1. "Promotion of Polish economy on international markets: POIG 2007-2013. (PAIiIZ)
Italian journalists study tour
Corriere della Sera, II Sole 24 Ore and Agencia Nova are the representatives of the three leading Italian media groups visiting Poland. Study tour began with the meeting with PAIiIZ president Sławomir Majman.
Program of the study visit organised by PAIiIZ included meetings with undersecretary of state in Ministry of Economy Andrzej Dycha, Paolo Scaglione, director of Astaldi - the consortium responsible for subway line construction in Warsaw, meetings in Ministry of Agriculture and Rural Development, Ferrero headquarters, PESA company in Bydgoszcz and Łódź Special Economic Zone.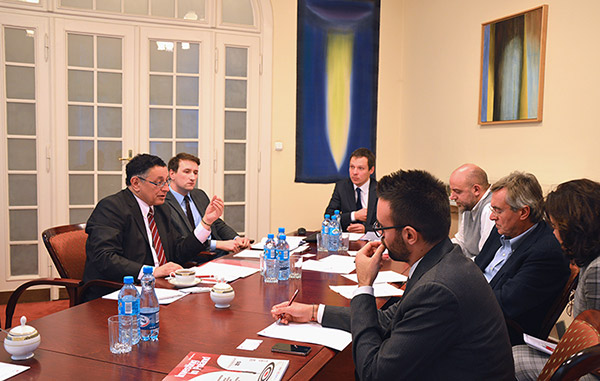 Italian journalists visiting PAIiIZ
The study visit ends on the 27th of November.
More information: www.paiz.gov.pl/20141124/italian_journalists_study_tour. (PAIiIZ)
Poland, Ukraine and Moldova: share of experience
How to do business, stimulate FDI inflow, prepare investments offers and cooperate at the regional level in Poland - these were the main subjects of the study tour from Moldova and Ukraine.
Under the programme implemented by PAIiIZ, participants of Moldavian and Ukrainian investment and promotion agency (MIEPO and SAINPU),visited PAIiIZ, PARP (Polish Agency for Enterprise Development) and Ministry of Economy, Invest in Pomerania, Pomeranian Special Economic Zone and Pomorski Park Naukowo-Technologiczny.
The project is implemented by PAIiIZ under the frameworks of "Poland 2014 Development Assistance" programme, supervised by the Ministry of Economy. The study tour finished on 20 November.
More information: www.paiz.gov.pl/20141120/poland_ukraine_moldova_share_of_experience. (PAIiIZ)
INVESTMENTS IN POLAND
General Motors investment in Poland
General Motors has confirmed an investment valued at €250m in Poland. Project involves launching production of a new generation combustion engine for Opel's cars.
Wide range of innovative technologies will be applied in the new investment. They will be elaborated by GM research groups from Germany and Poland. Technology which will be applied to produce combustion engines has never been used in any other company in the world.
Undoubtedly Opel's additional investments will help strengthening its position in Europe. Those investments confirms General Motors engagement in Opel development in Germany and other European countries.
At the beginning of the year in Gliwice, the investor declared the start of new generation engines production. Deputy prime minister of economy Janusz Piechociński, undersecretary of state in Ministry of Economy Grażyna Henclewska, PAIiIZ president Sławomir Majman and deputy president of PAIiIZ Anna Polak-Kocińska took part in the ceremony.
More information: www.paiz.gov.pl/20141121/general_motors_investment_in_poland. (PAIiIZ)
PAIiIZ investments
During two weeks PAIiIZ acquired 6 new investment projects. Currently, the Agency runs 164 FDI projects with a total value reaching €3199.09m. Implementation of them all should translate into 35,345 new jobs in the future.
The US maintain the leading position among ongoing projects supported by PAIiIZ, in terms of country of origin. Total value of 53 American investments reaches €1018,45 m. The second place is held by Germany. 26 German projects are worth €400,15m. Investors from France occupy the third place. Currently, PAIiIZ provides 12 French investment projects and 10 investment projects form the UK. PAIiIZ also supports 8 investments from Korea and 7 from India.
BPO dominates in terms of the most popular sector among foreign investors operating in Poland (38 projects). The leader is followed by: automotive (34 investment projects); R&D (14 projects); aviation (12 projects), wood (9 projects) as well as electronic and ICT sector - 6 projects each.
In January - November, PAIiIZ successfully completed 47 investments. Thanks to them in near future 7,953 new jobs will be created. The total value of completed project is €1797,74m.
More information: www.paiz.gov.pl/20141124/paiiiz_investments. (PAIiIZ)
New plots in Łódź Special Economic Zone
Łódź Special Economic Zone added new investment plots to its investment offer. Developing industrial sites situated in Łućmierz and Łódź has ended.

President of Łódź SEZ Tomasz Sadzyński has stated that suitable technical infrastructure is crucial in deciding about investing in particular place. For potential investors fully developed and equipped plots with media as well as required infrastructurehave been prepared. They are situated close to important traffic junctions. In newly created industrial complexes offer plots from 1 to 12 hectares.
Investors can benefit from the public aid valued up to 55% of an investment cost or from the suport for new job creation in two-year period. Public aid is designed for new investments valued at least €100 000 and for both - covering the purchase of land and creating new jobs. (ŁSSE)
MACROECONOMIC POLAND
Exchange rates (as of 27.11.2014):
| | | |
| --- | --- | --- |
| | Buy | Sell |
| USD | 3.3096 | 3.3764 |
| EUR | 4.1382 | 4.2218 |
Source: www.nbp.pl
ANALYSES AND REPORTS
Poland in the forefront of EF EPI
Poland was listed on the 6th position in global Education First English Proficiency Index (EF EPI) thereby we are among highest English proficiency countries (Very high proficiency of English). Comparing to last year's edition, Poland advanced by two positions.
Countries which went to the podium were: Denmark, Holland and Sweden.
Education First English Proficiency Index indicates the level of English in non native English speaking countries.
In this year's EF EPI edition 65 countries were classified. Developed countries experience show that the more fluent English the better job perspectives, better quality of life, better conditions to do business and more innovations in economy.
Read more: www.ef.pl/epi. (EF EPI)
---

Editorial office:
Polish Information and Foreign Investment Agency, 00-585 Warsaw, Bagatela Street 12
Information and Communication Department, tel: +48 22 334 99 49, fax: +48 22 334 99 99,
e-mail:
redakcja@paiz.gov.pl