NEWS
Polish President and business mission in Japan
An official visit of President of Poland Bronisław Komorowski in Japan has just began. The mission includes government administration and 50 representatives of Polish business. On the first day of the visit a business seminar on Polish-Japanese economic relations was held in Tokio. The meeting, co-organised by PAIiIZ, was moderated by president Sławomir Majman.
"We should aim to diversify Japanese investments in Poland which now focus in the automotive and electronics industry" said president Majman. Among the fields of possible Polish-Japanese cooperation there is clean coal technologies and energy which could help in the modernisation of the industrial sector. In July 2014, a Japanese company Mitsiu and Kompania Węglowa jointly launched the construction of the power station Czeczott. Other areas with potential do develop business relationships are agri-food and chemical sectors, as well as finance and business services.
As President Komorowski emphasized, the purpose of the visit is to announce the strategic partnership between Poland and Japan. On February 27, president will officially open the Polish-Japanese Economic Forum where over 250 Japanese entrepreneurs is expected to participate.
More information: www.paiz.gov.pl/20150226/polish_president_and_business_in_japan. (PAIiIZ/prezydent.pl)
Polish Cities of the Future 2015/2016
Warsaw, Kraków and Poznań are at the top of the first Intelligence Polish Cities of the Future 2015/2016 ranking. The official Award Ceremony was held in Warsaw on February 23, and it was attended by PAIiIZ president Sławomir Majman, deputy president Anna Polak-Kocińska and undersecretary of state in the Ministry of Economy Arkadiusz B±k.
Warsaw is this year's leader. The capital of Poland overtook competitors in four of the six categories - Economic Potential, Human Capital and Lifestyle, Business Friendliness and Connectivity. Kraków and Poznań have come in second and third place, respectively. Warsaw received the biggest number of FDI from a wide range of sectors. However, the business sector represented by 15.3% of inward FDI was the most popular. Thanks to well-developed communication including the International Airport, Kraków scored the second place of the ranking. Additionally, the capital of Małopolska region is the second largest city in Poland - not only in terms of population but also in economy development. Moreover, gaining the second place in the Human Capital and Lifestyle category is due to the fact that Kraków is a student city.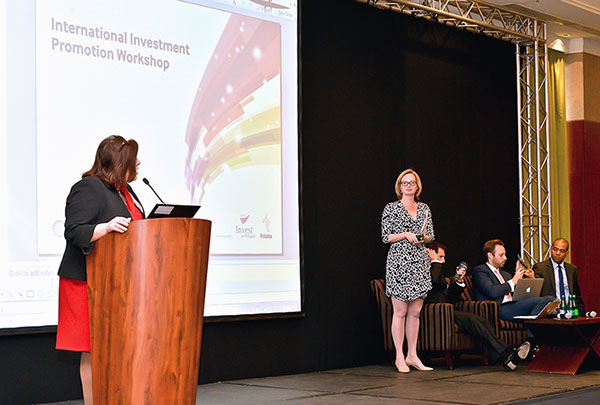 PAIiIZ deputy president Anna Polak-Kocińska: "Thanks to the foreign capital Poland exports highly processed products to the most technologically advanced countries in the world" (source: Zbyszek Panek)
Poznań, that was ranked the third in the overall ranking, performed well in the economic potential category and well educated human resources. Poznań is a favorable location for reinvestments.
Publishing the results of the ranking coincided with a workshop on international investment promotion. It focused on: trends in FDI inflows to Poland and the world and what impacts the decision making investments. Also experience of investment agencies, cooperation with media and promotion of the regions were also discussed. The workshop was arranged by fDi Intelligence and PAIiIZ. (PAIiIZ/fDi Intelligence)
| | |
| --- | --- |
| The deputy president Anna Polak-Kocińska during the Award Ceremony (source: fDi Intelligence) | ''The relations between Polish cities and foreign direct investments is not just a just a flirt, it is a true romance'', commented president Majman (source: fDi Intelligence) |
Read more:
The new office of Airbus in ŁódĽ opened
On 19 February Airbus Helicopters opened the office in ŁódĽ where about 100 new employers will be hired. The investment was supported by PAIiIZ.
This is the fourth office of Airbus in Europe, other are located in France, Germany and Spain. The Polish office will focus on development of R&D projects of the company as well as on designing new constructions and providing modernization of helicopters.
It is expected that graduates of ŁódĽ University of Technology will be among employers of the company's new office, as for nine years the University has been operating with Airbus. Moreover, a new faculty related to the aviation is to be opened there soon. Airbus and the French embassy will fund scholarships for students.
Read more: www.paiz.gov.pl/20140219/the_new_office_of_airbus_in_lodz_opened. (PAIiIZ)
6 projects completed
From the beginning of 2015 PAIiIZ has already completed 6 investment projects worth €137.84m in total, which will create 2,000 new jobs in the nearest future.
Currently PAIiIZ runs 163 investments with a total value of €2979.45m. Approx. 30,000 new jobs may be created in Poland.
In terms of a country with the biggest number of FDI, the US is on the top of PAIiIZ's list (49 projects, worth € 988.51m, approx. 6,500 new jobs). The second place belongs to Germany investors that provide 27 investment projects. France is the third with 11 projects.
Automotive sector is the leader among all sectors supported by PAIiIZ - 34 projects can deliver 6,670 new jobs. BPO sector with 31 investments takes the second place. The Agency also runs 18 R&D projects.
More information: www.paiz.gov.pl/20150220/6_projects_completed. (PAIiIZ)
SEZ plans for 2015
In 2015 special economic zones plan to issue 217 business permits that the total value can reach even PLN 7.7bn. According to the estimates, about 11,000 new jobs should be created due to that.
One of the newest ideas regarding incentives for investors, is the creation of areas of investment activity along Polish expressways. Such projects will be developed in a close cooperation with local governments. Already managements of several zones started to establish this programme. For instance, Legnica SEZ is preparing plots along the S3 expressway. Pomeranian, Słupsk and Kostrzyn-Słubice zones together have created the project entitled "S6 - The Seaside Investment Route", while Katowice SEZ develops a project entitled "4S" that will lead to the economic revival of areas of areas located along the four local expressways. (MG)
LUG Light Factory
In Lubuski Industrial and Technology Park, the construction of a new manufacturing plant of LUG Light company has just started. The new plant will produce high-tech lighting equipment made in LED technology.
LUG specializes mainly in the production of industrial and decorative lighting for internal and external use. The company develops and sells its products in Poland and around the world. (LPPT)
Investment in ŁSEZ
For the third time, Mecalit received a business permit to operate in ŁódĽ SEZ.
Mecalit Poland is a supplier of plastic components for home appliances industry. Under the new investment, the company will expand the existing plant and spend at least PLN 12m for that purpose. Also 20 new jobs will be created by the investor. (ŁSSE)
Three business permits in KTP
Elettrostandard Polska, Wind Mobile and Pracownia ¦lusarska Bartosz Wójcik - these three companies received permits from the Kraków Technology Park, to conduct business there.
Elettrostandard Polska will reinvest in Niepołomice. The company will expand its manufacturing plant and the office space. Total expenditures will reach PLN 13.5m. Wind Mobile operating in the telecommunications market, will create 40 new jobs and spend about PLN 1m on new investment. Manufacturer of gates and metal elements - Pracownia ¦lusarska Bartosz Wójcik is to invest at least PLN 2.4m. (KPT)
MACROECONOMIC POLAND
Exchange rates (as of 26.02.2015):
| | | |
| --- | --- | --- |
| | Buy | Sell |
| USD | 3.6336 | 3.7070 |
| EUR | 4.1235 | 4.2069 |
Source: www.nbp.pl
ANALYSES AND REPORTS
Prime mover of Innovation 2015
We invite you to participate in the "Inicjator Innowacji 2015" contest organised by Newsweek weekly and PwC. Ministry of Economy took the honorary patronage under the contest.
"Inicjator Innowacji 2015" is addressed to all innovative organisations - regardless of size, form of ownership and economic sector. Participants will be assessed in four categories: large companies; SMEs; start-ups; joint projects of business and science.
The contest has been created to promote innovation in the Polish market. The competition aims to select and award fast developing organizations that introduce innovative solution.
Registration is available on-line www.newsweek.pl/innowacje by deadline March 23. (PwC)
FROM THE REGIONS
Polish Space Agency in the GSTP
In Gdańsk Science&Technology Park, a letter of intent on cooperation between the Pomeranian Special Economic Zone, Gdańsk and the Polish Space Agency (POLSA) was signed.
Under the project, Polish Space Agency will provide research and development projects on space technology, including engineering of satellites and their use for commercial, defense, security and scientific purposes. POLSA will also develop research educational activities. (MG)
DID YOU KNOW...?
Polish film won the Oscar Award!
Paweł Pawlikowski's "Ida" won the Oscar Award in the Best Foreign Language Film category! This is the first time in the history when the Polish film received this prestigious award.
Foreign critics praise the film's artistic value. "Ida is one of those miraculous films where the images on the screen are so startling, so unique, so themselves, that the visuals take on a whole subterranean level of meaning, coursing beneath the actual plot", comments Sheila O'Malley, a New York-based critic who ranked Ida as the best 2014 film.
Ida has been nominated for The American Academy Award in two categories: for The Best Foreign Language Movie and for Photos made by Łukasz Żal and Ryszard Lenczewski. Before that, it was showered with awards at European and international film festivals, wining over 100 prizes, including a Goya Award, dubbed a Spanish equivalent of the Oscar, and the British Academy of Film and Television Arts (BAFTA) award, called the British Oscar.
More information: More information: www.polska.pl/en/culture-and-art/visual-arts/oscar-poles. (www.polska.pl)
---

Editorial office:
Polish Information and Foreign Investment Agency, 00-585 Warsaw, Bagatela Street 12
Information and Communication Department, tel: +48 22 334 99 49, fax: +48 22 334 99 99,
e-mail:
redakcja@paiz.gov.pl