Bulgarian doors wide open for Polish business
The prospects for strengthening Polish-Bulgarian economic relations and the importance of mutual trade were key issues of the Polish-Bulgarian Economic Forum, attended by President Andrzej Duda and President of the Republic of Bulgaria gen. Rumen Radev. The event, which took place on October 5, 2017. Deputy Minister of Development Witold Słowik and Vice-President of the Polish Investment and Trade Agency (PAIH) Krzysztof Senger also participated.
The main trading partners of Bulgaria in the EU are Germany, Italy, Romania, Greece, France, Belgium and Spain. Poland also wants join this circle. Poland's exports to Bulgaria recorded in 2016 reached a record value of PLN 1 billion (an increase of 22% y/y), and doubled since 2010. Imports amounted to PLN 550 million (up by 0.07% y/y). Family manufacturers of rail vehicles and construction materials, or developers, strengthen their position on the Bulgarian market. The forum was about making promising business contacts and opportunity to tighten bilateral relations.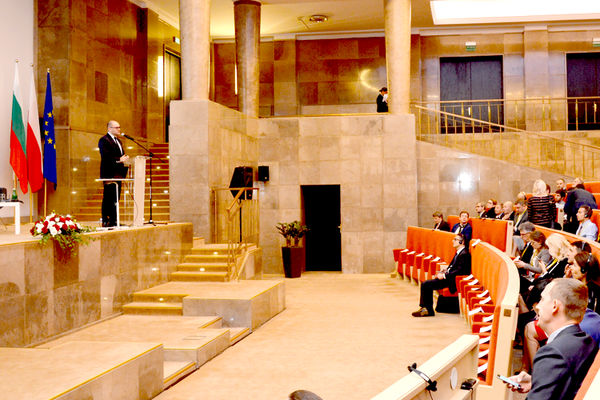 Krzysztof Senger: Talents are the foundation of Poland's success
- Our country is developing economically, which makes it more competitive on European markets, also Bulgarian. Strategy of Responsible Development, which is meant to increase the level of Polish companies' innovativeness favours this process - President Andrzej Duda said during the Forum. - We want to become technologically advanced economy with a stronger position of domestic business abroad - he added, pointing to the role of such government agencies as the Polish Investment and Trade Agency.
- The foundation of Poland's success is talents. We also have an absorbing internal market and fast-growing road and railway connections. We are leading the automotive industry, becoming the leader in electromobility - vice-president of PAIH Krzysztof Senger said turning to Bulgarian business. - Poland has been chosen by the largest financial institutions. We are becoming an European service centre for business. It is here where major players move their operations - Senger stated. PAIH's vice president urged Bulgarian companies to invest in Poland, offering support to both foreign investors and Polish companies that see Bulgaria prospective.
- The rate of reinvestment reached 60% last year. We constantly convince our partners that Poland is not only about a competitive market, highly qualified employees and attractive investment areas, it is a place where business is worth starting. It pays to stay longer here. Many foreign investors have come to this conclusion. We want companies from Bulgaria to join them - Senger said.
- Let's work together. We trust each other - the President of the Republic of Bulgaria Gen. Rumen Radev argued, addressing his appeal to Poland, as a member of the Three-sea initiative, as well as to entrepreneurs from Poland and Bulgaria.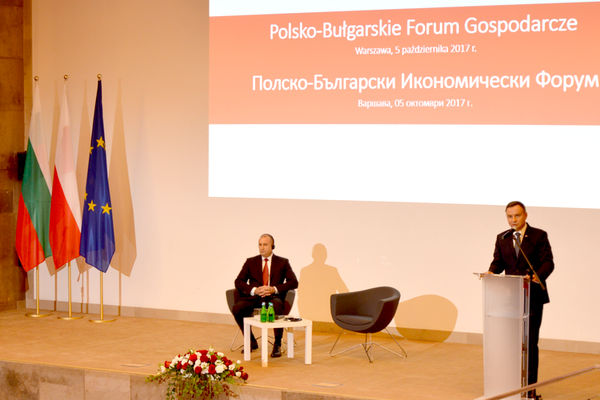 President of Poland, Andrzej Duda: We want to become technologically advanced economy with a stronger position of domestic business abroad
The Bulgarian President was accompanied by a delegation of several business delegations from companies representing many sectors of the economy, mining, construction, design, agri-food and transport among others.
The event was attended by some 170 companies form Bulgaria and Poland. During the Forum businessmen representing both countries signed eight bilateral agreements, in line which two infrastructure consortia will be established. The documents also provides export of such good as honey, milk, meat and forage. (PAIH)
More information: www.paih.gov.pl/20171006/bulgarian_doors_wide_open_for_polish_business
A new era for investment in the agricultural sector and modern technology in Vietnam
The largest agricultural technology park in Vietnam, High-Tech Agriculture Park has signed an agreement with PAIH, inviting Polish companies to cooperation. Piotr Harasimowicz, director of the PAIH trade office in Ho Chi Minh and Deputy Director General of Research and Development Centre for High-Tech Agriculture, Nguyen Thanh Hien, signed an official memorandum that will pave the way for the expansion of the Polish agri-food and processing sector in Vietnam. Emphasis has been put especially on technology, research and development in this area.
The agreement is of unprecedented importance for Polish companies wishing to develop, transfer their production to the Vietnamese market or to cooperate in the joint venture structure, as well as to train, exchange experience and implement innovative, advanced technologies such as new DNA for plants, flowers, animals and fish. High-Tech Agriculture Park is an excellent space for this type of activity and for international cooperation of investors.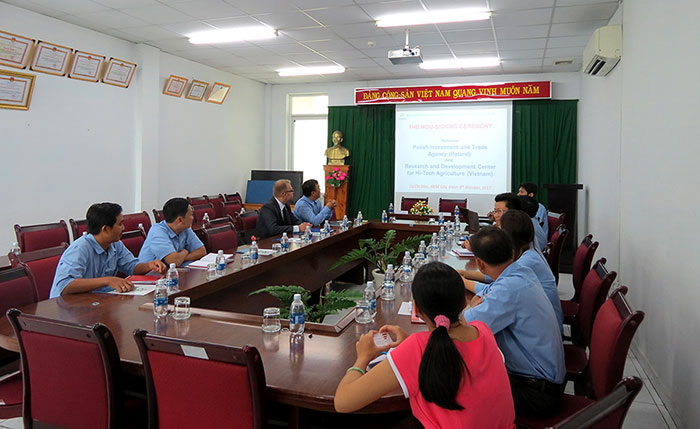 Meeting of Research and Development Centre for High-Tech Agriculture and PAIH trade office in Ho Chi Minh
The strength and potential of our partner in Vietnam is evidenced by the fact that today most of the world's top companies from Japan, Korea, Taiwan, the USA, Germany, and the Netherlands transfer their business and research activities to a government-funded park. The parties agreed that they would be equally concerned about the proper flow of information, including economic ones, necessary for the investment decisions as well as for planned events, conferences or B2B meetings. The overarching goal will be the common work to create an attractive climate for Polish investors.
Ho Chi Minh City is the largest economic centre of Vietnam. Every year, communal farms lose 1000 hectares due to the urbanization. The reduction of farmland has forced the municipal authorities to set up a modern agricultural park, aimed at experimenting with the latest technologies. The park is therefore a place where agriculture meets the R & D sector. The whole process of building lasted 6 years. The city had to create adequate infrastructure at that time and mobilize human resources.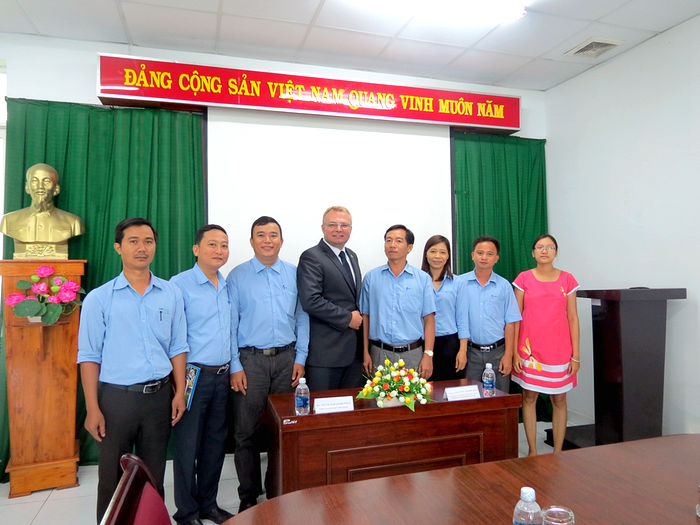 Piotr Harasimowicz in accompany of the representatives of Research and Development Centre for High-Tech Agriculture
If you are interested in cooperation, contact with PAIH foreign office in Vietnam:
SunWah Tower, 14th floor, room 1401
115 Nguyen Hue Street, District 1
Ho Chi Minh City, Vietnam
Phone: +84 28 3821 9990 ext.104
mob: +84 933 663 653
Piotr Harasimowicz - head of office
e-mail: piotr.harasimowicz@paih.gov.pl
www: http://vietnam.trade.gov.pl
More information: www.paih.gov.pl/20171011/new_era_for_investment_vietnam
Poland ready for the greater involvement of Taiwanese capital
10 Taiwanese and 7 Polish companies interested in starting a business cooperation took part in the B2B talks held on October 9, 2017 at the headquarters of the Polish Investment and Trade Agency.
The event was opened by the Vice-President of the Polish Agency for Investment and Trade Krzysztof Senger, CIECA's Vice-President (Chinese International Economic Cooperation Association) Fred HUANG and Representative of the Taipei Economic and Cultural Office in Warsaw, Weber V. B. Shih.
- In Poland there are about 30 companies with Taiwanese capital, among them such giants like ASUS or ACER. We want that market to grow. In fact we have everything they need to succeed in Poland - highly qualified staff, attractive plots and the system of supportive tools that provides PAIH. We are more than happy to organize business missions and meetings like this one today in order to intensify our mutual cooperation - said Krzysztof Senger.
Michalina Jendrzejczyk, project manager of the Polish-Chinese Economic Cooperation Centre, presented to participants of the negotiations the investment possibilities in our country as well as PAIH consulting services.
The meeting was an unique opportunity to establish relations and potential cooperation with Taiwanese businessmen representing the machinery industry for food processing, food, technology, electronics and energy sectors.
More information: www.paih.gov.pl/20171009/Poland_ready_Taiwanese_capital
The ins and outs of food export to China
China is the largest food and beverage (F&B) market in the world, and in the last decade has significantly increased the import of these goods. Practical aspects related to the sale of Polish foodstuffs to China were the subject of training for business representatives held on October 10, 2017 at the Polish Investment and Trade Agency. The meeting was conducted by experienced expert on the export of goods to China Michał Bilewicz (ForCap Co. Ltd).
In 2016 Poland sold China dairy products worth about $ 35.5 million - over 24% less than in the previous year. On the other hand, in 2016, it export of meat and edible offal increased by 18% to $ 33 million and by 7.4% to $ 6.2 million export of sugar and confectionery. These products played leading role in the Polish food exports to China last year.
- Poland has got a trade deficit with China. However, the share of exports in our balance sheet is increasing steadily. This year the export of Polish goods to China increased by 20%, and much credit of this great result should be given to the food sector - deputy director of the Department of Economic Promotion, PAIH Andrzej Szewczyk said. He added that the Agency has been supporting Polish entrepreneurs for many years in conquering the local market through the organization of business missions, B2B meetings and workshops. He stated that PAIH will develop its presence in China, which will help to intensify bilateral cooperation.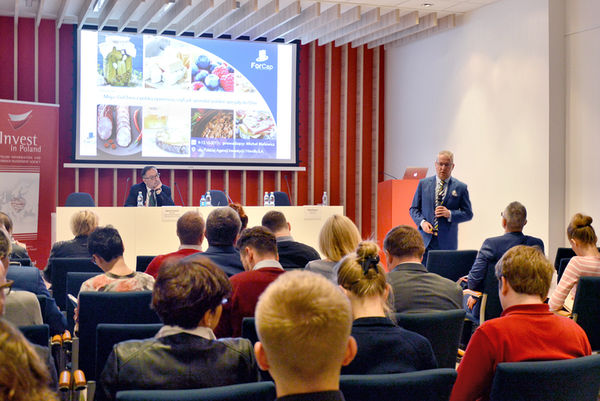 Michał Bilewicz presented practical aspects related to the export of goods and their introduction on the Chinese market
Michał Bilewicz presented practical aspects related to the export of goods and their introduction on the Chinese market. He argued that due to the scandals and changing lifestyle of the Chinese people, the Middle States are willing to import food products, and those with the 'bio' label are becoming increasingly popular. He also pointed out that in 2005-2015 food imports to China increased from $ 10 billion to $ 50 billion.
During the training M. Bilewicz also discussed issues related to the Chinese food market and its specificity, preferences of Chinese consumers, adaptation of the product offer to the market, building distribution networks and product certification. He also pointed out potential niches for Polish exporters and ways to effectively promote food products.
More information: www.paih.gov.pl/20171011/The_ins_and_outs_of_food_export
The Centre of modern services will be carried out in Słupsk
The modern services such as 3D scanning and printing, reverse engineering, prototyping, thermograph measurements and many others will be implemented by the Pomeranian Regional Development Agency (PRDA) in order to strengthen the regional market. It is a step which will improve the potential of the Słupsk Technology Incubator, administered by the PRDA, to become the most modern technology centre in central Pomerania region in Northern Poland.
The services will be carried out within the project "Potential Development of PRDA in Słupsk to provide specialized business consulting services" which will be co-financed by the Operational Programme of the Pomerania Region for the years 2014-2020. The project's aim is to strengthen the technical, organizational and logistic potential of PRDA in order to expand the range of specialized consultancy services for entrepreneurs.
Within the project two post-hospital buildings in Słupsk will be revitalized, specialized workshops will be built, modern equipment will be purchased and PRDA staff will be properly trained to prepare for providing innovative services. The total amount of the project is PLN 14.3 million, from which PLN 6.7 million will be granted by the European Union.
At present the PRDA is preparing for launching the specialist and innovative advisory services for entrepreneurs, which are the answer to the needs of the companies. It is expected to start in the fourth quarter of 2018. The services are as follows:
3D measurement
reverse engineering
prototyping
thermograph measurements
energy efficiency
on-grid, off-grid energy installations
strategic management and optimization of production processes
protection of intellectual property rights for companies
developing a management strategy
support in creation of company branding.
The more information about the project shall be found at www.sit.slupsk.pl via email: sit@sit.slupsk.pl or via telephone +48 59 846 81 00.
The Pomeranian Regional Development Agency Joint Stock Company administers the Słupsk Special Economic Zone and the Słupsk Technology Incubator. Its activity has a significant impact on the economic development of the central part of Pomerania in Poland. (Słupsk SEZ)
EVENTS
Polish-Turkish Economic Forum
Ministry of Development, Polish Investment and Trade Agency and the Foreign Economic Relations Board of Turkey (DEIK), in cooperation with the National Chamber of Commerce and the Embassy of Turkey in Poland, are pleased to invite you to the Polish-Turkish Economic Forum, organized on the occasion of an official visit to Poland, the President of Turkey, Mr. Recep Tayyip Erdoğan.
A forum with the participation of the President of the Republic of Poland, Mr Andrzej Duda and the President of Turkey, Mr Recep Tayyip Erdoğan will take place on October 17, 2017 (Tuesday) 1:30 at the Westin Warsaw Hotel, ul. John Paul II 21 in Warsaw. Registration starts from 12.30 pm.
ATTENTION: Start time may change. All registered persons will receive the proper information on the provided email address.
The Turkish delegation will be accompanied by a Turkish business delegation of several sectors. After the plenary part of the Forum, B2B meetings of Polish and Turkish entrepreneurs will be held.
To attend the event, please register until October 13, 2017, noon, using the web form:
www3.paiz.gov.pl/konferencje/?Polish-Turkish_forum&lang=en
More information: www.paih.gov.pl/20171017/Polish_Turkish_Economic_Forum
FDI Poland Investor Awards Gala
SAVE THE DATE: FDI Poland Investor Awards Gala - 9 November 2017, Intercontinental Warsaw.
This year, we continue with our focus on both Inward and Outgoing Investment, further embracing the international engagement and expansion of Poland. The time period is January 2016 - August 2017, so your New Investment or Expansion Investment must have been announced or made during that period of time. We have more than 20 categories for investors and 5 new categories for top exporters. Watch our last year's video HERE.
More information: www.fdipolandawards.pl
BSS Tour Poznan: New challenges for Shared Service Centres
In Poznan, on October 18th, the "New challenges for Shared Service Centres" conference will be organized. The event is realized within the business conference's cycle "The BSS Tour" run by the Pro Progressio Foundation.
The conference in Poznan is fully dedicated to SSC's and focuses on trends, challenges and also operational areas of shared service centres. In the group of speakers and industry experts there will be representatives of Polish and European environment of SSC/CoE/GBS.
II Intelligent Development Forum
With a pleasure we would like to invite you for II Intelligent Development Forum, that will take a place between 23-24 October 2017 in G2A Arena The Exhibition & Congress Centre located in Jasionka, where in the Honorary Patronage of Forum will be Polish Investment and Trade Agency (Polska Agencja Inwestycji i Handlu).
II Intelligent Development Forum consisted of 22 conference concerning topics: the efficient use of EU funds, innovative solutions for companies, etc.
During the Forum there took a place debate about the innovative economy and intelligent development, and also about the most important challenges facing the Polish economy.
More information: www.irforum.pl
Free registration: www.irforum.pl/rejestracja
Economic Promotion Festival of Warmia and Mazury will take place in Iława
The next Economic Promotion Festival of Warmia and Mazury will take place on 9 and 10 November 2017 in Iława.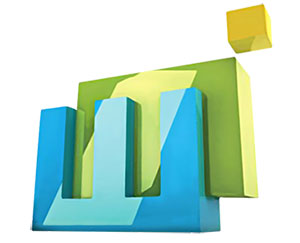 The seventh Economic Promotion Festival of Warmia and Mazury will be held this year. As always, this event aimed at representatives of local government units responsible for promotion of the region will consist in conferences and workshops. From its very beginning, the main goal of the Festival has been establishing a platform for exchange of experiences between specialists dealing with improving visibility of the region - economic promotion in particular - and representatives of the business environment (such as economic zones or technology parks).
The aim of the Festival is to educate, inspire and disseminate successful ways to attract investments, identify the needs of entrepreneurs, establish an investment- and reinvestment- friendly environment by broadening the scope of economic activity of already existing enterprises. The festival is addressed to the local authorities of Warmia and Mazury, promotion, development and investment specialists, representatives of institutions subordinated to the local government units, promotion-oriented regional and local entities, and representatives of business environment institutions. Experts and lecturers in the fields of place branding, economics, servicing and acquiring investors will all take part in the event.
During the Festival there will be the award ceremony of the competition for the best promotional projects of local government units "PRO Warmia and Mazury" (the results will be announced on 9 November at the Gala in Hotel Port 110).
The organizers of the 7th Festival of Economic Promotion of Warmia and Mazury 2017 are the self-government of Warmian-Mazurian Voivodship and Iława City Hall.
For more information about the Festival of the Promotion of Warmia and Mazury visit website: www.festiwalpromocji.pl
B2B meeting with Taiwanese companies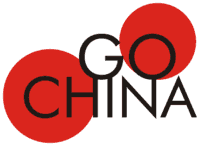 On behalf of CIECA (Chinese International Economic Cooperation Association, Taiwan) and Taipei Economic & Cultural Office in Poland we invite you to attend the B2B meeting, that will be held in the Polish Investment & Trade Agency's Information Centre.
Use this occasion to establish new business relations with Taiwanese counterparts. You will have the chance to meet with companies from sectors such as technology, food processing machinery, electronic and energy sector.
More than 10 Taiwanese companies interested in finding business partners in Poland have already confirmed their presence!
Meetings will be held on October 9th, 2017 in Polish Investment & Trade Agency's Information Centre between 9:35-13:00.
Polish Investment and Trade Agency
ul. Bagatela 12; 00-585 Warsaw
© cut - Fotolia.com
If you are interested in attending the seminar and B2B meetings, please use the contact form to register before October 8th, 2017.
We also encourage you to check the below list of Taiwanese companies attending the B2B meetings:
Chinese International Economic Cooperation Association
Taiwan Association of Machinery Industry
ANKO Food Machine Co., Ltd.
Long Life Tien Trading.,LTD
Avantron Micro & Idah Co., Ltd.
Silicon Touch Technology Inc.
Chi Chang Computer Corp.
Printec International Corp.
Kuo Chang Machinery Co., Ltd.
Taiwan Trade Centre
12 Congress of Industry and Automotive Market
Polish Investment and Trade Agency invites you to the 12th Congress of Industry and Automotive Market, which is under its honorary patronage. The event, that will offer merits-related knowledge and industry insights, will be held on 8-9 November at the Sound Garden Hotel in Warsaw.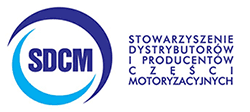 The expected number of participants is about 600 people: biggest players in the automotive parts market, as well as representatives of government and state institutions.
The new formula of the Congress will be centred around numerous panel discussions, which will be accompanied by experts' debates, B2B meetings and networking sessions. Also the prize of the Polish edition of the Safe Workshops of the Year 2017 competition will be given. Among the organisers of the event there are: STM, SITK, Moreover, as well as technical universities - Warsaw University of Technology and Military Academy of Technology.
More information: www.moto-konferencja.pl
7th annual CEE Investment and Green Buildings Award

On October 26 2017 at the Intercontinental Hotel in Warsaw, the EuropaProperty Award in investment and ecology sector there will be held. The event is considered to be one of the most important in the Central and Eastern European industry.
On this day, more than 400 CEE leaders will meet to award prizes to companies and individuals who have shown the best results, made the best investment deals, and reported growth and development over the past year.
For more information, please visit: www.ceeinvestmentawards.com or email: craig@europaproperty.com / anna@europaproperty.com
The 20th International Workshop on Business Incubation in Shanghai
The 20th International Workshop on Business Incubation (IBI) will be held as a training course, which will last for 6 days, from 23rd Oct. to 28th Oct, 2017.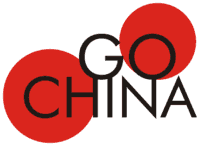 IBI was designed for business incubation managers, entrepreneurs, government officials and other business incubation stakeholders wishing to increase their understanding and know-how of international co-incubation business. It is sponsored by Shanghai International Business Incubator and also one of the major training programs of AABI (Asian Association of Business Incubation), which has been held successfully for 20 years and over 500 participants from 30 countries and regions are well trained.
This year, IBI will be organized by Shanghai Caohejing Hi-tech Park Innovation Centre, which has incubated more than 400 start-ups in the last ten years with a success rate of more than 91%, mainly focuses on ICT, bio-medicine, new materials sectors.
We would like to invite you and the start-ups in your region to participate the training course in Shanghai, and there is NO REGISTRATION FEE.
More information: www.investsh.org.cn
Contact person: Max Chen: Email - chenjunma@investsh.org.cn / tel: 86-21-62368800-220
NLab: Nevada-Lubelskie acceleration bridge
This is the first such event in Poland, aiming to crown the existing cooperation between both regions, which will take place on October 17th, 2017 at the Lublin Conference Centre, 9h30 - 15h.

NLab Nevada-Lubelskie acceleration bridge is an international event focused on establishing partnerships and exchanging experiences among business representatives from around the world. The organizers of the event are the Self-Government of Lubelskie Voivodeship and the State of Nevada (USA). Lublin will host a large delegation from Nevada headed by Nevada's Governor, Mr Brian Sandoval, representatives of Governor's Office of Economic Development, companies, universities, and R&D institutions. As the first region in Poland in partnership with US partners, we will be discussing a pioneering Acceleration Program designed for ambitious start-ups from the Lubelskie region.
The main purpose of the event is to enhance and establish strategic cooperation between private and public sector institutions, in order to boost R&D solutions in the area of:
Business acceleration and support
New technologies in agriculture and water management
Innovation and Refinement in Video Gaming
Vehicle and Airspace Autonomous Systems
Photonics
Sign up today - the number of participants is limited. Registration is HERE.
European Labour Mobility Congress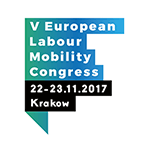 This year's edition is co-organized by the Polish Ministry of Economic Development. Opening speech will be addressed by the Deputy Prime Minister Mateusz Morawiecki. Traditionally, organizers have invited Marianne Thyssen, EU Commissioner responsible for revision of the Directive on the posting of workers.
The congress is an excellent opportunity to learn about the rules concerning the posting of workers in particular EU Member States. Among the speakers there are renown political decision makers and public administration representatives. There is also a space in the agenda for workers' and employers' representations, experts, scholars and lawyers specialized in the field of service provision in the EU.
Programme also includes workshops led by lawyers practicing labour law and social insurance in countries to which workers are commonly posted (eg. Germany, France, Belgium).
Contact person:
Magdalena Zgłobica,
tel. +48 799 704 139
www.ekmp.pl
ANALYSES AND REPORTS
Antal - Poland's strength lies in education
According to the latest Antal's report Poland as a labour market has a world class potential in education.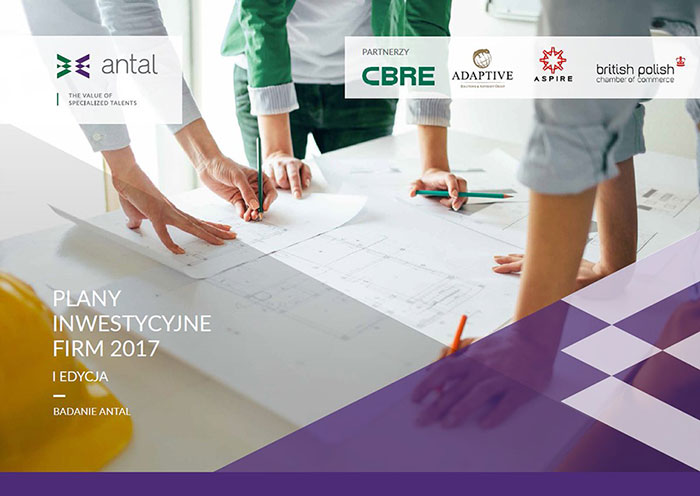 Business environment including: infrastructure, education, human resources and cultural services have a great impact on the economic development of a country and companies on the rise are looking for places that will meet their expectations in the most critical areas. Authors of 'Corporate investment plans 2017' pointed out major aspects influencing decision making in investments. As many as 500 firms had taken part in the research. The responders evaluated business environment giving notes from zero to ten. Poland's education potential regarded as future employees accessibility was appreciated the most and rated7.6 pts out of 10 - the highest of all. Two indicators have been taken into account - including the number of universities and the quality of education: higher education facilities with a 7.8 pts rating and vocational / secondary education facilities rated at 7.3 pts. Second place was occupied by location as a place worth living - the respondents rated this factor at 7.3 pts. Aspects, which were also highly appreciated were office space and business potential.
The report came first in the upcoming series of publications on the Polish market.
You may download the report from the following website: http://snip.ly/nnjns#https://antal.pl/o-antal/aktualnosci/1562-polska-z-ogromnym-potencjalem-edukacyjnym
FROM REGIONS
Yacht nanotechnology
Polish boatbuilding industry invests in research and development. New R&D centre of one of the largest Polish shipyards were established in Mazury. Its engineers are working on technology-advanced materials.
Olecko-based Delphia Yachts opened a new research and development centre. New facility was co-financed by the Regional Development Fund. The total cost of the investment amounted to PLN 12.7 million, while the EU recapitalized approximately one third of the project. The object was built within the area of the Warmia and Mazury Special Economic Zone (WMSEZ) and occupies about 3 thousand sqm. The centre will work with the Warsaw and Gdańsk Universities of Technology as well as Institute of Industrial Chemistry. The shipyard employs a team of 14 engineers, whose task is to develop new materials based on nanotechnology.
Yachts are one of 12 industries promoted by the Ministry of Development and the Polish Investment and Trade Agency.
More information: http://pl.delphiayachts.eu/otwarcie-cbr-delphia-yachts
Łódź Special Economic Zone expands
The Łódź Special Economic Zone has applied to the Ministry of Development to incorporate more than 5 hectares plot of land.
The Łódź SEZ occupies an area of 1339 ha in three provinces: Łódzkie, Mazowieckie and Wielkopolskie. The plot which SEZ applied for is located in Piotrków Trybunalski. It has got utility facilities and access to the railway siding. In line with the local spatial development plan production and processing plants, storage and warehousing operations may be carried out in this area. The application is currently under governmental procedure.
Leading machining company Hearing and Glass Factory "Phoenix 2" among others have been operating in the Piotrków Trybunalski sub-zone.
The Łódź SEZ has already issued 13 business permits this year, while the were 16 of them in 2016. The entities that received them are to create 653 jobs. (Łódź SEZ)
DID YOU KNOW...?
The International Monetary Fund has revised upwards its forecast for Poland's economic growth
According to the latest World Economic Outlook report, the IMF predicts Polish GDP will grow 3.8% in 2017 and 3.3% in 2018. In April, the IMF's experts estimated that Poland's GDP growth would stand at 3.4% in 2017 and 3.2% in 2018.
"Poland's projection has been raised (to 3.8% in 2017 and 3.3% in 2018) due to better-than-expected growth in the first half of 2017 and the expected acceleration in implementing projects co-financed by the EU," the report reads.
The World Economic Outlook revised downward its average annual inflation forecast for Poland this year to 1.9% from an April projection of 2.3%. The forecast for 2018 stands at 2.3% - 0.2 percentage points higher than expected in the spring's forecast.
---

Editorial office:
Polish Investment and Trade Agency, 00-585 Warsaw, Bagatela Street 12
Press Office, tel: +48 22 334 99 49, fax: +48 22 334 99 99,
e-mail:
redakcja@paih.gov.pl