Don't miss...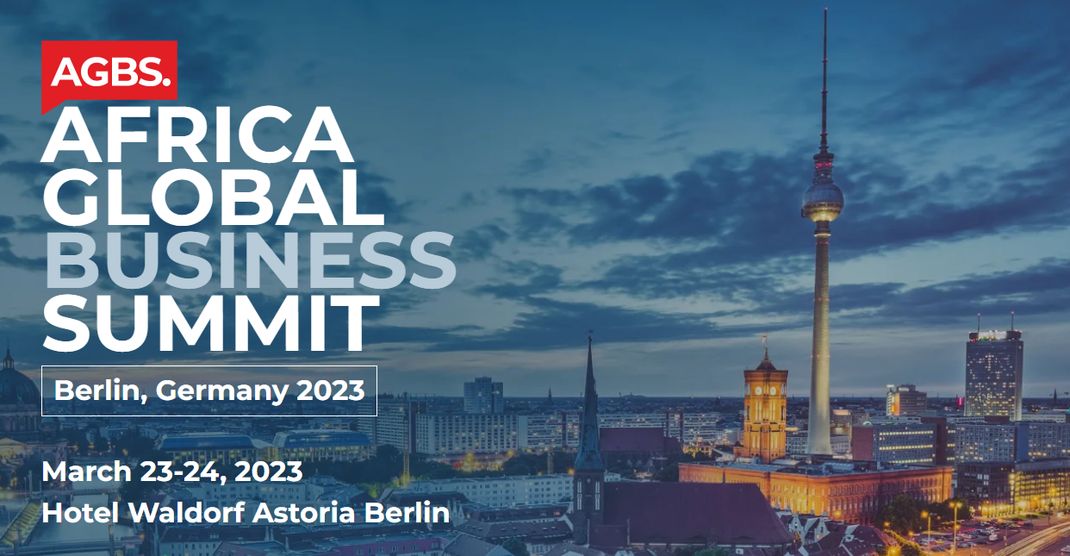 signing up for Africa Global Business Summit 2023!
The Africa Global Business Summit AGBS will take place on 23-24.03.2023 in Berlin. At AGBS Berlin 2023, in addition to the high-level networking, you have the rare opportunity to present your project, product or services right from the stage in the form of a very attractive pitching presentation Companies, organizations and countries will have the opportunity to speak from the stage to representatives and decision makers from over 30+ countries, as well as representatives of global companies, venture capitalists and investors. Piotr Dytko, PAIH's Board Member will be one of the speakers at the AGBS 2023.
More »
REPORTS, RANKINGS, COMMENTS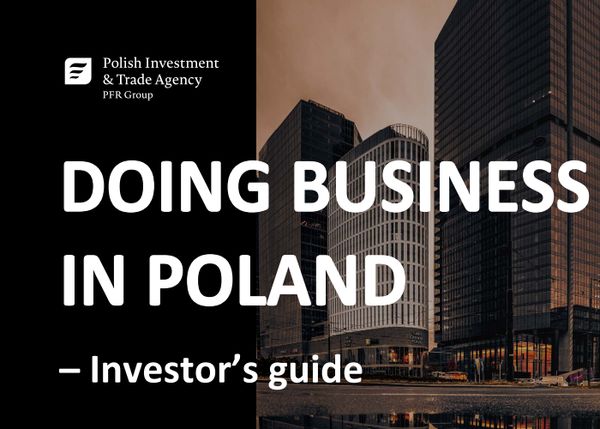 Doing Business in Poland - read our Investor's guide
Poland is a leader in the CEE region in terms of the number of greenfield investments, and ranks third in Europe. The value of investments in Poland in 2019 was estimated at USD 21.8 billion. Moreover, thanks to its stable economy and resilience to crisis, the Coronavirus pandemic did not reverse the positive investment trends in Poland. Interestingly, 94% of investors are willing to reinvest in Poland, which is a significant proof of their trust in Polish economy. And most importantly, this willingness is growing every year.
Download our brochure »
and check out how can you start a business in Poland.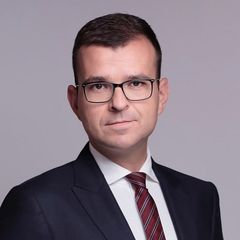 Piotr Dytko, Member of PAIH's Management Board
2022 was a successful time for PAIH and another record year in terms of FDI inflow. Once again, we are breaking our own record in the number and value of investment projects. Since 2020, each subsequent year is getting better. We have proved that uncertainty in the markets, the entry of the global economy into the post-pandemic era and war in Ukraine, are not able to stop the flow of investments to Poland. We are still an attractive country for investors. 126 investments worth over EUR 3.7 billion in 2022 are clear proof of this. I also want to emphasize that we will also make every effort to work even harder to promote Poland on the international arena in 2023 and record an even better result.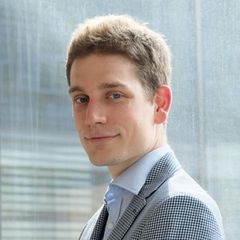 Łukasz Grabowski, Director of PAIH's Center for Export
As a country, we are close to entering the TOP-20 of the world's largest exporters. Most often we export to countries in Europe. The largest recipients of Polish goods include Germany, the Czech Republic and France. However, our exporters are also more and more boldly looking beyond Europe. Africa and the Middle East are a very promising direction of expansion for Polish investors and businesses. The dynamic economic development of these regions, increasing purchasing power and, in the case of Africa, the highest birth rate in the world provide strong foundations and arguments for intensifying economic cooperation. Poland's exports to Asia are also growing. Our food and cosmetics are highly valued in this region. From year to year, the group of Polish companies that are benefiting from the free trade agreements (FTA) is growing.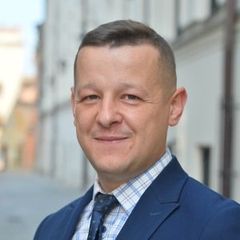 Karol Kubica, Head of PAIH's Foreign Trade Office in Kiev
In June 2022, we became in charge of a cooperation project in preparation for the resumption of exports and post-war reconstruction of Ukraine. So far, nearly 1.7 thousand Polish companies have applied to join the project. As many as 1/3 of them represent the construction sector. The database also includes the ICT, machinery, pharmaceutical and medical industries and agri-food industries. Entrepreneurs who have come to us are interested in both export to, investment in and cooperation with Ukrainian contractors in the role of subcontractors. Interestingly, nearly 60% of those who applied, employ from 1 to 49 employees. Thus, our base is dominated by micro and small companies. Since August, we have organized five events for applicants - including training and consultation. In total, over 1.5 thousand representatives of Polish business have participated in them.
Macroeconomic Review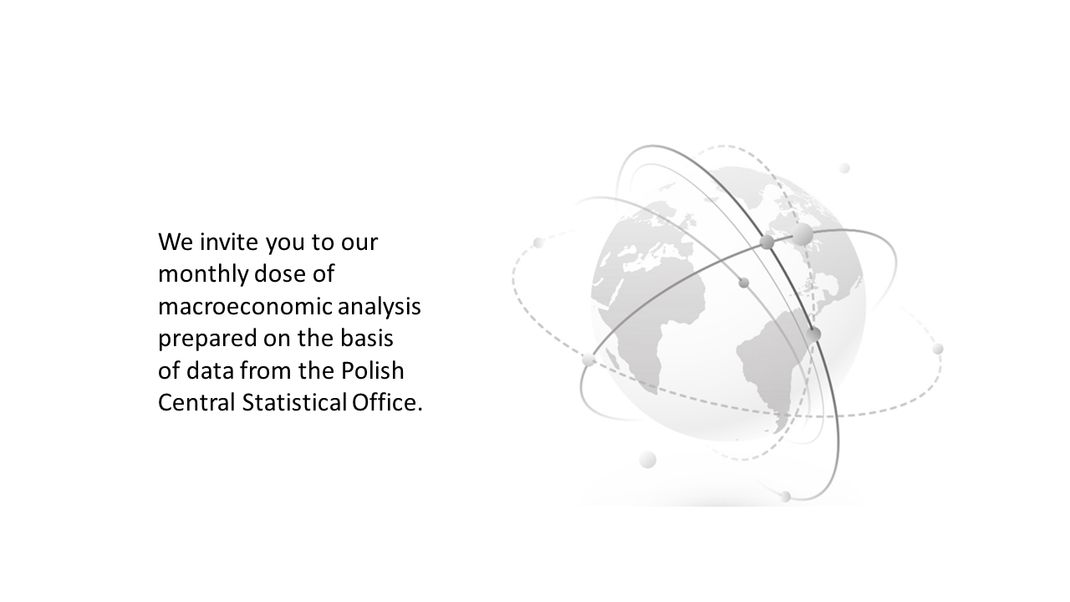 What's new in business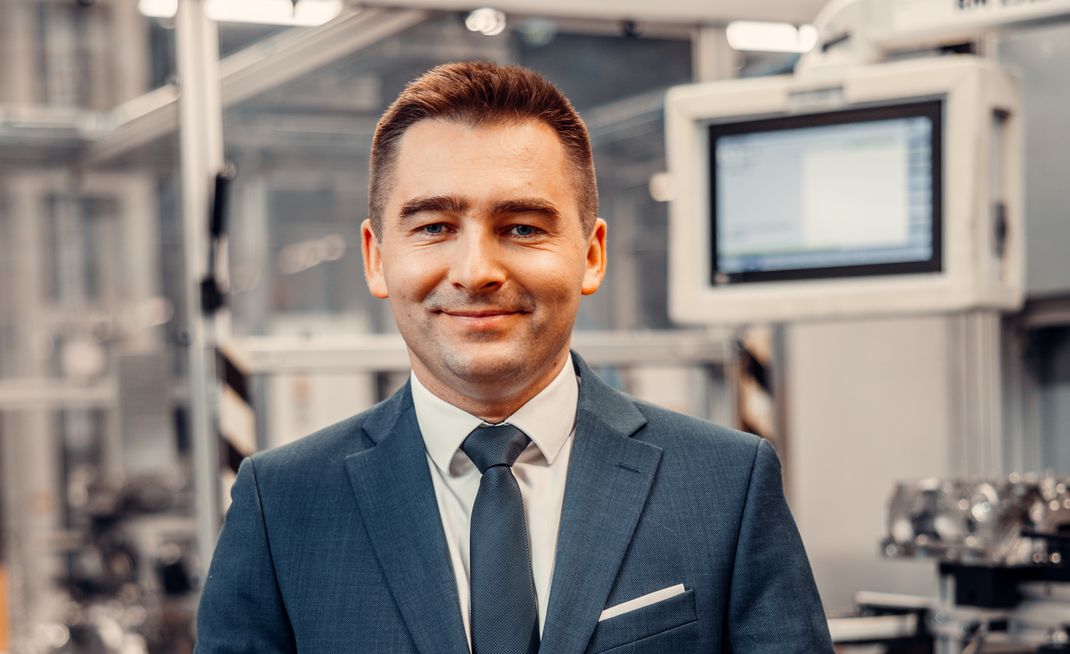 Paweł Kurtasz is the new Chairman of the Management Board of PAIH
On the 10th January, the PAIH Supervisory Board appointed Paweł Kurtasz as the Chairman of the Management Board. According to the decision of the Council, the new Chairman will take up his position on the 23rd January this year. Zdzisław Sokal and Piotr Dytko remain on the Management Board of the Agency.
More »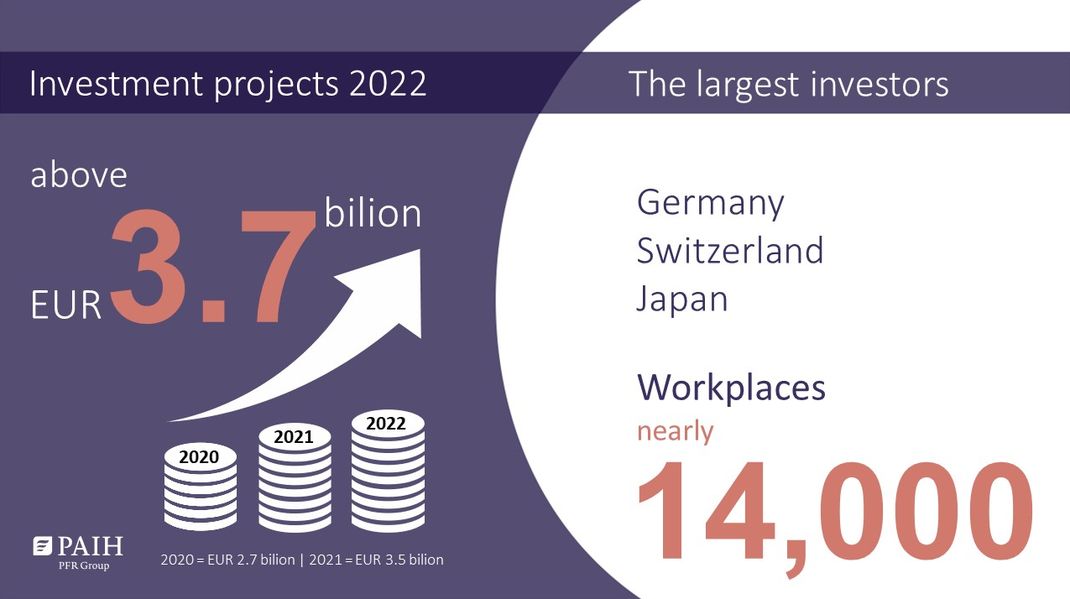 Another record-breaking year for PAIH
The Polish Trade and Investment Agency beats its own record for a second year in a row. In 2022, with PAIH'S support foreign companies invested over EUR 3.7 billion in Poland. That is EUR 200 million more than a year earlier and as much as one billion more than in 2020. The number of actual projects also increased by more than 20%. Last year, 126 projects ended with a positive investment decision, which is a significant increase compared to the 96 in 2021.
More »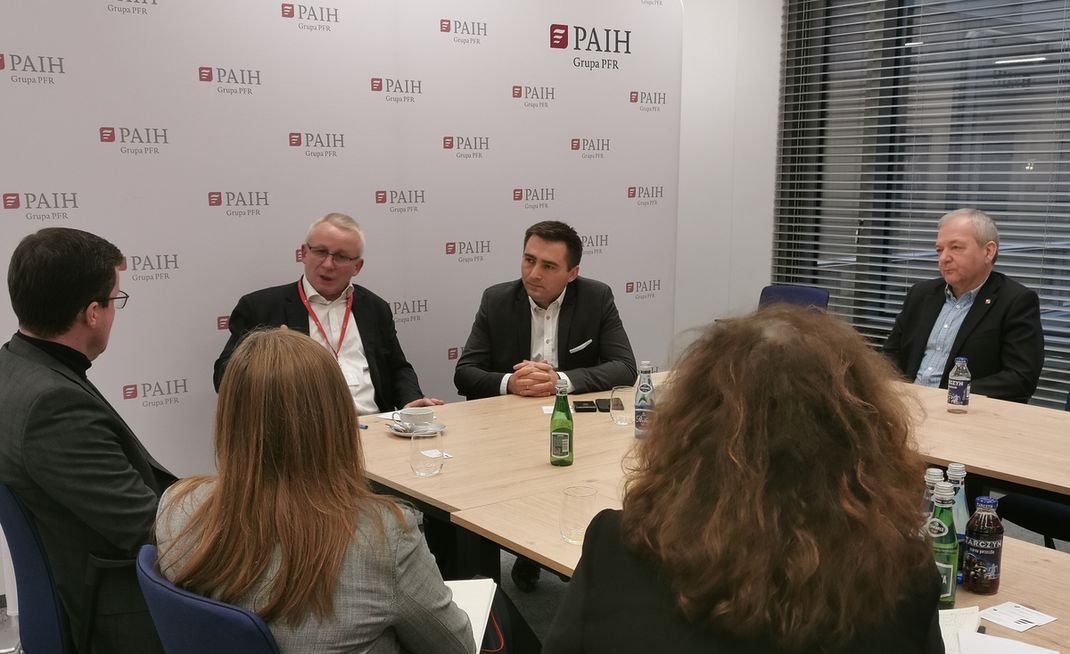 Meeting with UkraineInvest
The Chairman of the Polish Investment and Trade Agency Paweł Kurtasz and Member of the Management Board Zdzisław Sokal met with Serhiy Tsivkach, Chairman of PAIH's sister institution - UkraineInvest to discuss economic cooperation with Ukraine. The meeting was also attended by employees of PAIH's Foreign Trade Office in Kiev and representatives of the Polish-Ukrainian Chamber of Commerce.
More »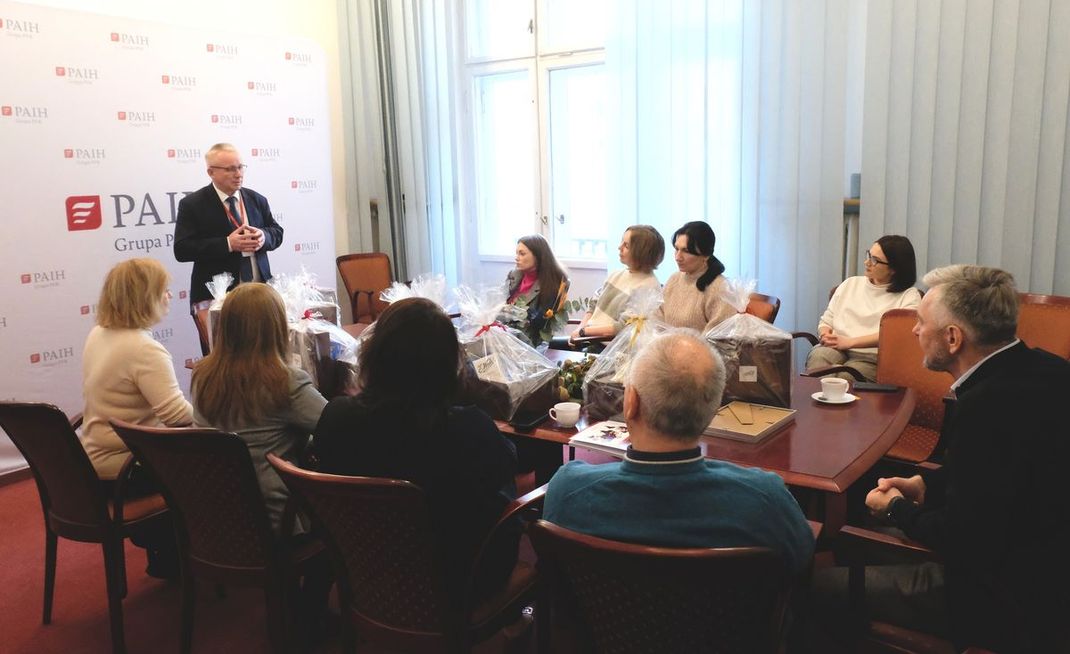 Christmas gathering with Ukrainian companies in Cowork Ukraine
A meeting of PAIH's Management Board was held with entrepreneurs from Ukraine in Cowork Ukraine, the office space which the Agency made available on Bagatela Street in Warsaw.
More »
WHY POLAND - AEROSPACE SECTOR
Poland boasts a 100-year history of aviation, and over 80 years of aerospace industry tradition. Strong scientific, academic and engineering environments played a key role in the development of this sector. After the period of transformation in Poland, the expansion of international cooperation and direct foreign investments made the further development of the sector possible. Currently, the Polish aerospace industry has a rich export offer of advanced aviation products. Almost every passenger aircraft in the world features at least one component that has been produced in our country.
Strengths of the Polish aerospace industry
over one hundred years of tradition
well-developed network of suppliers
world-renowned product quality
highly qualified workforce
competitive production and labour costs
continuous development of educational and training activities
increasing tendency for companies to conduct research and development
the existence of aviation clusters (Podkarpacie, ¦l±sk voivodship)
establishment of the Polish Space Agency in 2014.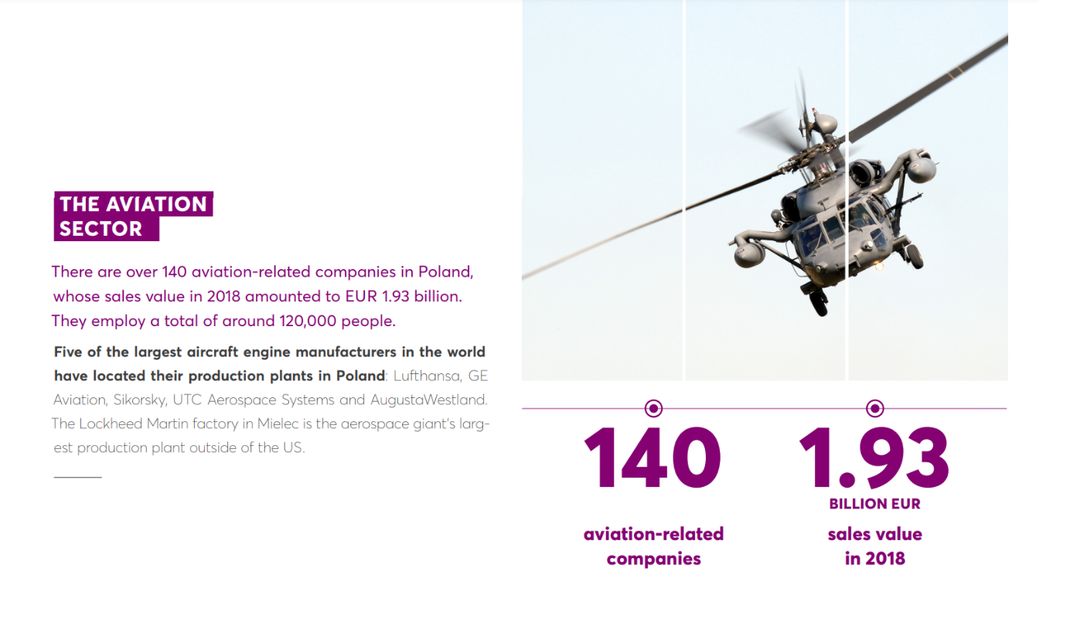 OUR OFFER - SUPPORT FOR UKRAINE
With a view to maintaining the continuity of our Ukrainian friends' business, we are implementing a support program for the temporary relocation of operations to Poland. As part of the PAIH program:
provides a free co-working space in the center of Warsaw
introduces permanent service in Ukrainian
maintains a database of immediately available logistics and production space
provides you with all the information necessary to start your business quickly
All interested parties will receive full, free support from our specialists in the field of, among others:
searching for a suitable property to run your business (plots, halls, offices)
advice on possible state aid (grants, tax exemptions)
support in contacts with central and local administration
information on the conditions for doing business in Poland
Contact Us:
+48 22 334 99 11
ukraina@paih.gov.pl

How we can help you?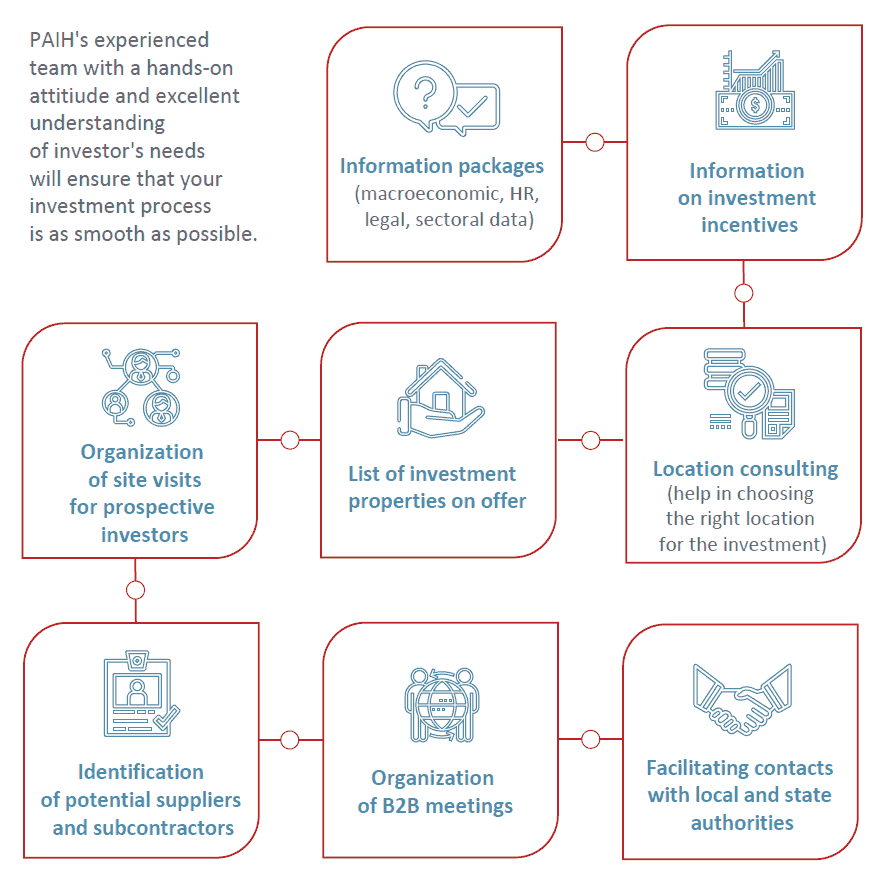 Do you have any questions?
Call the PAIH 24h hotline: +48 22 334 99 55
or write:
paih24@paih.gov.pl