On April 25th this year, the Polish-Mongolian Business Forum was held in Ulaanbaatar, organized on the occasion of the first visit of the President of the Republic of Poland Andrzej Duda to Mongolia. The event was accompanied by an economic mission of Polish companies. Participation in this mission was an excellent opportunity to establish relations between entrepreneurs from the construction, food and fintech industries.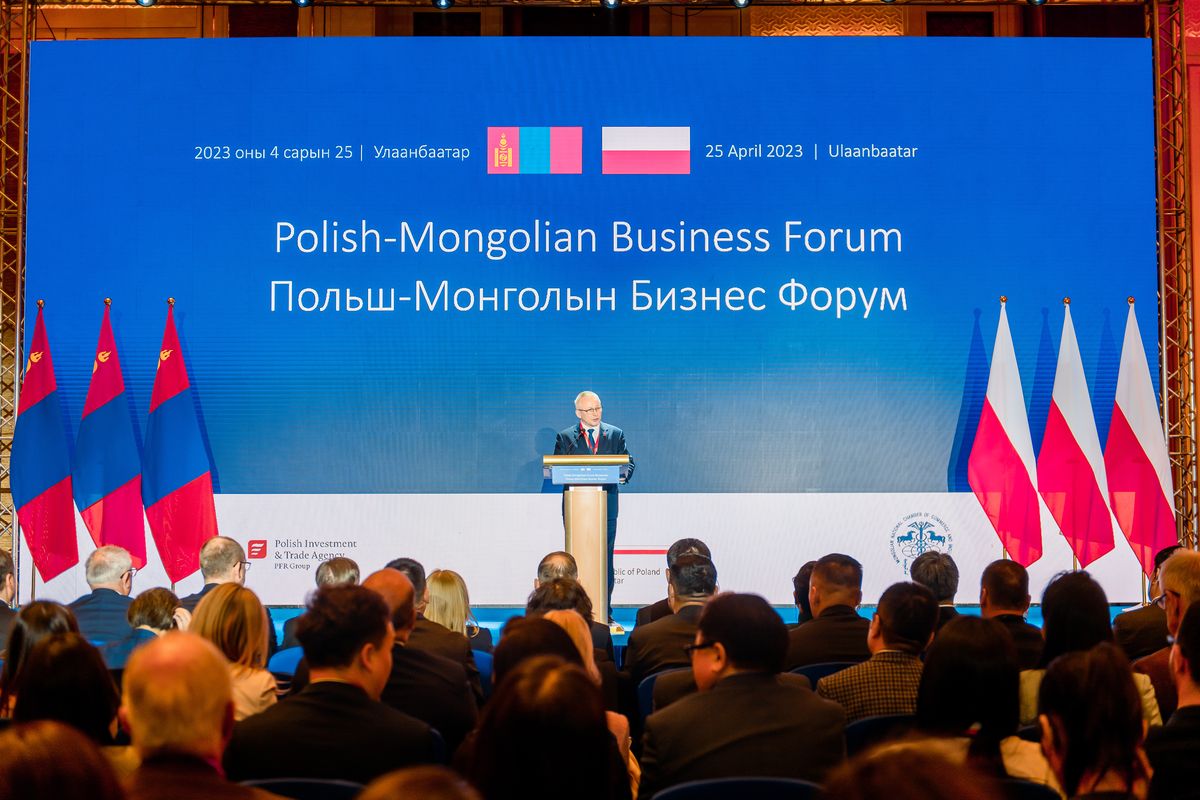 The Polish Investment and Trade Agency together with the Embassy of the Republic of Poland in Ulaanbaatar and the Mongolian National Chamber of Commerce and Industry of Mongolia organized this Business Forum. During the opening ceremony, President Andrzej Duda reminded everyone of one of the priorities of his presidency - a strong commitment to supporting the expansion of Polish business. The Forum's host, PAIH's Board Member Zdzisław Sokal drew attention in his speech to the similarities between Poland and Mongolia:
In recent decades, Poland has recorded consistently high economic growth, as has Mongolia. This similarity opens up wide opportunities for cooperation in the area of trade, investment, but also the transfer of knowledge and joint development and investment projects. There are more similarities between our countries. We are also connected by our key location in our regions. Both Mongolia and Poland can be each other's gateways to the European Union and Asia - summed up Zdzisław Sokal.
The diplomatic visit at the highest level made it possible to establish business relations between partners from both countries, opening the door to contacts with decision-makers. It was a great opportunity to establish relations between entrepreneurs from Poland and Mongolia. The Polish side was represented by twenty entities primarily from the construction, food and fintech industries, but also from the service and education sectors and business support institutions.

The Polish Investment and Trade Agency, as a co-host of the Forum, organized a B2B session, during which Mongolian entrepreneurs held direct talks with representatives of Polish business. As Bat-Erdene Boldbaatar, head of PAIH's Foreign Trade Office in Ulaanbaatar, emphasizes, the event was of an unprecedented scale.
Over 200 business meetings during the three days of the event and over 350 participants from the Mongolian side are a confirmation of the already existing good business cooperation and great interest of Mongolian business in economic cooperation with Poland. The potential is much greater and our task is to activate it. Making links between business and institutions is one of the main tasks of the PAIH ZBH in Ulaanbaatar - he said.
PAIH also organized meetings with representatives of the Mongolian government administration for Polish companies and institutions, which confirms the country's great interest in economic cooperation with Poland.

It is worth noting that Polish companies participating in the meetings are mostly representatives of large business with an established position, including entities already present on the Mongolian market. An important element of the Polish-Mongolian Business Forum was also the signing of a Cooperation Agreements between entities from the Polish and Mongolian sides. The first document was signed by PAIH with the Mongolian National Chamber of Commerce and Industry. The Agency signed the second one with the Mongolian Business Council. The signatories of the third agreement were the National Chamber of Commerce and the Mongolian National Chamber of Commerce and Industry of Mongolia.

We invite you to view photos from the event »

Photo gallery: