On December 17, Toyota Motor Manufacturing Poland (TMMP) launched their second production line of the latest generation 1.5-liter engine in their factory in Wa³brzych. The innovative engine was designed on the basis of Toyota's global design platform TNGA (Toyota New Global Architecture). This is another investment expanding Toyota's operations in Poland. The Polish Investment and Trade Agency has been supporting Toyota in further investments in Poland for many years.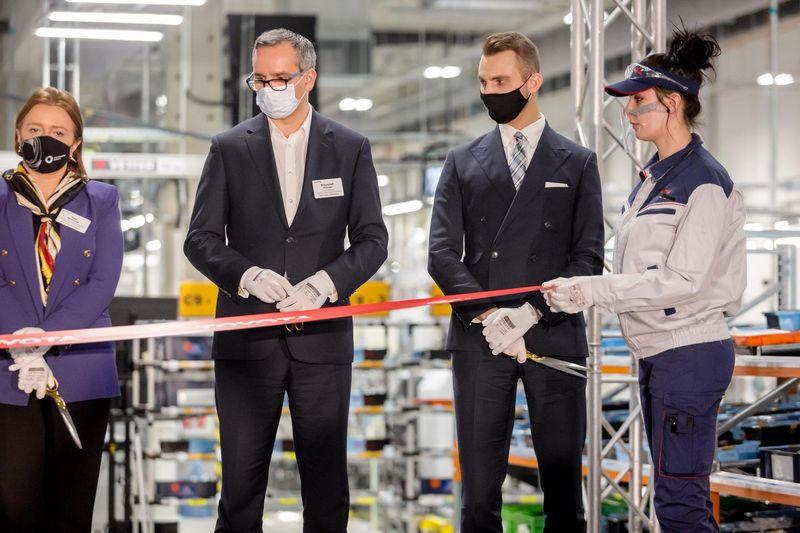 As part of the latest investment, Toyota has built a completely new 13,000 square meter TNGA engine production plant. About 300 machines and devices were installed in it, constituting five new processing lines and an assembly line designed in accordance with the TNGA architecture, which provides for greater production automation.

TMMP's investments in hybrid technology are a key element of Toyota Motor Europe's strategy to further locate the production of electric hybrid drives in Europe to meet the company's goals of selling 1.5 million vehicles annually by 2025. Toyota's plans for 2025, 90 % of sales will include electrified propulsion systems: hybrid, plug-in hybrid and zero-emission battery or hydrogen.
This is yet another Toyota investment in our country in recent years. We are particularly pleased that as a result of such investments, not only the local labour market is developing, but also that new technologies find their way into our country. In this way, Japanese know-how becomes available to Polish engineers. The long-term cooperation between the Polish Investment and Trade Agency and Toyota confirms our belief that Poland is a good and stable place for investing capital and developing existing activities by foreign companies. I believe that our paths with Toyota will cross more than once and will result in good projects for Poland, comments Krzysztof Drynda, Chairman of the Polish Investment and Trade Agency.
The development of Toyota's operations in Poland is a good example of the increasingly better investment cooperation between Poland and Japan. Poland is one of the most attractive EU countries for Japanese investments due to the fact that it has qualified employees and relatively low labour costs. The Shokokai Employers' Union has prepared a report which shows that the level of satisfaction of Japanese companies with regard to the Polish investment climate is high.
For Japan, Poland is a natural bridge to Europe. This is best evidenced by the fact that Japanese capital is the second largest capital present in our country. Since 2002, PAIH S.A. has completed 78 investment projects from Japan with a total declared capital outlay of approximately EUR 2.7 billion and creating 18,840 new jobs. The automotive sector and electromobility have been the dominant sectors of Japanese investor involvement in recent years, says Arkadiusz Tarnowski from the Investment Center of the Polish Investment and Trade Agency.
Toyota has been investing in Poland for years

In September 2018, Toyota started the production of the first hybrid component in Wa³brzych - an electric hybrid transmission for 1.8-liter engines. It was the first of six projects leading Polish Toyota factories towards electromobility. Since then, Toyota has launched three lines of electric hybrid transmissions in Wa³brzych and Jelcz-Laskowice, including the production of the MG1 electric motor, which is an integral part of the transmission, and three lines of TNGA engines.

In addition, next year in Wa³brzych, it is planned to change the generation of the hybrid transmission to the latest - the fifth, including the start of production of a second electric motor working in a hybrid transmission - MG2. In connection with these projects, Toyota hired more than 300 employees in Wa³brzych and over 600 people in Jelcz-Laskowice. Currently, the total employment is over 3,300 employees. The level of investments in both plants increased from PLN 4 to over PLN 6 billion and the production capacity by 100% to 1.8 million components per year.

Toyota sees hybrid technology as an important step towards full electromobility. This technology provides customers with the best, currently available on the market, ecological, and at the same time economical and convenient to use solution while for cities a ready-made tool to fight smog.

Toyota has located their first center for the production and development of hybrid drives in the world, outside of Asia ,in Poland. It supplies electric hybrid transmissions and the associated TNGA gasoline engines for the company's low-emission cars manufactured in Europe.

About Polish Investment and Trade Agency

The Polish Investment and Trade Agency (PAIH) is an advisory institution operating in cooperation with the Polish Development Fund Group (PFR) under the direction of the Ministry of Development and Technology. PAIH is the first point of contact for exporters and investors. It operates both in Poland and through a network of offices around the world. It strengthens the recognition of Polish brands on international markets, promotes domestic products and services and technological solutions made in Poland. The Agency helps entrepreneurs to choose the optimal path of expansion abroad. It also supports the inflow of foreign direct investments to Poland and the implementation of Polish investments in the country. PAIH cooperates with the public sector and regional partners, offering, among others: training, audit and promotion of investment properties, cooperation in the organization of business missions and communication support in the implementation of joint projects.