We would like to invite you to our virtual event, Poland's Business Week in Seoul 2021 promoting Polish companies. The event will be held from 13th to 17th September 2021 on a dedicated
website
.
The 1st edition will focus on the following sectors: Fintech, Cybersecurity, Drones, Boats and Yachts, Games, Medical equipment and devices.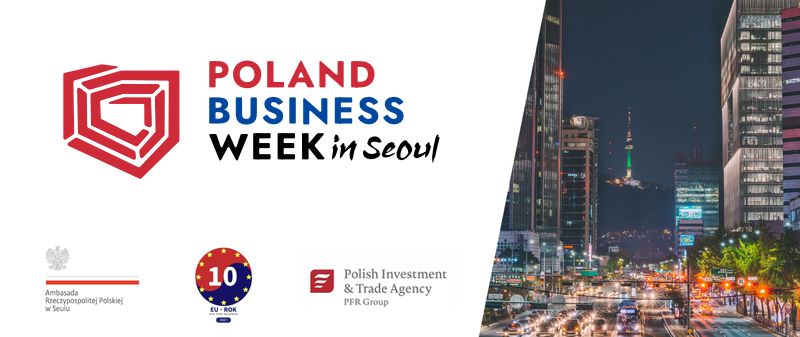 Through www.polandbusinessweek.kr you will be able to learn about the activities of Polish companies from each of the above mentioned sectors, interested in entering the Korean market and what they can offer, their contact details, as well as general information about the sectors. Information will be available both in Korean and English and will be uploaded according to the following schedule.

Event schedule:

Date

Sector

13th September

Fintech

14th September

Cybersecurity

15th September

Drones

16th September

Games

17th September

Boats & yachts
Medical equipment & devices

Join us and learn more about what Polish companies have to offer!

The event is part of the celebration of the 10th anniversary of the signing of the Free Trade Agreement between the European Union and the Republic of Korea.

On 14th September a webinar titled "What is Cybersecurity in South Korea? -Landscape, Challenges and Case study" during which information on Korean cybersecurity will be presented.
Date of the webinar: 14th September 2021
Time: 4PM - 5:30PM KST (9AM - 10:30 AM CEST)
Participation in the event is free of charge upon priori registration.
The webinar will be held in English via ZOOM.
It is possible to attend it via web browser, but it is highly recommended to download the ZOOM Client for Meetings beforehand for a full functioning experience in a user-friendly interface.

Agenda:
16:00-16:03

Welcome

Arletta Brzozowska, Deputy Head of Mission, Embassy of the Republic of Poland

16:03-16:05

EU-KOR FTA 10th Anniversary Video

16:05-16:10

Polish Investment and Trade Agency – Introduction

Anna Lagodzinska, Head of the Polish Investment and Trade Agency Office in Seoul

16:10-16:40

The issues and Challenges of the Korean Cybersecurity Policies and tech for the Government and Enterprises, SMB and Individuals

Junyung Ko, CEO, SecureLink

Junsun Park, CTO and Co-founder, SecureLink

16:40-17:05

Understanding the Korean Market – Perspectives of a European Cyber Company

Julien Provenzano, Co-founder, Co-CEO, RalfKairos

17:05-17:25

Korean Market Risks and Opportunities

Christoph Heider, President, ECCK

17:25-17:30

Closing remarks

Arletta Brzozowska, Deputy Head of Mission, Embassy of the Republic of Poland

Speakers' profiles available in the invitation file below.



Attachments: