Northvolt - a European supplier of high-quality cells and battery systems - announces a new investment in Pomerania. A state-of-the-art and highly automated production plant and an engineering research and development center for battery modules and energy storage systems will be built in Gdańsk. The investment outlays will amount to nearly USD 200 million (ie almost PLN 750 million). Up to 500 new jobs will be created under the new project. The company received a positive decision on support for the new investment, under the Polish Investment Zone scheme.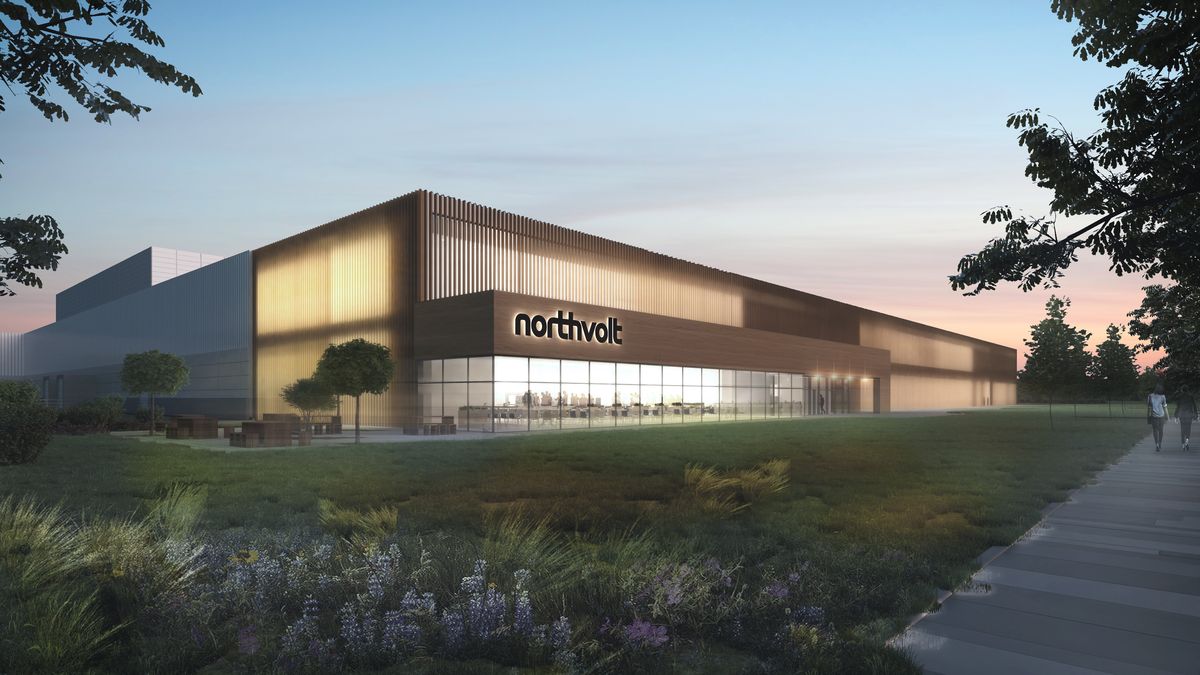 Northvolt was founded in 2016 in Sweden by Peter Carlsson and Paolo Cerruti - former Vice Presidents of Tesla and is already operating in Poland. In 2018, it announced an investment in a battery module assembly plant- consisting of battery cells, electronic control and temperature control systems, and special housings, which are then used in energy storage systems or industrial mining machines.

Northvolt Poland specializes in the production of such modules and systems - and today in Gdańsk, it is increasing its operational capabilities. Northvolt Systems' state-of-the-art facility on the Polish coast is part of a pan-European value chain project, where cells produced in northern Sweden will be shipped to Gdansk for further assembly of complete energy storage systems and then delivered to customers.

Due to the new project, Northvolt Poland has decided to increase its production and R&D capacities. This is why a highly automated and modern production plant and an engineering research and development center for battery modules, energy storage systems, production processes and technologies will be built. The manufactured products will be a comprehensive solution for energy storage and industrial applications, including those for specialized mining vehicles and machines.

Production will start in 2022. Along with the investment declaration, Northvolt Poland received a positive decision from the Pomeranian Special Economic Zone (PSEZ) in the area of investment support and a government grant. As part of the new project, up to 500 new jobs will be created.

Prime Minister Mateusz Morawiecki:
"In these difficult times of the epidemic, attracting new investments is especially important. Thanks to which, we can acquire new competences and places of employment. New ties and relations between Polish companies and foreign ones are also being created. We are trying to combine several factors to encourage investors. Firstly, with a system of good regulations that are quick and friendly to implement and thus, can help to create business in Poland. Secondly, with a grant system within economic zones. Thirdly, by adjusting the education system and work experience of young workers to the rapidly changing labor market. An example of this is the automotive sector. We have been successful in many areas related to the automotive industry. We encourage all investors and point to the current greenfield foreign investments in Poland. In the last few years, our country has become, for example, an important player in the production of lithium-ion batteries. What we say we follow up with action. We create good conditions for investment in Poland. Northvolt's new investment in Poland is particularly valuable, as it means several hundred new jobs. It is an important element on the industrial map of the region. Thanks to such investments, the environment of modern industry is being shaped - the industry of revolution 4.0, which benefits from the green revolution."

Jarosław Gowin, Deputy Prime Minister and Minister of Development, Labor and Technology:
"Northvolt's decision to locate a new investment in Poland is confirmation of the fact that our country is an attractive place to locate capital. We are able to effectively meet the highest standards and expectations of investors, and our advantage is a well-educated pool of employees and the proximity of the European market. This is the foundation for further cooperation, sector development and the strengthening of Poland as an important producer of electric car components. We are also pleased with this investment, because of its scope of activities, which is the production of modern battery power systems. Electromobility is a global trend, and Poland has become an important link in the supply chain for electric cars. Poland has become a leader in the export of lithium-ion batteries in the EU and a hub for the production of electric batteries. In six months of 2020 , the value of Polish battery exports amounted to € 2.9 billion."

Michał Kurtyka, Minister of Climate and Environment:
"The Northvolt investment announced today, confirms that the direction of our activities in terms of creating perfect conditions for investment in and the development of electromobility is correct. Without the development of electromobility, where one of the main elements are the investments of battery producers, it will not be possible to achieve the ambitious goals we are facing in terms of reducing emission from transport. Combining and coordinating international cooperation, support from the administration and the world of science, and determining the potential of the industry can help Poland become an important participant in the interdisciplinary battery industry in the entire value chain on the international arena, stimulate economic growth and create many jobs."

Peter Carlsson, co-founder and CEO of Northvolt:
"Securing battery cell manufacturing capacity in Europe is critical to its industrial future, but the ability to integrate cells into real solutions is equally critical. This is exactly what the new plant will deliver - sophisticated, environmentally sustainable energy storage systems supporting the transformation of Europe's electricity grids and its industry."

Robert Chryc Gawrychowski, Chairman of Northvolt Poland:
"The Polish company is an important part of Northvolt's vertical integration value chain which is being built. The energy storage systems developed in Gdańsk will support global, European and national partners in the transformation towards a low-emission economy and society. It is also worth emphasizing the innovative and strategic nature of this investment for Poland and how it is unprecedented in the Pomeranian region. I am glad to be able to implement this project."

Grzegorz Słomkowski, Member of the Management Board of the Polish Investment and Trade Agency:
"Northvolt's new investment is the next stage in the development of e-mobility in Poland. The arrival of an investor with such a profile in our country goes hand in hand with the growing trend of using safe and ecological solutions in the field of power systems in industry. The new investment will strengthen Poland's position as a leader in the electromobility sector. I believe that thanks to this investment, soon more projects in this industry will appear in our country. Poland's trump card is undoubtedly its logistical advantages, i.e. our proximity to the supply chain ecosystem or to the European end users. We are very pleased that Northvolt wants to develop its business in Gdańsk. As the Polish Investment and Trade Agency, we coordinated the investment at the government level."

Przemysław Sztandera, Chairman of the Pomeranian Special Economic Zone (PSSE):
"Foreign Companies have a great impact on the development of our economy, even more so with the support of a Polish Investment Zone, which expects the company to build stable, well-paid jobs in exchange for the assistance provided. Polish Investment Zones offer tax breaks and support at every stage of a projects implementation and are undoubtedly a magnet for companies. However, it should be remembered that not only large, global concerns, but also local small and medium-sized companies can apply for such aid. I am convinced that Northvolt, with the support of the Polish Investment Zone, will contribute to the economic development of the Tri-City, which, in addition to modern business facilities, will guarantee Northvolt access to well-qualified staff."

Northvolt was founded by Peter Carlsson, a former director of Tesla Motors. Between the years 2011-2015, he headed the department responsible for organizing the delivery of supplies as well as the supply chain for the production of Tesla cars. He was also a close associate of Elon Musk. The construction of a battery cell manufacturing plant in Skellefteå, northern Sweden, was announced in 2017. It is currently under construction. The company received financing for the implementation of its investments, from sources such as: Vestas, Siemens, ABB, BMW, Scania as well as loans from EIB and an investment from Goldman Sachs, a total value of more than EUR 1 billion.

Photo gallery:

The Polish Investment and Trade Agency (PAIH) is an advisory institution that is part of the Polish Development Fund Group (PFR). It is the first point of contact for exporters and investors. It operates both in Poland and through a network of its offices around the world. It strengthens the recognition of Polish brands on international markets, promotes domestic products and services as well as technological solutions made in Poland. The agency helps entrepreneurs choose their optimal expansion path abroad. It also supports the inflow of direct foreign investments to Poland and the implementation of Polish investments in the country. PAIH works with the public sector and regional partners, offering, among other things: training, audit and promotion of investment properties, cooperation in the organization of business missions and communication support in the implementation of joint projects.

The Pomeranian Special Economic Zone is part of the Polish Investment Zone, one of 14 regional entities responsible for offering comprehensive services for foreign and domestic investors. It operates in the Kuyavian-Pomeranian Voivodeship and in the eastern part of the Pomeranian Voivodeship. It acts as a regional investor service center and is the coordinator for the granting of state aid. It provides entrepreneurs with support at every stage of the implementation of their projects, including consultancy and advisory assistance.