On 14th of November XI International Forum "Days of Polish Business in Ukraine" will be held in Kyiv. The International Forum "Days of Polish Business in Ukraine" is a large-scale Event, which will be held in Kyiv for the sixth year in a row and will traditionally be a meeting place for representatives of the authorities and business of Ukraine and Poland, who will gather at one platform to find new ways of cooperation and establish partner relationships.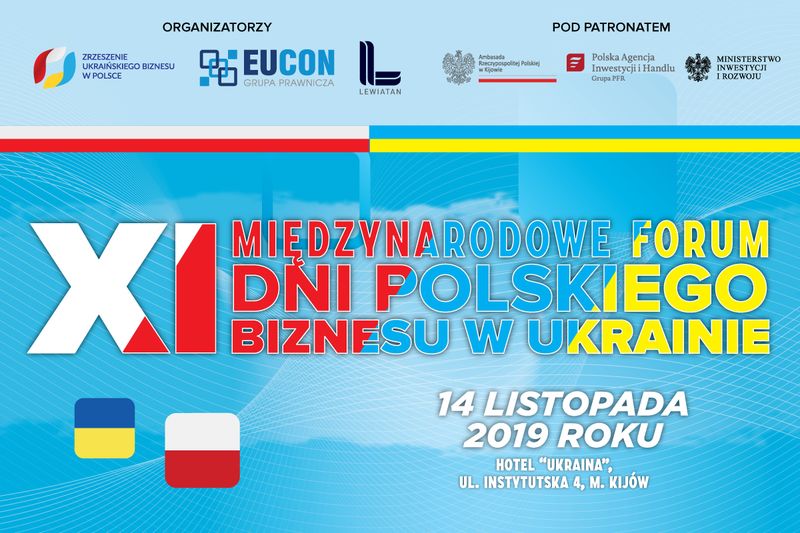 Every year, the project gathers between 150 and 300 participants, including representatives of state and local authorities, diplomatic missions, entrepreneurs from Ukraine and Poland.

The main issues to be considered are the following:
Trade and economic partnership between Ukraine and Poland - will the economic and investment priorities of both countries change?
Opening a free land market in Ukraine – is Polish business ready for economic and financial expansion?
Construction and infrastructure projects - search for synergy;
Prospects for expansion of freight rail transportation, launching of carriage projects and creation of joint repair and service centers;
Manufacturing - prospects for joint investment projects;
Polish experience and Polish technologies for energy-saving projects in Ukraine and others.

The Event will be held under the patronage of the Embassy of the Republic of Poland in Ukraine and Polish Investment and Trade Agency.

Partner of the event Międzynarodowe Stowarzyszenie Przedsiębiorców Polskich na Ukrainie.
Date: 14.11.2019
Venue: Hotel Ukraine, 4 Instytutska str.
Organizers: Association of Ukrainian Business in Poland, EUCON Legal Group
Co-organizer: Lewiatan Employers Confederation
Details and registration: http://bit.ly/35F0cvD