Turkey is the nineteenth in the world and the fourth non-EU recipient of Polish goods. The country imports from us more than it exports. During the Polish-Turkish Economic Forum, the entrepreneurs talked about the prospects of economic cooperation in energy, mining, IT / ICT or innovative automotive industry. The event was attended by the Minister of Entrepreneurship and Technology Jadwiga Emilewicz and Trade Minister of the Republic of Turkey Ruhsar Pekcan and the Vice President of PAIH Wojciech Fedko.
The Turkish market is well-known to Polish entrepreneurs from such industries as energy and mining, machinery or furniture. On the other hand, Turkish construction and textile companies are present in Poland. I hope that today's meeting will be an opportunity to open up new industries, for technological cooperation and joint innovations, as well as new investment projects - said the minister of entrepreneurship and technology Jadwiga Emilewicz during the Forum.
Parallel to the Business Forum, Polish-Turkish intergovernmental economic consultations were held, chaired by minister Emilewicz and minister Pekcan. - This year, we talked primarily about common challenges - the fourth industrial revolution and changes in the world trade system. Both our countries are young and hungry for the success, we both want to increase our trade turnover - said M\minister Emilewicz.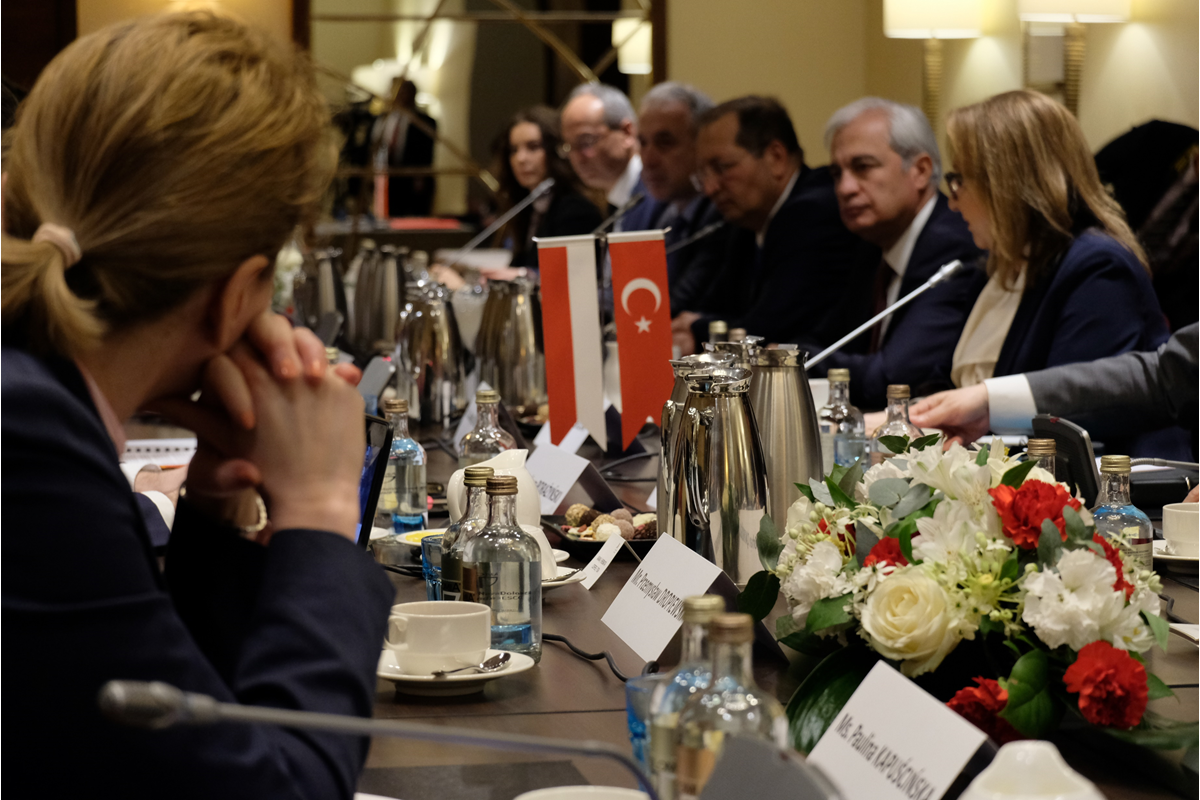 Minister Pekcan stressed that the governments of both countries will work together to ensure that the 100th anniversary of the mutual friendship treaty between Poland and Turkey in 2023, the balance of our trade turnover increased from EUR 6 billion to EUR 10 billion. - Our friendly relations have lasted for 600 years. It is worth deepening and facilitating business contacts, including modernizing customs policy. Turkey offers a number of investment incentives, especially for innovative projects. We are intensively developing a network of incubators at technical universities, where we are looking for innovative technological solutions, linking business and science - said minister Ruhsar Pekcan. As Peckan explained, the intensive development of industry and services, is supported by high natural increase (3rd place in terms of population in the Middle East), which is generating in Turkey an increased demand for electricity. The state development strategy assumes that by 2023 the country will be the 10th economy in the world in terms of GDP. There is a strong service sector behind it, which generates 60% of Turkish GDP, as well as heavy industry - automotive, electronics and petrochemical sectors.

The industry in which Polish-Turkish cooperation has a chance to be more intensive is also automotive - especially in the context of cooperation of Polish manufacturers of car components with Turkish partners. - Turkey is the fifth production force on the car market in Europe with the ambition to enter global markets with its own brand. Poland, in turn, is the leading European hub for the production of accessories and innovative automotive subassemblies. These two sites complement each other perfectly - said Wojciech Fedko, vice president of the Polish Investment and Trade Agency. As Fedko explained, both countries have a lot in common - not just a similar business culture. Turkey remains an underestimated partner of Poland, both in terms of trade and investments. He reminded that in the last 15 years Turkish investors implemented in Poland projects with a total value of USD 112.3 million. Thus, they created almost 1,300 jobs in sectors such as textile, automotive or R & D. In the same period domestic companies have completed investment projects in Turkey worth a total of USD 281.6 million, and one of the largest Polish investors is Empik Media & Fashion.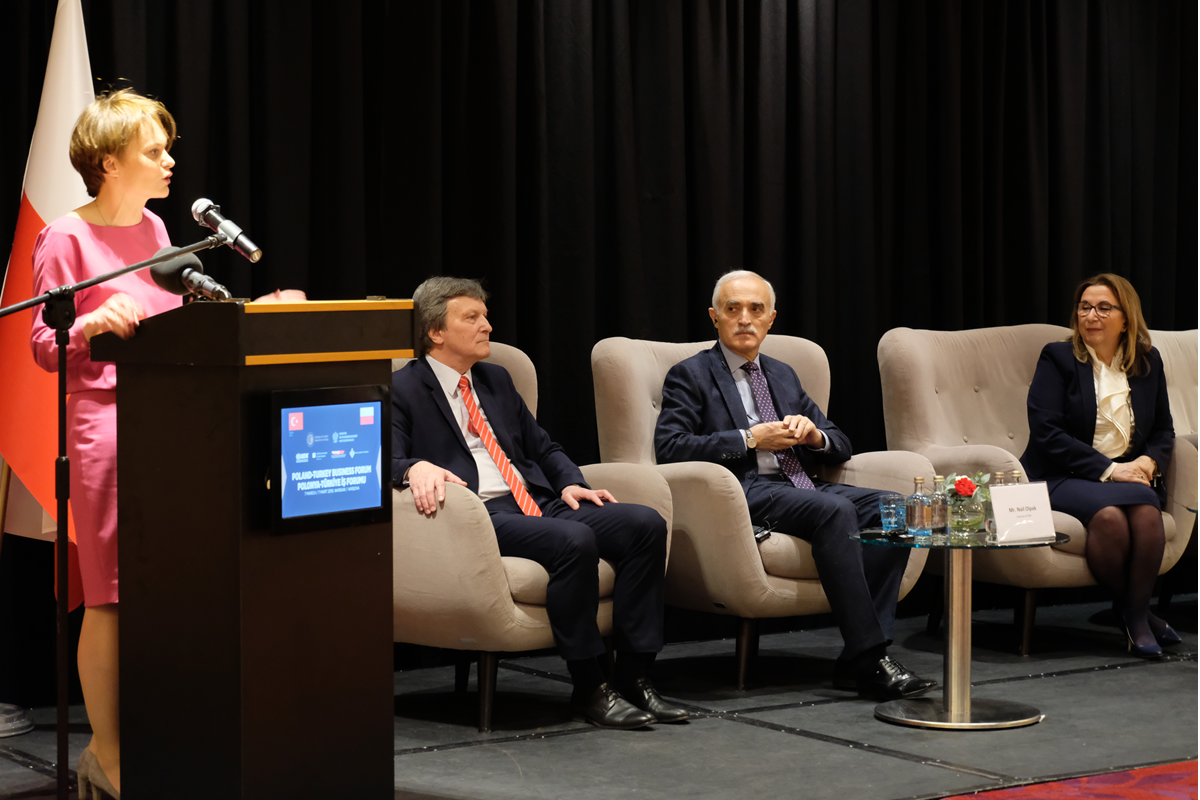 - The willingness to cooperate in the field of investment and trade prompted us to open a representative office of PAIH in Turkey, so we encourage you to contact our Instambul office experts - says Fedko. Foreign Trade Office PAIH in Istanbul was opened in October 2018. - Polish entrepreneurs directing inquiries to our office represent a wide variety of sectors. In particular - food, cosmetics, construction, shipbuilding, automotive, medical and new technologies companies. Their inquiries mainly concern the required export certificates, customs procedures, VAT rates, the local competition or distribution network analysis - adds the Agency's vice-president.

- Polish products are perceived positively in Turkey, and the purchasing power of the growing middle class is increasing. In 2017, entrepreneurs from the Aegean Region recognized Poland as an attractive market for the development of commercial cooperation and investment placement - comments Joanna Snopek-Berbercioğlu, head of the PAIH office in Istanbul.

- We live in quite turbulent times. Turkey is struggling the currency devaluation, in turn Poland must seek higher added value. But business knows how to turn challenges into opportunities - said PAIH vice-president Wojciech Fedko, inviting Polish and Turkish companies to B2B talks.