On Monday, 24 September, PAIH trade office in New York began its operations. "New York and PAIH office in the business centre of the world. I am very happy that I can open the next PAIH branch abroad" - said Polish President, Andrzej Duda.
New York is a global economic and financial centre, and many foreign companies find clients on other continents through this city. –New York is the US second venture capital market after the Silicon Valley, in terms of size and potential. It is the signivicant place where one can develop fintech or biotechnology businesses - explains Ewa Bindek, head of PAIH New York office.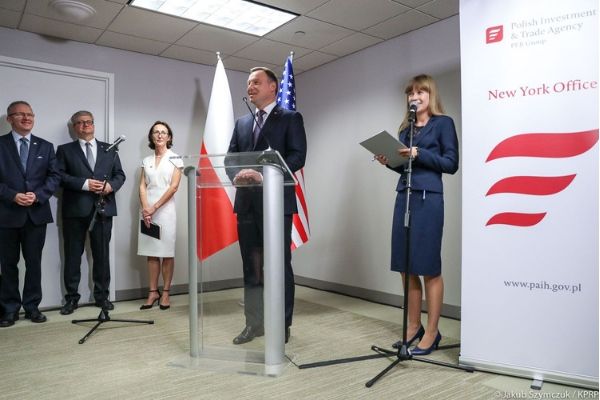 President of Poland Andrzej Duda: I am very happy that I can open the next PAIH branch abroad


The New York trade office is the fourth branch of the Agency in the United States and the third opened by the Polish President Andrzej Duda. -Due to the strategic importance of the United States for the Polish economy, ultimately there will be even six PAIH offices in the US. We assume that it will be the country with the largest number of the Agency's branches - said Tomasz Pisula, the head of PAIH.

During the office opening ceremony, Mr. Pisula added that the US was also one of the first countries from which PAIH started building the network of foreign support for Polish companies worldwide. The other offices in the United States are located in Washington, Silicon Valley (San Francisco) and Los Angeles.

All PAIH offices in the US have been designed to search for business opportunities for Polish companies on the East Coast and to assist them at every stage of implementation of any business projects. The task of the US PAIH offices is also to identify local companies interested in investing in Poland.

The United States is among the top ten of Poland's trading partners. Trade exchange, including export to the US, is steadily growing. According to the Polsih Statistical Office (GUS) in 2017, sales of goods and services from Poland amounted to USD 6.1 bn. Among the export hits sent to the US there are: engines and aviation components, furniture, medical equipment and machines.

The US is also an important investment partner of Poland, with long traditions of conducting business in our country. Since 2000, PAIH has assisted US companies in implementing 179 investments. Over half of them (59%) are projects representing business services sector. With the assistance of PAIH, the American businessman also implement investments in the automotive and aviation sectors.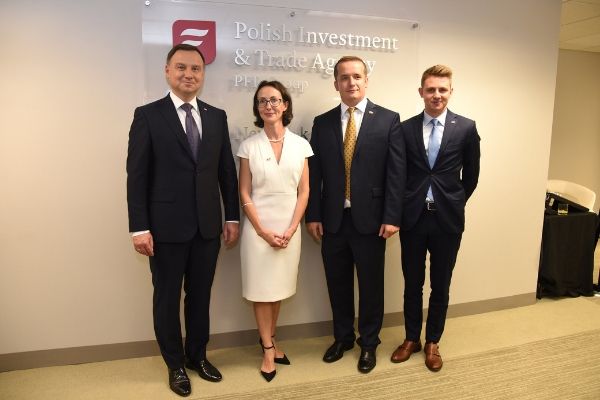 New York Trade Office of PAIH with President of Poland Mr Andrzej Duda (first on the left)
Contact PAIH Trade Offices:
www.paih.gov.pl/en#zbh