For the last 12 months, portfolio of the FDI projects supported by PAIH has increased by EUR 1.6bn. Now, the Agency is servicing 182 investment projects from all the world. In total, they are worth EUR 6.5bn and could create 48.000 jobs in Poland. Among new trends there are: the significant increase of investments of electromobility industry and the inflow of FDIs from Singapore that has entered the portfolio for the first time.
The growing size of the PAIH portfolio of currently services FDI projects is mostly due to the increase of investment activity of German, Chinese and South Korean companies. Comparing to May 2017, the two first countries have tripled the value of projects run by the Agency. Twelve months ago, the German investors were willing to invest in Poland a total of EUR 560.5m, today, it's EUR 1.5 bn, in total. During the same period, the Chinese FDI portfolio has grown from EUR 421m to EUR 1.326bn. Moreover, South Korea has visibly intensified cooperation with PAIH. The total cost of six Korean projects run by PAIH has doubled and reached EUR 232.6m.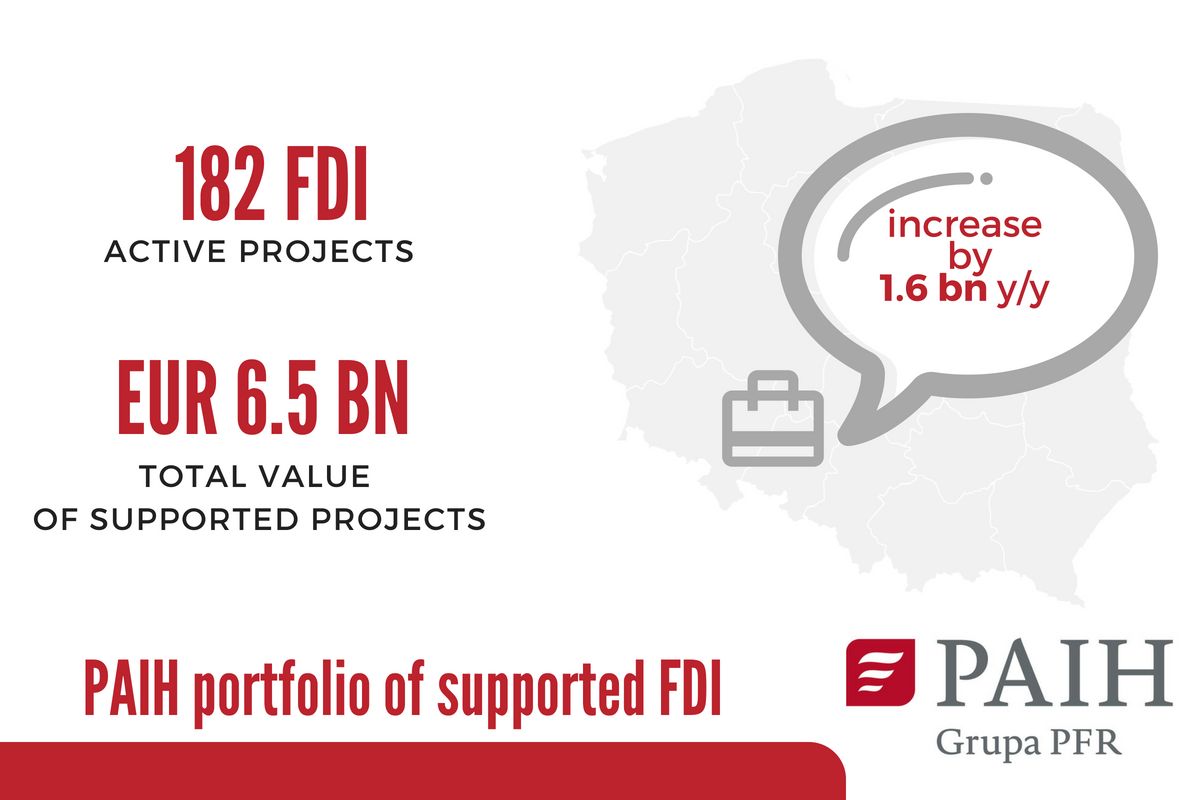 The top 3 of the country leaders in terms of the biggest number of projects in the PAIH FDI portfolio has not changed over the year. The leading position is held by the US (57 FDIs worth EUR 1bn in total). The Americans are followed by the Germans (25 FDI projects worth EUR 1.5 bn in total) and the Japanese (13 FDI projects worth EUR 609.7m in total).
New arrivals are also worth recording. One of them is Singapore that for the first time was included in the PAIH portfolio. This Asian state runs four projects of FMCG and BSS sectors that are worth EUR 15.5m, altogether. According to Krzysztof Senger, PAIH deputy president, all four investors were attracted to Poland by the PAIH Trade Office. This year, the Agency also acquired Portuguese investments. Companies from this country are returning to PAIH after 10 year-gap with three projects worth EUR 30m in total and are willing to start their business mostly in automotive industry.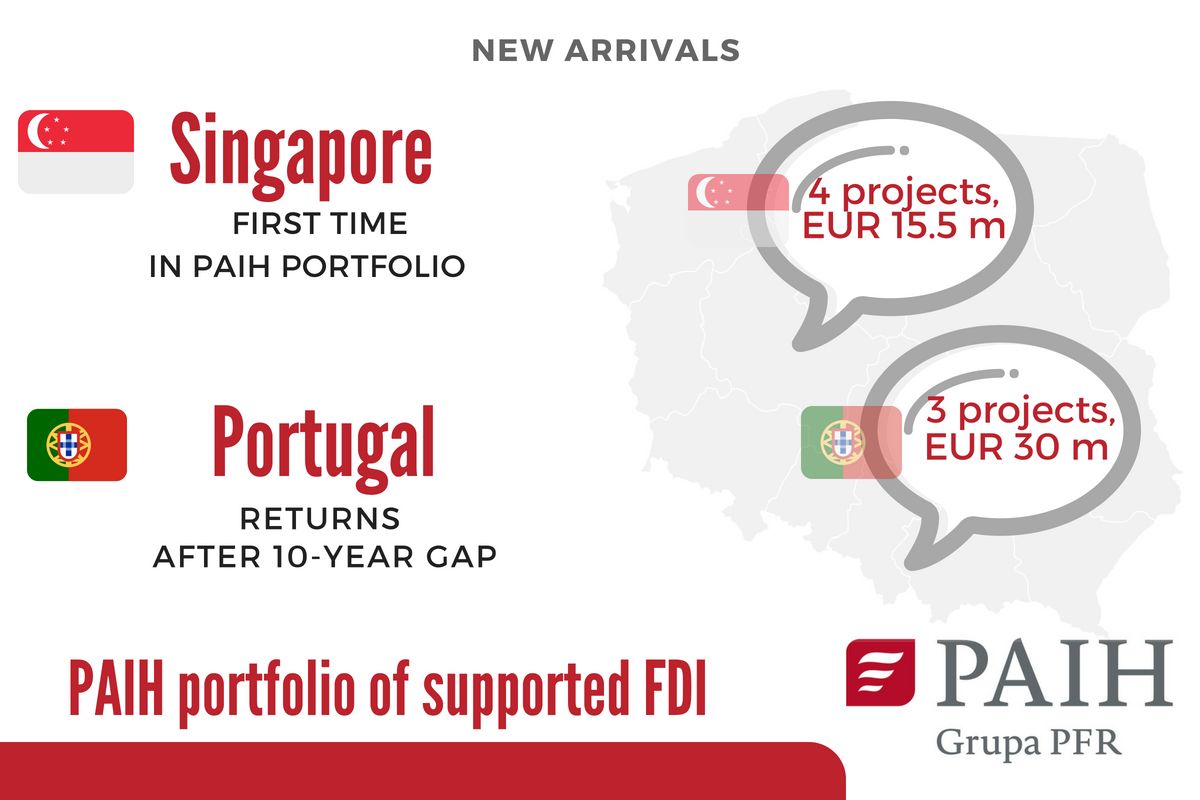 When speaking about industries, the investment portfolio of the PAIH clients is dominated by business service sector (57 IT, SSC and BPO investments). The second is automotive industry (33 investments planned, worth EUR 744.2m in total), while the third is R&D sector (17 investments worth EUR 10.8m in total).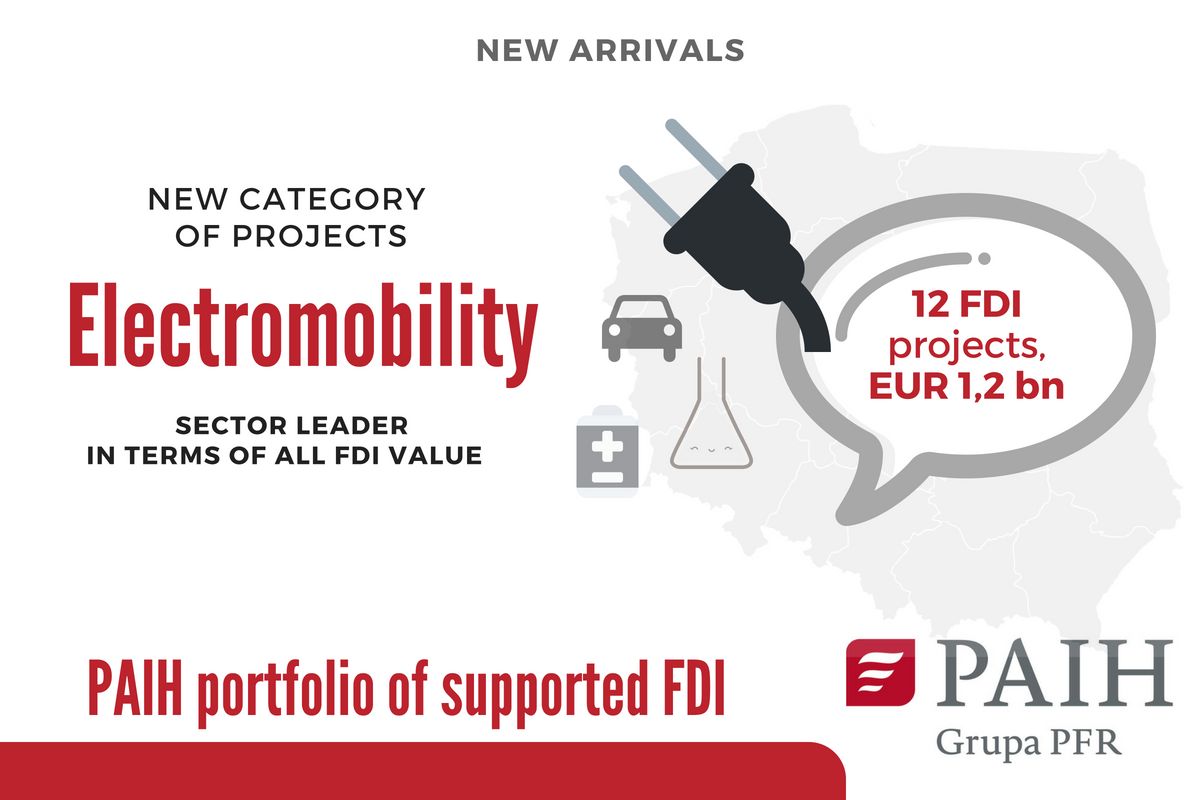 However, the title of the sector leader in terms of the value this times goes to electromobility. "We notice a growing interest of Poland among international producers of electric vehicles. Therefore, we decided to extract all investment related to electromobility including those of automotive, chemical and electronic from the whole list of the FDI projects we support. This is how a new sector on our list was created", Krzysztof Senger explains.