Nowy Styl Group, a Polish furniture giant, is boldly investing in its expansion in the Middle East. The office furniture collection is being extended with comprehensive offer for hotels, where United Arab Emirates, Qatar, Kuwait, Oman and Bahrain are new experimental markets.
In January this year Nowy Styl Group (NSG) acquired a majority stake in Stylis Dubai. The minority partner is an investor from Saudi Arabia, with whom NSG has been cooperating in the region for over 6 years - the result: almost 6000 furnished rooms in 21 hotels in Saudi Arabia. Starting this year first orders for Dubai market are won, yet expansion is also planned for other countries in the region, with long-term ambitions to build a strong bridgehead to continue expansion, perhaps to Africa and India. The company's management forecasts that the transaction will increase NSG's sales under the Stylis brand by 10-20 mln EUR a year (revenue last year was 340 mln EUR).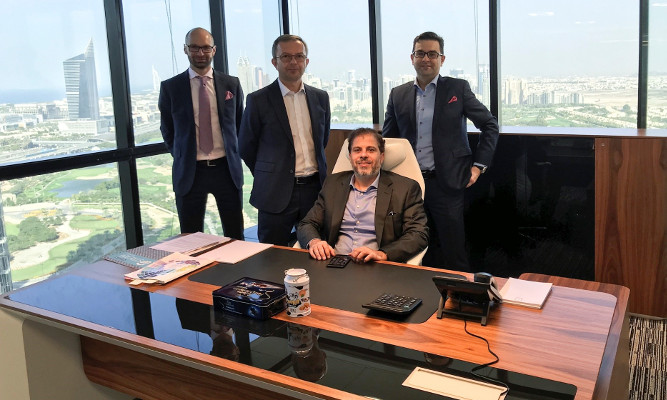 Dubai Showroom, from left Roman Przybylski, Adam Krzanowski, Hesham Ibrahim, Rafał Chwast
The company also decided to open a showroom in Jumeirah Lakes Towers - one of Dubai's main business districts. A 1200 sq.m. office on the 35th floor will present interior design solutions from the office and hotel collections.
The company will focus operations in the new market segment to the Middle East. While the main business in other markets will still be furnishing office interiors. Until now, the Nowy Styl Group only supplied hotel furniture to Saudi Arabia from Stylis, with the Saudi side being eventually responsible for final interior design of the hotel. From now, Poles will oversee the whole project via Stylis Dubai - from delivery of carpets, beds, tables, curtains and lighting to the final interior arrangement.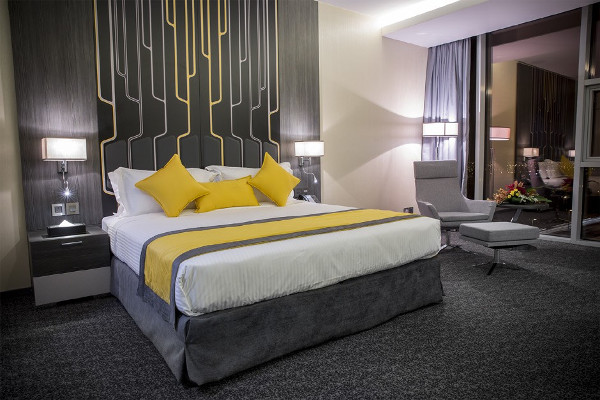 Executives Hotel, Riyadh, 110 rooms
The growing Stylis Dubai team will provide direct, full support for clients in the Middle East. Within the remit there will be both commercial and technical support, project management and logistics as well as specialized consulting services – NSG's best-known specialty encompassing office workplace arrangement as well as support in designing spaces tailored to customer needs and market trends.
There are no plans to relocate production to the Middle East so far – these markets will be supported entirely by modern, automated factories in Poland. Complimentary elements will be supplied by Polish domestic suppliers.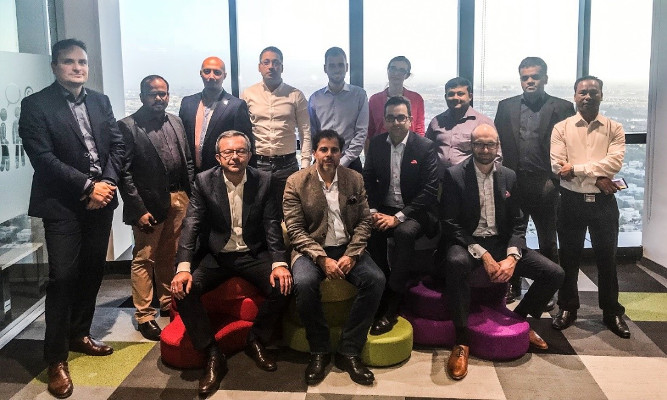 Nowy Styl Group and Stylis team in Dubai
1. What prompted Nowy Styl Group to invest in a company that was originally NSG's client?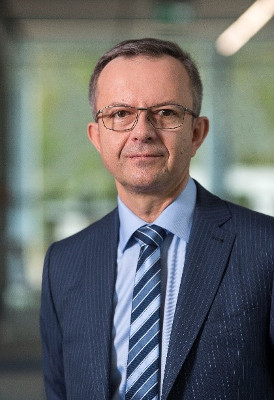 Adam Krzanowski CEO - Nowy Styl Group

Adam Krzanowski, CEO of Nowy Styl Group:
our partner suggested to us a joint venture several years ago, but back then we wanted to focus on our major markets and core business - building structures in Europe, acquisitions in Germany and Switzerland, framework agreements with international companies to equip their offices. Now we have decided that this is a good time for new experience and expanding the business. This undertaking feels very secure since, as you mentioned, we have been working with our partner for years, we know his competences and market situation.
2. Nowy Styl Group originally focused its activities in the office equipment segment and, to a lesser extent, leisure areas. What made you decide for such a full-scale move to enter the hotel market and comprehensive furnishing?

AK:
We continue defining our core business as furnishing public interiors. We focus on offices, while hotels are an extension of this core, not a way out. Hotels are not only rooms, but also receptions, food courts, conference rooms - zones that we have been equipping for years, so we use the synergy effect to a large extent. In addition, we emphasize that hotel equipment is only available in the Middle East. Our partner remains our distributor in Saudi Arabia and as Stylis Dubai, based on the mix of our and their competences, we will operate across the GCC and only there. At the same time the company will provide our solutions to the office segment in the UAE.

3. From the point of view of a Polish producer expanding into the Arabian Peninsula - what stereotypes / mindsets should be avoided by Polish companies?

AK:
Probably the most important thing is that it's a big market that's just waiting for us. There are all global companies and the competition is huge - I think in every industry. That is why it is not enough to want and try, but you have to do it wisely, consistently, be ready to invest both time and money. You need to build a structure, hire people. This is a real international business, not simply export.

4. How does Nowy Styl Group compete against competition from Asia?

AK
: We don't compete. Asia is still furniture manufacturing, mainly factories providing value for money. We have been focusing on providing solutions for years, we listen to clients' needs and prepare tailor-made, comprehensive solutions. Solutions in which the furniture is only an element, and the key parts are also know-how in the organization of work, office, ergonomics, acoustics, etc. And in the case of hotels it is design, projects, project management, installations, etc. These will not be sent in a container from China.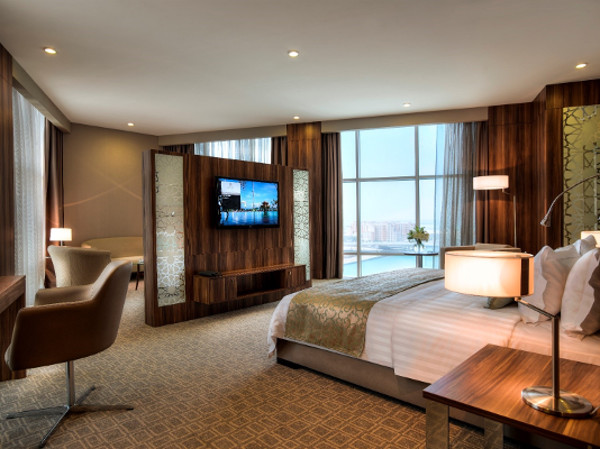 BAY LA SUN (Emaar), Rabigh, 169 rooms, 7 suites
5. Do clients, in your case corporates, pay attention to the country of origin of the furniture? What are the most important factors for your clientele?AK:
The most important are the competences described above - corporations operating in international business and in today's labor market are aware of how their offices affect efficiency, innovation, employer branding, total cost of ownership, etc. They also pay attention to security of co-working - ethical and environmental standards, an approach to business responsibility. They are looking for a professional partner, not just a furniture store. Confidence is another factor. The company, while relocating its headquarters, manages a comprehensive change and cannot afford any incidents, be it delays or quality problems. Same goes for hotels. Every day of delay is a measurable financial loss. We ensure this certainty, our references are the best confirmation for this.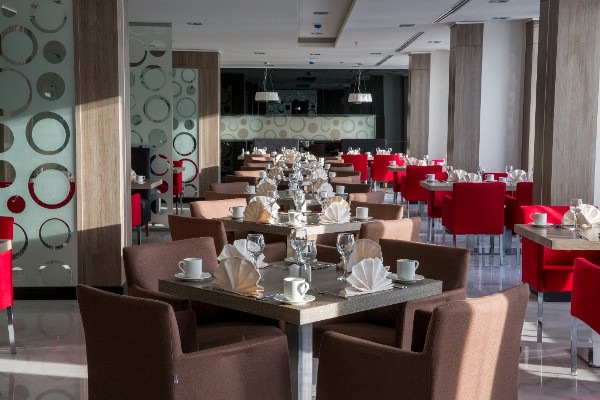 Ramada Corniche Hotel, Jeddah, 156 rooms
Such M&A by a Polish tycoon is a pioneering example of bold foreign expansion in the UAE and the region. Furniture industry is a very competitive one – for dynamic foreign expansion taking over a locally-established entity is more efficient than building a distribution network from the ground up. Foreign Trade Office of the Polish Investment and Trade Agency in Dubai aspires to support Polish champions in this kind of expansion - comments Moneer Faour, Dubai Bureau Chief.
Author: Michał Bakuła, Polish Investment and Trade Agency - Foreign Trade Office in Dubai