The CEE Retail Awards are recognised by the Retail and commercial real estate industry, as the market benchmark for retail success in Central and Eastern Europe.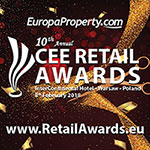 EuropaProperty is proud to host and present the 10th annual CEE Retail Real Estate Awards Gala, the region's premier retail awards event. This eagerly anticipated occasion will take place in Warsaw at the InterContinental Hotel on February 8, 2018.
This year we are expecting more than 450 guests including over 100 retailers doing business or planning to do business in the region.
The event is subject to considerable media coverage with local and international media attending the awards.
This ensures, guests, participants, and companies, and award winners, an extra opportunity to publicise themselves and of course the retail sector throughout whole of Central and Eastern Europe.