Recognizing excellence in the SSC/Business services sector, this celebration will take place in Warsaw at the Hotel Intercontinental on 1st February, 2017.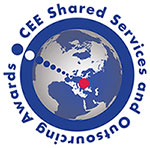 Central and Eastern Europe (CEE) is well-established as a world-class destination for Shared Services centres and BPO investment. With Poland the strongest location in the region, other countries such as Hungary, Czech Republic, Romania, Lithuania, Latvia and Slovakia are important investment destinations.
Global shared services firms, business services projects and sector professionals will be presented with awards of acknowledgment - by an independent jury from the industry - for their contribution to the development of the business services sector in CEE for 2017.
In 2018, we expect another sell-out audience of 300+ guests with more than 50 being international firms expanding their business services centres – or interested in setting up in central Europe. The Awards Gala will be preceded by a full Pre-Day (31st January) focused on HR issues inside SSCs; and a half-day Summit (1st February) covering the shared services and outsourcing sector; Break-Out sessions with deep insights into specific issues driving the sector; and once again our popular "Site Visits".
With both local and international media organizations present, the CEE Shared Services and Outsourcing Awards Gala also promote's the CEE region as a world-class business services destination for global companies operating across Europe, North America and Asia.