The prospects for strengthening Polish-Bulgarian economic relations and the importance of mutual trade were key issues of the Polish-Bulgarian Economic Forum, attended by President Andrzej Duda and President of the Republic of Bulgaria gen. Rumen Radev. The event, which took place on October 5, 2017 Deputy Minister of Development Witold Słowik and Vice-President of the Polish Investment and Trade Agency (PAIH) Krzysztof Senger also participated.
The main trading partners of Bulgaria in the EU are Germany, Italy, Romania, Greece, France, Belgium and Spain. Poland also wants join this circle. Poland's exports to Bulgaria recorded in 2016 reached a record value of PLN 1 billion (an increase of 22% y/y), and doubled since 2010. Imports amounted to PLN 550 million (up by 0.07% y/y). Family manufacturers of rail vehicles and construction materials, or developers, strengthen their position on the Bulgarian market. The forum was about making promising business contacts and opportunity to tighten bilateral relations.
"Our country is developing economically, which makes it more competitive on European markets, also Bulgarian. The Strategy of Responsible Development, which is meant to increase the level of innovativeness of Polish companies favors this process - President Andrzej Duda said during the Forum. - We want to become technologically advanced economy with a stronger position of domestic business abroad - he added, pointing to the role of such government agencies as the Polish Investment and Trade Agency.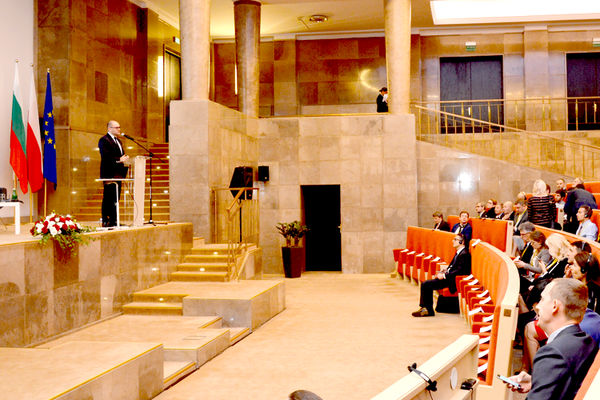 Krzysztof Senger: Talents are the foundation of Poland's success
"The foundation of Poland's success are talents. We also have an absorbing internal market and fast-growing road and railway connections. We are leading the automotive industry and becoming the significant player in electromobility", vice-president of PAIH Krzysztof Senger said turning to Bulgarian business.
"Poland has been chosen by the largest financial institutions. Our position as an European service center for business is growing. It is here, where major players move their operations", Senger stated. PAIH's vice president urged Bulgarian companies to invest in Poland, offering support to both foreign investors and Polish companies that see Bulgaria prospective.
"The rate of reinvestment reached 60% last year. We constantly convince our partners that Poland is not only about a competitive market, highly qualified employees and attractive investment areas, it is a place where business is worth starting. It pays off to stay longer here. Many foreign investors have come to this conclusion. We want companies from Bulgaria to join them ", Senger said.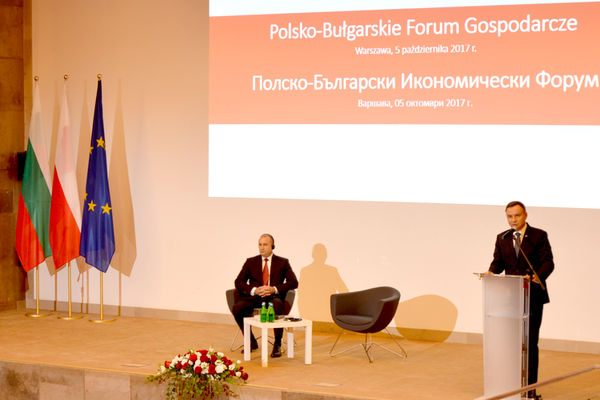 President of Poland, Andrzej Duda: We want to become technologically advanced economy with a stronger position of domestic business abroad
"Let's work together. We trust each other" - the President of the Republic of Bulgaria Gen. Rumen Radev argued, addressing his appeal to Poland, as a member of the Three-sea initiative, as well as to entrepreneurs from Poland and Bulgaria.
The Bulgarian President was accompanied by a delegation of several business delegations from companies representing many sectors of the economy, mining, construction, design, agri-food and transport among others.
The event was attended by more than 170 companies from Bulgaria and Poland. During the Forum businessmen representing both countries signed eight bilateral agreements, in line which two infrastructure consortia will be established. The documents also provide export of such goods as honey, milk, meat and forage. (PAIH)
List of contracts signed during Polish-Bulgarian Economic Forum:
JGV Bulgaria Ltd - CORPIO BIO Sp. z o.o.: a framework agreement on honey exports to Poland, worth 4 mln EUR


SEPTEMVRI - ZUE Group: Bulgarian carriages' delivery and service agreements, valued at EUR 2 m; during the Forum one of two contracts was signed


Balkantel Ltd - MERA Sp. z. o.o.: a consortium agreement; participation in a tender for ticket system in Sofia valued at EUR 90m; the Polish company will be the general contractor of the EUR 45 m worth investment and will provide know-how and human resources


Gigastroy Ltd -ZUE Group: a consortium agreement; participation in a tender for rail infrastructure modernization valued at EUR 120m; the Polish company will provide know-how and human resources


SI COMMERCIAL - CONTRACTUS Sp. z o.o.: a framework agreement on milk and meat imports worth 10 mln EUR


SI COMMERCIAL - WOODWASTE Sp. z o.o.: a framework agreement on forage imports


AVA TRANS Ltd - TRITEX: an agreement on usage of servicing-logistics facilities located in Poland worth 1 mln EUR


RTK International Ltd Samokov - LAB Gdańsk Sp. z o.o.: an agreement on developing and implementing sales software