Business Support:
☎ +48 22 334 98 75
e-mail: invest@paih.gov.pl
Introduction
Investments in R&D sector are the key factor of steady innovation-driven economy and growth of added value of products, processes and services. They contribute to the lasting economic development and creating new valuable workplaces.
The inflow of foreign capital with the aim of creating research and development centers proves that foreign investors appreciate economic potential of Poland. According to the latest analysis of UNCTAD, the foreign direct investments' inflow to Poland increased in 2011 by 46,7%, while the growth of FDI worldwide accounted for 17% (14,2 billion USD in 2011 and 9,7 billion USD in 2010).
Main indicators
Peer comparison of Poland and the other EU countries shows great opportunities for an extension of R&D sector. The average expenditures on R&D in EU countries accounted for 2% of the GDP in 20121 , while in Poland the figure was 0,9%2.
Positive experiences and great results of R&D centers are the reasons why companies decide to expand their research activities. Among those entrepreneurs are e.g. NSN, Motorola, Samsung, Kainos, or polish entities such as Transition Technologies or SMT Software. The two last companies chose Białystok and Lublin as the locations for software developing centers, what proves that also smaller academic centers are able to provide excellent labour force for such projects. Recently, an increasing interest in opening new R&D centers could be observed, both in industry sector (e.g. Delphi in Krakow or Rockwell Automation in Katowice) and also in strongly developing business services sector, wherein according to PAIiIZ data, more than 33,000 people are employed in approximately 182 existing R&D centers , so far.
Among all EU countries, Poland records one of the most significant increases in the number of young employees in R&D sector (in group between 25 and 34 years old). The number of Polish employees in this sector exceeds the EU average.
There are currently 450 colleges in Poland, 132 of them are state institutions (25 of them are technical universities) and 328 private institutions. The number of students in Poland equals 1,764 million3.
Students can chose one of 200 faculties, most of them prefer economic and management faculties - 23%, social sciences - 13.9%, education - 12%, humanistic faculties - 8.8%, engineering and technical studies - 6.8%, medical faculties - 5.8%, IT - 4,9%, personal services - 3.7%, law - 3,1%, environmental protection - 1.4%, other faculties - 16.4%4. Recently, an upward trend in interest in technical faculties, among high school and college students can be observed.
Overall there are more than 170 thousand college employees, 84 thousand of them in state institutions, 16 thousand in private colleges5. There are also 200 R&D centers in Poland (with 98 thousand scientists) and to them belong Polish Academy of Science, specialized and autonomous Research and Development Units and other supporting institutions.
According to Central Statistical Office, in 2012 there were 2 733 R&D units, 1 101 of them were companies (23,1% increase comparing to previous year). Similar growth has been registered in R&D expenditures in the amount of 14,4 billion PLN. In R&D sector, there was 139.7 thousand people employed in the end of 2012 (slight increase compared with 2011), more than 432.4 thousand of them in enterprise sector, 26.9 thousand in public sector and 80.1 thousand in science sector.
R&D in Poland
Number of people employed in R&D sector in Poland in 2011 compared to the previous year increased by 4 759 people (3,7%), reaching a level of 134 551 people. Research and development activities in 2011 were funded primarily by the government (6,5 billion PLN) which financed 55,8% of expenditures of all entities. Public expenditure on R&D equals 71% of the EU27 average.
Sector of Polish companies investing in research and development in 2011 included 795 firms. In comparison with the previous period, the number of companies increased by 18,48% (671 firms in 2010). In the four-year period of 2008-2011 studied sector grew on average by 10,36%.
The most innovative production companies in Poland are the pharmaceutical companies producing coke, refining oil and producing chemicals and chemical products. In the services sector, the most innovative are insurance and reinsurance companies, financial services firms, and companies operating in the field of information services. Innovative enterprises accounted for 16,1% of industrial companies and 11,6% of service companies.
The companies that invest the most in research and development in Poland are: Fiat Auto Poland, Polish Defence Holding (former Bumar), IT companies Asseco Poland and Oracle and pharmaceutical manufacturer Polpharma.
Number of listed companies incurring expenditure on research and development in 2011 amounted 139 companies. Their number grew on average by 16,9% and was higher than the growth of companies outside Warsaw Stock Exchange.
Most patents granted in the category of chemistry and metallurgy, various industrial processes and transport, and basic human necessities. In 2009 the percentage of high-tech applications to the European Patent Office equaled 14,5% in Poland, compared to 17,1% in the EU.
The number of patents that were granted in the Polish Patent Office in 2012 was 556, a year to year increase of 29,3%, and compared to 2010 - increase of more than twofold. The leader of the list of patenting companies in 2012 was a company of Bumar Group (now renamed as Polish Defence Holding) - Bumar Electronics. The company had a total of 12 patents in the Polish Patent Office. The second place with 11 patents was taken by Lerg, leading manufacturer and exporter of synthetic resins. The third company in the ranking with 9 patents was taken by International Tobacco Machinery Poland, a company engaged in the design, manufacture, installation and servicing of machines and complex production lines mainly for the tobacco industry. In the long term, covering the period of 2007-2011, the most active patenting company was ABB. The other leaders were the Sigma, Pulawy, KGHM Cuprum and Polin.
Rankings
International concerns often perceive Poland as an attractive location for investments requiring specialized human capital. The number of R&D investments in comparison to business services centers is still quite small. Nowadays, there are 77 operating R&D centers which employ several thousand polish scientists and specialists. Most of them work in ICT, software development, automotive, chemical, aviation or food processing. Those centers are located mostly in big cities with complex academic background, developed infrastructure, which are able to provide attractive living conditions for employees. Smaller academic hubs, mentioned above, have also a wide appeal.
In Poland, there are numerous R&D centers which operate as subsidiaries of global corporations. These include: Oracle, Samsung, Faurecia, GlaxoSmithKline, Microsoft, Volvo, Capgemini, IBM, ABB, Lurgi, Google, Bosch and Siemens. In the IT and aviation industries, R&D laboratories co-operate with Polish universities and public R&D units: Intel with Gdansk University of Technology, United Technologies with Rzeszow University of Technology, Lockheed Martin and GE Aircraft Engines with Warsaw Institute of Aviation.
As a result of developing strategy of improving competitiveness of Polish economy, we consistently strive for a knowledge economy. The proof of Poland's development is the improvement of Poland position in The Global Innovation Index report. In 2011 Poland improved 4 places up to 43rd and 13 places since 2009. The acknowledgement of our economy in innovation rankings is caused not only by increasing number of R&D centers, obtained patents or companies' expenditures on R&D, but also by social and cultural conditions in innovation and business environment6.
According to Global Competitiveness Index 2012–2013 published by the World Economic Forum, Poland occupies 41st position among 144 analyzed world developing economies and improves 2 places up, also in economy's innovation (Hungary – 60th place, Slovakia – 71st place)7. In accordance with IMD World Competitiveness Yearbook 2013 report, published by International Institute for Management Development (IMD), Polish economy competitiveness among 60 economies, occupies 33th position. In 1997 Poland was ranked 47th.8 The competitiveness report was conducted based on 327 economic, political and social indicators. Polish national economy, administration's condition, business competitiveness, infrastructure, education and academic background - those are the fields which improved.
Maps
R&D activity can develop in all economy sectors. However, in Poland due to the industrial traditions and complex academic conditions, the most attractive branches are:
Here are the maps presenting the examples of R&D centers from sectors mentioned above: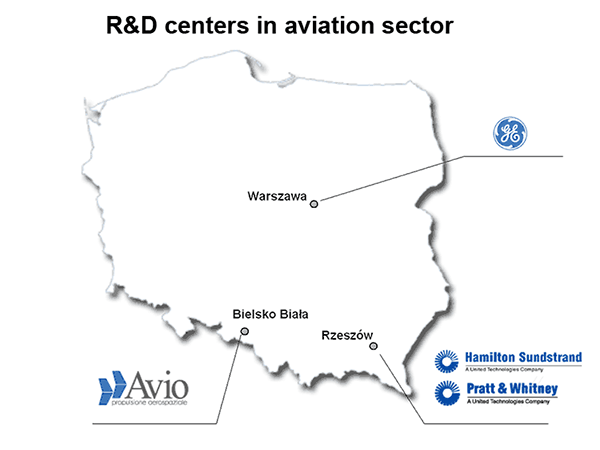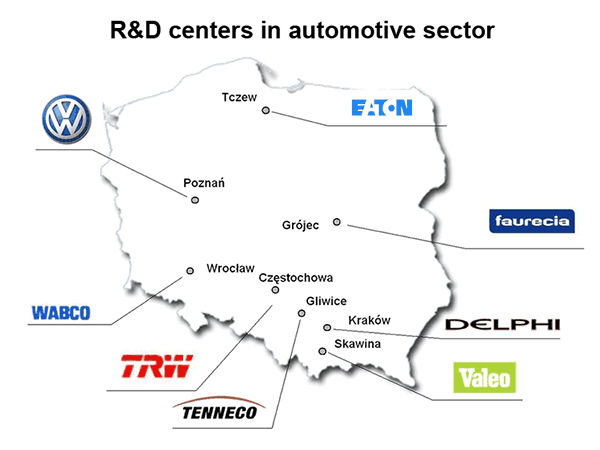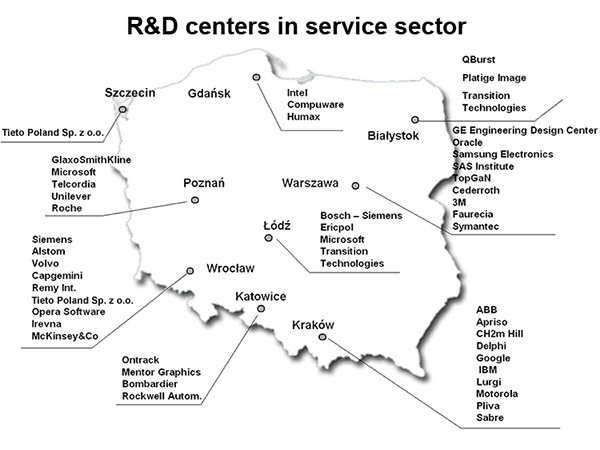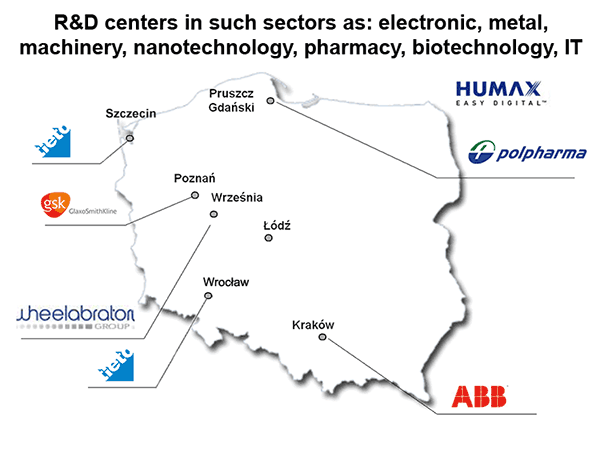 Examples of investments in R&D on the basis of business services sector:
| | | |
| --- | --- | --- |
| Investor | Location | Employment |
| AstraZeneca Pharma Poland | Warszawa | 40 |
| BSH | Warszawa | 117 |
| Humax | Warszawa | 11 |
| IMPAQ | Warszawa | 200 |
| Mobica | Warszawa | 70 |
| Opera Software | Warszawa | 40 |
| McKinsey&Co | Wrocław | 100 |
| Irevna | Wrocław | 100 |
| NSN | Wrocław | 2000 |
| Bayer | Kraków | 15 |
| Lurgi | Poznań | 60 |
| Telcordia | Poznań | 16 |
| Unilever | Poznań | 70 |
| W.R.Grace | Poznań | 20 |
| Wikia | Poznań | 20 |
| Samsung | Warsaw, Kraków, Poznań, Łódź | approx. 2000 |
Main key factors for R&D activity in Poland:
steady growth of the Polish economy and safety research,


relatively low cost of conducting research,


highly qualified staff,


intellectual potential,


universities,


research institutes, opening onto creating clusters in the framework of national and international cooperation


strategic location,


availability of investment incentives for R&D projects within the "Programme of support of investments of considerable importance for Polish economy for years 2011 - 2020" provided by Polish Information and Foreign Investment Agency and various programs provided by The National Centre for Research and Development ,


the quality and productivity of Polish workforce


regional development strategies/regional innovation strategies,


cooperation between universities and business,


scientific achievements of researchers and students,


presence of R&D centers of companies such as: Roche, GlaxoSmithKline, ABB, Google, Microsoft, Unilever and others.
Available investment incentives for R&D project:

http://www.paih.gov.pl/index/?id=7c4121d27bf970f00f1dfdcee8f43a5d
and Accreo Taxland publication:
http://www.paih.gov.pl/publikacje/publikacje_partnerow_paiiiz
Useful links - science zone
1. Government and European Funds in PAIiIZ:
http://www.paih.gov.pl/eu_funds_information_point
http://www.paih.gov.pl/index/?id=7c4121d27bf970f00f1dfdcee8f43a5d
2. The National Centre for Research and Development:
http://www.ncbir.pl/en/
3. European Funds - information point:
http://www.fundusze-europejskie.pl/okiem-eksperta/0,793,dokad-po-finansowe- wsparcie-na-b-r.html
4. The Institute of Economics of the Polish Academy of Science: http://www.inepan.waw.pl/en/
5. Akademickie inkubatory przedsiębiorczości:
http://s.inkubatory.pl/en/the-network
Publications available:
The Institute of Economics of the Polish Academy of Science:
http://www.inepan.waw.pl/publikacje---/publikacje_sieci_msn/inne_publikacje.html
---
1http://www.cso.ie/en/newsandevents/pressreleases/2013pressreleases/
pressreleasebusinessexpenditureonresearchanddevelopment20112012/
2Główny Urząd Statystyczny, Nauka i Technika w Polsce w 2012
3Główny Urząd Statystyczny, Szkoły wyższe i ich finanse w 2011, s. 29-30, 2012, ISSN 1506-2163
4http://www.nauka.gov.pl/szkolnictwo-wyzsze/dane-statystyczne-o-szkolnictwie-wyzszym/
5http://www.nauka.gov.pl/szkolnictwo-wyzsze/dane-statystyczne-o-szkolnictwie-wyzszym/
6http://www.ipeg.eu/wp-content/uploads/Insead-The-Global-Innovation-Index-2011.pdf
7http://www3.weforum.org/docs/WEF_GlobalCompetitivenessReport_2012-13.pdf
8http://www.imd.org/news/World-Competitiveness-2013.cfm