Business Support:
☎ +48 22 334 98 75
e-mail: invest@paih.gov.pl

The development of the electronics sector in Poland dates back to the 1930s. Among the articles manufactured during this period was lighting equipment by Phillips Poland SA in Warsaw and electron tubes, transmission and microwave, by Electronic Plant Lamina in Piaseczno. In the post-war years, electronics became one of the fastest growing sectors of the economy worldwide, being the carrier of technological and civilization progress. It is a sector that determines the capacity of the national economy to meet the demands of international and global competition, and contributes to the expansion of other high-potential sectors of the economy.
According to Business Monitor International (BMI) experts' predictions, the value of the Polish electronics market in years 2015-2018 will gradually increase at the level of 2,2% CAGR (Compound Annual Growth Rate), reaching approximately USD 10.65 billion in 2018.
The increase will be driven mainly by the growing demand for digital products and increasing public revenues. More than 40% of the Polish population is 18-44 years old, and it is precisely young people that are more likely to reach for novelties from the world of electronics.
There are almost 6.000 companies (according to the Polish Classification of Activities, PKD) operating in the electronics sector in Poland. They employ over 50 thousand workers. Approximately 95% of production is generated by medium and large companies.
The most important foreign investors in the electronics sector in Poland are: Dell (£ód¼, £ódzkie Voivodship, production of desktops), LG Display Poland (Kobierzyce, Lower Silesian Voivodship, liquid crystal displays), Jabil (Kwidzyn, Pomeranian Voivodship, electronic components), Sharp (£ysomice, Kujawsko-Pomorskie Voivodship, production of LCD modules), Funai (Nowa Sól, Lubuskie Voivodship, TV sets), LG Electronics (Mazowieckie Voivodship, TV sets and other consumer equipment), telecom equipment manufacturers: Alcatel-Lucent, as well as Kimball Electronics Poland (Tarnowo Podgórne, Wielkopolskie Voivodship, electronic components for telecommunications and the automotive industry), Flextronics International Poland (Tczew, Pomeranian Voivodship, telecommunications components and products).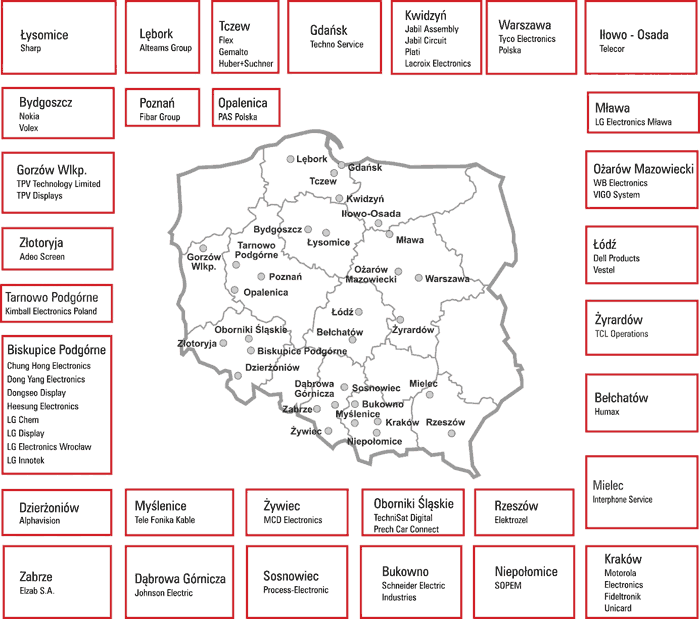 The rationale for the development of the electronic industry in Poland:
Long-standing tradition in the electronic industry;

Presence of international companies, manufacturers of electronics equipment;

Highly trained labour force, offering the highest standards of knowledge in their fields;

Well-developed base of suppliers: small and medium sized enterprises are well prepared to work with large corporations as subcontractors;

Institutional climate: the state helps manufacturers creating their own R&D centres;

Clusters: continuously developing technological parks closely cooperating with research centres;

Increased investments: new investment projects that generate demand for products and services of suppliers from the electronics industry;

Investment incentives for the electronics sector, included governmental grants.

Forms of public aid available for electronic projects:
Polish government gives priority to the electronic sector, therefore investors can benefit from numerous incentives, such as:
Governmental grants: Investors carrying out new investments in electronic sector in Poland can count on receiving support under the "Programme of support of investments of considerable importance for Polish economy for years 2011-2020".

In case of electronics production projects both job creation grant and new investment grant are available:


Useful contact data:
Polish Chamber of Commerce for Electronics and Telecommunications (Krajowa Izba Gospodarcza Elektroniki i Telekomunikacji)
Institute of Electronic Market Ltd.
Electronic news:
Publications:
www.paih.gov.pl/publications/sectoral_studies