Business Support:
☎ +48 22 334 98 75
e-mail: invest@paih.gov.pl
Domestic appliance manufacturing has a long-standing tradition in Poland. Well-known factories, established after WW II, include: Zakłady Sprzętu Grzejnego (Heating Equipment Plant) Wromet in Wronki (now Amica Wronki S.A.) and Zakłady Metalurgiczne (Metallurgical Plant) in Wroclaw. Wrozamet (today FagorMastercook S.A.), Zakłady Metalowe (Metal Plant) Zakrzów (which later became Polar, today it is Whirlpool Polska S.A.) and Zelmer have been also dynamically developing since the 1960s.
Since the beginning of transformation period, the sector has attracted many investors, who, on the basis of existing infrastructure, knowledge and workers' qualifications, have built an extremely modern and competitive in the global scale, industry sector.
The dynamic development of the industry is confirmed by the figures as at the end of October 2015 the value of the market has already exceeded 4 billion PLN. Such good results in the industry have a reflection in the experts' opinion that Poland is one of the European leaders of domestic appliance manufacturing.
CECED estimates that there are 22 thousand people employed in Polish domestic appliances sector.
Poland is an excellent location for domestic appliances manufacturing plants, what the past investments of most of global players from the industry confirm. What is important is that those companies are still expanding their activity in Poland, by opening production facilities and introducing new products to their portfolio. Most of the production is intended for export. As for some of the categories of products such as washing machines or dishwashers as much as 80% reach foreign markets.
The following global players representing domestic appliances sector have located their plants in Poland:
There are also domestic enterprises representing household appliances sector in Poland, which succeeded in foreign markets. Amica, now the largest Polish manufacturer of domestic appliances, sells approximately 50% of its production on 40 foreign markets. Zelmer, leading producer of vacuum cleaners, which has a very strong position in the Eastern Europe countries, in March 2013 has become a part of BSH concern.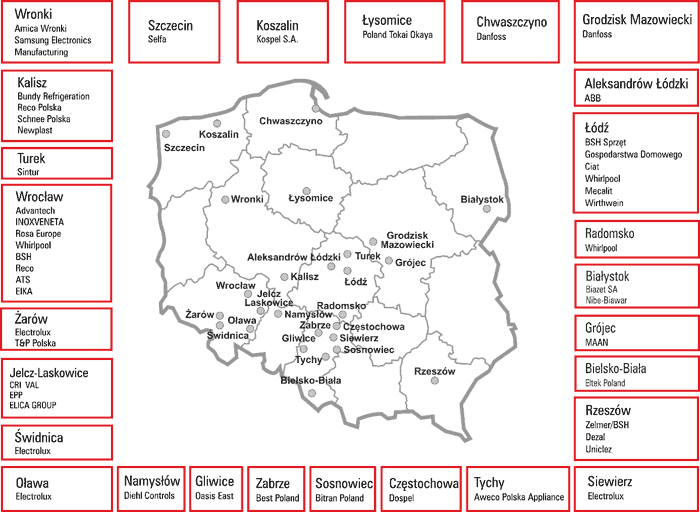 The rationale for the development of domestic appliance sector.
Main advantages of Poland in the context of investing in domestic appliances market:
Long-standing tradition in the manufacturing of home appliances

Availability of qualified and experienced labour force

Well-developed network of suppliers and cooperators

Presence of key, international players in this sector together with abundant technological resources

Excellent geographic location with an easy access to the EU foreign market as well as Eastern Europe countries

Domestic market's large absorption rate - 12 million households

Attractive public incentives offered to foreign investors, included governmental grants

Information about forms of public aid:
www.paih.gov.pl/governmental_grants
www.paih.gov.pl/investment_support/investment_incentives_in_SEZ
Useful contact data:
CECED Poland (European Committee of Domestic Equipment Manufacturers)
www.cecedpolska.pl/index.php