European Labour Mobility Congress is the largest conference in Europe dedicated to the posting of workers within the freedom to provide service. The event will be held on 22-23 November in the Congress Centre ICE Kraków.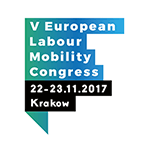 This year's edition is co-organized by the Polish Ministry of Economic Development. Opening speech will be addressed by the Deputy Prime Minister Mateusz Morawiecki. Traditionally, organizers have invited Marianne Thyssen, EU Commissioner responsible for revision of the Directive on the posting of workers.

The congress is an excellent opportunity to learn about the rules concerning the posting of workers in particular EU Member States. Among the speakers there are renown political decision makers and public administration representatives. There is also a space in the agenda for workers' and employers' representations, experts, scholars and lawyers specialized in the field of service provision in the EU.

Programme also includes workshops led by lawyers practicing labour law and social insurance in countries to which workers are commonly posted (eg. Germany, France, Belgium).
Contact person:
Magdalena Zgłobica,
tel. +48 799 704 139
www.ekmp.pl